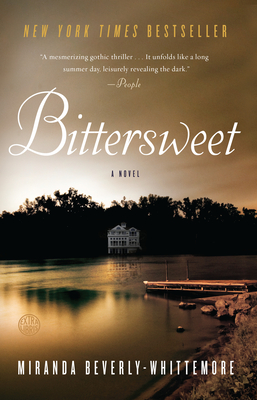 Bittersweet
A Novel
Paperback

* Individual store prices may vary.
Other Editions of This Title:
Digital Audiobook (5/12/2014)
Hardcover (5/13/2014)
Description
Suspenseful and cinematic, New York Times bestseller Bittersweet exposes the gothic underbelly of an idyllic world of privilege and an outsider's hunger to belong.

On scholarship at a prestigious East Coast college, ordinary Mabel Dagmar is surprised to befriend her roommate, the beautiful, wild, blue-blooded Genevra Winslow. Ev invites Mabel to spend the summer at Bittersweet, her cottage on the Vermont estate where her family has been holding court for more than a century. Mabel falls in love with midnight skinny-dipping, the wet dog smell that lingers near the yachts, and the moneyed laughter that carries across the still lake while fireworks burst overhead. Before she knows it, she has everything she's ever wanted: friendship, a boyfriend, access to wealth, and, most of all, for the first time in her life, the sense that she belongs.

But as Mabel becomes an insider, a terrible discovery leads to shocking violence and reveals what the Winslows may have done to keep their power intact--and what they might do to anyone who threatens them. Mabel must choose: either expose the ugliness surrounding her and face expulsion from paradise, or keep the family's dark secrets and make Ev's world her own.
Praise For Bittersweet: A Novel…
A New York Times Bestseller

"Beverly-Whittemore is at her best bringing Winloch vividly to life, evoking the look and feel of its cottages and dining hall, and its daily summer rhythms…A fairy tale aspect – of the Grimm, not the Disney variety – pervades the novel, which artfully builds an increasing sense of menace…Like a Downton-in-Vermont, Bittersweet takes swift, implausible plot turns, and its family secrets flow like a bottomless magnum of champagne, but Beverly-Whittemore succeeds in shining a light into the dark, brutal flaws of the human heart." —New York Times Book Review

"Mesmerizing gothic thriller…Bittersweet is worth savoring—it unfolds like a long summer day, leisurely revealing the dark." —People, Lisa Kay Greissinger
 
"What begins a little like Curtis Sittenfeld's Prep quickly warps into a sickly addictive thriller…think ABC's Revenge when it was good, only more scandalous…With books like Bittersweet to stuff in beach bags, it's beginning to feel a lot more like summer. A-" —Entertainment Weekly, Stephan Lee

"Beverly-Whittemore has crafted a page-turner riddled with stubborn clues, a twisty plot and beguiling characters." —Kirkus, starred review

"[An] intriguing outsider tale of the 1%." —The New York Post; Summer's Hottest Fiction pick
 
"For fans of Edward St. Aubyn… Miranda Beverly-Whittemore's Bittersweet spins a New England gothic filled with blonde bluebloods and heavily bolted doors." —Vogue.com

"Evokes Gone Girl with its exploration of dark secrets and edge-of-your-seat twists."  —Entertainment Weekly, Lanford Beard

"Takes the reader inside the glamorous world of the super-wealthy, where everything is not as it seems, and dark, long-buried family secrets gradually make their way to the surface. ...its strength lies in its elements of mystery. The result is a page-turner that will keep readers guessing until the end." —BookPage

"Suspenseful and intriguing, filled with characters who both fit the blue-blood mold and break the stereotypes we all associate with the upper class. Her short chapters, with their cliff-hanger endings, will keep readers turning pages late into the night." —Booklist

"Beverly-Whittemore captures both the idyllic beauty of a Vermont summer and its dark shadows …gothic tangles wind the plot more and more tightly. …A suspenseful tale of corruption and bad behavior among wealthy New Englanders. Readers who enjoy coming-of-age stories featuring dark secrets that affect generations will find much that appeals here." —Library Journal

"In the tradition of The Great Gatsby, Miranda Beverly-Whittemore's heroine is an outsider invited into the secret, labyrinthine world of the super-rich--but the twist is, you never met such debauched people as the Winslows. Bittersweet is a satisfyingly dramatic, super-juicy read." —Jenna Blum, New York Times and internationally bestselling author of Those Who Save Us and The Stormchasers 

"Bittersweet is the kind of book you hope to stumble across on a rainy vacation weekend: a wild New England gothic full of family secrets, mysteriously locked doors, sailboats, suntans, forbidden lust, and a few priceless works of art. An engrossing summer blast." —Maggie Shipstead, national bestselling author of Seating Arrangements and Astonish Me

"In Bittersweet, Miranda Beverly-Whittemore prizes up the veneer of an old, privileged American family to discover depths of intrigue, power, and menace beneath. In its guise as a coming-of-age mystery, the book is both swift and arresting; that the novel also doubles as an insightful meditation on class, aspiration, and longing makes the book reverberate in the reader long past its final line." —Lauren Groff, New York Times bestselling author of The Monsters of Templeton and Arcadia

"Gripping, beguiling and beautifully written, Bittersweet is a page turner that chills as it intoxicates. Miranda Beverly-Whittemore has created a family so dangerously enthralling that the more we learn of their greed and bloodlust, the more we aspire to belong." —Kate Christensen, PEN/Faulkner award-winning author of The Great Man and Blue Plate Special

"Part coming-of-age story, part riveting mystery, Bittersweet is a tantalizing tale of an outsider thrust into a glittering world of immense privilege and suspect morals. With a narrator torn between uncovering one family's dark secrets and protecting her own, Bittersweet brilliantly explores the complicated question of what price any of us would pay to seize the life of our dreams." —Kimberly McCreight, New York Times bestselling author of Reconstructing Amelia 

"The theme of paradise lost courses through this coming-of-age tale tinged with mystery…For all their lean, blonde beauty and their designer names, the Winslows—including Birch and Tilde, Ev's parents; and Ev's brother Galway, whose attentions encourage Mabel to fantasize about becoming part of the blue-blooded tribe—have more squalid secrets than her own…" —Publishers Weekly

"A lot of summer books are breezy beach reads, but Miranda Beverly-Whittemore's Bittersweet ups the ante. Her story of an outsider driven by a dangerous desire to fit into a world of privilege (think Gatsby) has all the sex and secrets typical of summer books. But Bittersweet packs a bigger punch… A New England summer of first love, friendships, fireworks, midnight skinny dipping, tragedy and digging up family dirt ensues." —The Herald News
Crown, 9780804138581, 416pp.
Publication Date: April 28, 2015
About the Author
MIRANDA BEVERLY-WHITTEMORE is the author of three other novels: June; Set Me Free, which won the Janet Heidinger Kafka Prize, given annually for the best book of fiction by an American woman; and The Effects of Light. A recipient of the Crazyhorse Prize in Fiction, she lives and writes in Brooklyn.
or
Not Currently Available for Direct Purchase