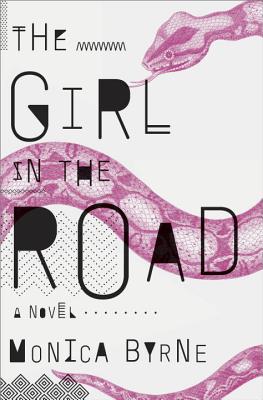 The Girl in the Road
Hardcover

* Individual store prices may vary.
Other Editions of This Title:
Digital Audiobook (5/19/2014)
Paperback (2/17/2015)
Description
A debut that Neil Gaiman calls Glorious. . . . So sharp, so focused and so human. "The Girl in the Road" describes a future that is culturally lush and emotionally wrenching.
Monica Byrne bursts on to the literary scene with an extraordinary vision of the future. In a world where global power has shifted east and revolution is brewing, two women embark on vastly different journeys each harrowing and urgent and wholly unexpected.
When Meena finds snakebites on her chest, her worst fears are realized: someone is after her and she must flee India. As she plots her exit, she learns of the Trail, an energy-harvesting bridge spanning the Arabian Sea that has become a refuge for itinerant vagabonds and loners on the run. This is her salvation. Slipping out in the cover of night, with a knapsack full of supplies including a pozit GPS, a scroll reader, and a sealable waterproof pod, she sets off for Ethiopia, the place of her birth.
Meanwhile, Mariama, a young girl in Africa, is forced to flee her home. She joins up with a caravan of misfits heading across the Sahara. She is taken in by Yemaya, a beautiful and enigmatic woman who becomes her protector and confidante. They are trying to reach Addis Abba, Ethiopia, a metropolis swirling with radical politics and rich culture. But Mariama will find a city far different than she ever expected romantic, turbulent, and dangerous.
As one heads east and the other west, Meena and Mariama's fates are linked in ways that are mysterious and shocking to the core.
Written with stunning clarity, deep emotion, and a futuristic flair, "The Girl in the Road" is an artistic feat of the first order: vividly imagined, artfully told, and profoundly moving.

Praise For The Girl in the Road…
"It's transfixing to watch Monica Byrne become a major player in sci-fi with her debut novel: so sharp, so focused and so human. Beautifully drawn people in a future that feels so close you can touch it, blended with the lush language and concerns of myth. It builds a bridge from past to future, from East to West. Glorious stuff."  —Neil Gaiman, author of The Ocean at the End of the Lane

"Spectacular and intriguing. . . . Enthralling on many levels. . . . The incorporation of evolving views of gender . . . propel this novel into the stratosphere of artistic brilliance." —Library Journal (starred)
 
"The most inventive tale to come along in years. . . . The writing is often brilliant, as Byrne paints wholly believable pictures of worlds and cultures most Westerners will never know. . . . Engrossing and enjoyable." —Kirkus
 
"Byrne is a science writer and graduate of MIT, but her insight into our near future is as much informed by her extensive travels as her grasp of science. . . . A book you will certainly be hearing a lot about in 2014." —Guardian (UK)
 
"Monica Byrne's vision of India and Africa as an ever-changing maelstrom of language and culture, technology and sexuality is utterly captivating. As Meena and Mariama chase each other's echoes, Byrne strips away their preconceptions (and ours as well) through that most dangerous of human impulses: our need to understand the past, and to decide our own future.  An electrifying debut." —Helene Wecker, author of The Golem and the Jinni
 
"The Girl in the Road is a brilliant novel, vivid, sparky, fearless, intense with a kind of savage joy.  These journeys--Meena's across the Arabian Sea and Mariama's across Africa--are utterly unforgettable." —Kim Stanley Robinson, author of 2312 and Red Mars
 
"Monica Byrne has written the road trip novel you didn't know you were waiting for. A genuine and extraordinary journey. Take it." —John Scalzi, author of Redshirts
Crown Publishing Group (NY), 9780804138840, 323pp.
Publication Date: May 20, 2014
About the Author
MONICA BYRNE studied at Wellesley College and MIT. She's a writer and playwright based in Durham, North Carolina.

@monicabyrne . monicabyrne.org"
or
Not Currently Available for Direct Purchase