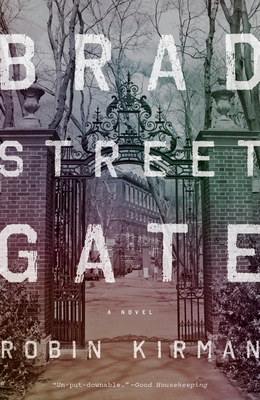 Bradstreet Gate
A Novel
Paperback

* Individual store prices may vary.
Other Editions of This Title:
Digital Audiobook (7/6/2015)
Hardcover (7/7/2015)
Compact Disc (7/7/2015)
Description
A tour de force about three friends affected by a campus murder, for readers of Donna Tartt, Meg Wolitzer, and Jeffrey Eugenides

Georgia, Charlie and Alice each arrive at Harvard with hopeful visions of what the future will hold. But when, just before graduation, a classmate is found murdered on campus, they find themselves facing a cruel and unanticipated new reality. Moreover, a charismatic professor who has loomed large in their lives is suspected of the crime. Though his guilt or innocence remains uncertain, the unsettling questions raised by the case force the three friends to take a deeper look at their tangled relationship. Their bond has been defined by the secrets they've kept from one another—Charlie's love and Alice's envy, Georgia's mysterious affair—and over the course of the next decade, as they grapple with the challenges of adulthood and witness the unraveling of a teacher's once-charmed life, they must reckon with their own deceits and shortcomings, each desperately in search of answers and the chance to be forgiven.

    A relentless, incisive, and keenly intelligent novel about promise, disappointment, and the often tenuous bonds of friendship, Bradstreet Gate is the auspicious debut of a tremendously talented new writer.
Praise For Bradstreet Gate: A Novel…
A TIME Magazine Ultimate Summer Read Pick
An Amazon Best Book of the Month
A Barnes and Noble Best Book of the Month

"You can't help but make comparisons to Donna Tartt's 1992 classic The Secret History while reading Bradstreet Gate…Keenly observed."—Entertainment Weekly

"Reminiscent of Donna Tartt's The Secret History. Un-put-downable."—Good Housekeeping

"[Bradstreet Gate] addresses weighty questions such as: What is the possibility of two unattached people, who might be right for each other, to overcome the consequences of a betrayal by one of them? ... It is clear from the novel: None of that is easy."—Washington Post

"Like so many successful crime stories, a slow build is necessary for a worthwhile payoff — and Bradstreet Gate delivers both."—NY Daily News
 
"A unique experience, and the pleasure in it stems from Kirman's ability to keep a reader guessing long after the final page is turned."—The Free Lance-Star
 
"Bradstreet Gate draws its readers in with a bang and holds on with a death grip.... Robin Kirman's impressive debut novel will turn you introspective and leave you looking back at the roads you took, wondering if you chose well."—Bookreporter.com

"Robin Kirman has given us a wonderfully written, engaging debut that strips away the notion of Ivy League perfection, reminding us that in the end, we are all flawed."—Everyday Ebook

"Kirman is a gorgeous storyteller…There is no need to compare [her] to other writers of note. She is a remarkable talent with the ability to animate her characters, integrate them into a complicated plot, and leave the reader struggling with moral ambiguities and emotional fissures that define human behavior at its best and worst."—Curled Up With a Good Book 

"A complex and sophisticated character study"—Shelf Awareness

"Though correlations to Donna Tartt's classic The Secret History seem inevitable, Kirman's complex, serpentine yarn has teeth of its own, and it will find a welcome home in many beach bags this summer."—Publishers Weekly

"A sophisticated character portrait...A gripping read that shows the dark side of ambition."—Booklist 

"Kirman's psychological study of the lingering effects of tragedy on her characters over time engages from start to finish."—BookPage

"A scandal with a shiny tabloid surface — murder on an elite college campus — haunts the friends and enemies of the victim and her accused, as they struggle to adjust to adulthood outside the university gates. Robin Kirman captures the moral hazards of assessing guilt and determining punishment in her intelligent, compulsively readable debut."– Jonathan Dee, Pulitzer Prize finalist and author of The Privileges

"I dare you to put Bradstreet Gate down once you've started it. Smart, sly, and compulsively readable, Robin Kirman's brilliant debut not only heralds the start of an auspicious career, it shows that Kirman -- whose writing calls to mind Donna Tartt -- has already arrived."– Molly Antopol, National Book Award longlisted author of The UnAmericans

"Bradstreet Gate is an unputdownable page-turner. With confident wit and sterling prose, Robin Kirman delivers an inspired takedown of the poisonous Ivy League. Inside the privileged world of Bradstreet Gate, youthful friendships are threatened by the seductive power of adult desires. As Kirman's characters question their loyalties, we are left to wonder who among them is worth loving, who is worth suffering for and who will ultimately survive the fallout from a brutal scandal. Bradstreet Gate is a deeply satisfying read and Robin Kirman is a writer of true promise."– Amber Dermont, New York Times bestselling author of The Starboard Sea

"A deftly-plotted, unputdownable exploration into ambition's darker side."– Courtney Maum, author of I Am Having So Much Fun Here Without You

"Robin Kirman's eye for detail is as thrilling as her gifts for plot and suspense.  An exciting debut from a prodigious talent."– Elisa Albert, author of After Birth

"In a novel as compelling as it is complex, as sexy as it is smart, Robin Kirman strikes straight at life's most important questions—of guilt and forgiveness, the responsibility we have to others—and brings to life one of fiction's great characters, a man whose peculiar allure is so precisely drawn that I found myself drawn to him as powerfully as the students whose lives he forever alters, as powerfully as I was to this stunning book that is sure to leave you altered, too."—Josh Weil, author of The Great Glass Sea

"A spectacular debut. With the murder at its center that spills into the most cloistered corners of scholastic life, I was reminded of Donna Tartt's The Secret History--but with the swiftly moving, intricate plot of Gone Girl. Like many of the characters in this wonderful novel, I struggled with myself: I wanted both to race through its pages and to linger over every lush sentence and trenchant insight. Bradstreet Gate is entrancing, and it announces the arrival of a tremendous new literary talent." –Alena Graedon, author of The Word Exchange

"If John Le Carré and Edith Wharton had a 21st Century literary lovechild, it might look something like this dazzling novel. With the pacing of a thriller, and lit up with insight into manners, class and the messy workings of the social world of the privileged, Bradstreet Gate is a compelling and hugely confident debut. While an unsolved campus murder marks the coming to maturity of the three central characters, the true mystery Robin Kirman explores is that of other people--even those closest to us-- and their fundamental unknowableness. I raced through these pages, but once I was done, I couldn't stop thinking about them." –Maggie Pouncey, author of Perfect Reader

"Searing…The way Bradstreet Gate dances between its various characters' fears, ambitions, struggles and shameful secrets is stunning. Young love, friendship, rivalry, lust for excitement, illicit sex and power—and how very thin the line is between love and hate—have never been drawn so compellingly. Kirman illuminates beautifully how decent intentions and buried desires can lead us astray, painting with devastating detail a painfully uneven friendship, rendering heartbreak convincingly. And yet there is pathos here. The friendships these Ivy Leaguers form contain real empathy and electric attraction, as well as envy and resentment.  Kirman masterfully illustrates how it is our failure to fully understand one another's fears and failings that can ultimately rupture even the tightest of bonds."–Rebecca Curtis, author of Twenty Grand: And Other Tales of Love and Money 
Crown, 9780804139335, 336pp.
Publication Date: April 5, 2016
About the Author
ROBIN KIRMAN earned a BA in philosophy from Yale College and an MFA in fiction from Columbia University, where she served as a writing instructor in the English department. Robin lives in New York City and Tel Aviv.
or
Not Currently Available for Direct Purchase