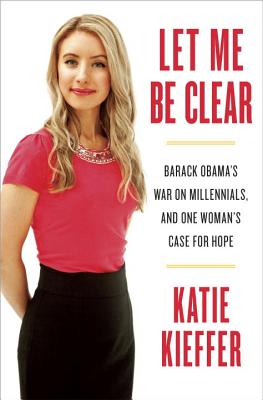 Let Me Be Clear
Barack Obama's War on Millennials, and One Woman's Case for Hope
Hardcover

* Individual store prices may vary.
Description
A SEARING INDICTMENT OF THE MASTER OF CHARM, BARACK OBAMA, FOR HIS HISTORIC WAR ON AMERICAN YOUTH
 
"Let me be clear." It was his come-hither call, his winsome whistle, his lingual lure. Barack Obama employed this phrase to sell his lies as maxims and his ineptitude as expertise. From JFK to Bill Clinton, America has experienced charming and coy presidents. But the most charming and coy is Obama, who seduced a generation of 95 million young Americans he used for his own political gain.
 
Katie Kieffer is a gutsy commentator who gives it back to Barack. She turns his words against him. She grabs the high bar of transparency that Obama set for himself and snaps it with her wit. In Let Me Be Clear, Kieffer gives us an unflinching yet entertaining account of this administration's exploitation of Millennials:

· How: Obama spearheaded the Great Recovery—and young people could tell when their law degrees landed them jobs as baristas.

· What: the "New Shacking Up" entails. (Hint: parents AND young people hate this trend.)

· How: Barack's buddy essentially wrote Obama-care without Congress. Plus, nearly 300 doctors offer free-market solutions to improve health care.

· How: a constitutional law–professor president failed to rationally discuss gay marriage.

· Why: Barack wouldn't have been the best father for Trayvon Martin; he deserved better.

· What: "Assuming We Don't Die Tonight" reveals about the bloodcurdling story of Benghazi.

· How: liberal lies about guns have "tattooed" all youths as criminals. Kieffer implodes the naïve War on Guns and presents solutions for mass violence with more love and more guns.
 
Inspiring hope, Kieffer outlines how conser­vatives and independents can win electoral races and achieve entrepreneurial dreams. Kieffer's got grit. She's very clear with her president: she brings smooth-tongued bullies to justice. See for yourself.

Praise For Let Me Be Clear: Barack Obama's War on Millennials, and One Woman's Case for Hope…
"Katie Kieffer is that new breed of conservative: young, articulate, and most important, willing to think outside the box. Read for yourself and enjoy." --Jason Lewis, Sydicated Radio Host and Author of Power Divided Is Power Checked
Crown Forum, 9780804139755, 352pp.
Publication Date: June 24, 2014
About the Author
KATIE KIEFFER is a political commentator, lauded public speaker, and a weekly columnist at Townhall.com. She has a background in journalism and business. Kieffer is a member of the Ladies of Liberty Alliance Speakers Bureau, and she's been featured on CNBC, MSNBC, and the Fox Business Network.
or
Not Currently Available for Direct Purchase