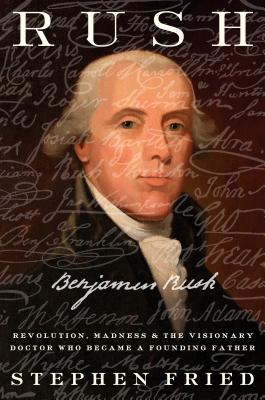 Rush (Hardcover)
Revolution, Madness, and Benjamin Rush, the Visionary Doctor Who Became a Founding Father
Crown, 9780804140065, 608pp.
Publication Date: September 4, 2018
Other Editions of This Title:
Digital Audiobook (9/3/2018)
Paperback (9/3/2019)
* Individual store prices may vary.
Description
The monumental life of Benjamin Rush, medical pioneer and one of our most provocative and unsung Founding Fathers
 
In the summer of 1776, fifty-six men put their quills to a dangerous document they called the Declaration of Independence. Among them was a thirty-year-old doctor named Benjamin Rush. One of the youngest signatories, he was also, among stiff competition, one of the most visionary.
 
From improbable beginnings as the son of a Philadelphia blacksmith, Rush grew into an internationally renowned writer, reformer, and medical pioneer who touched virtually every page in the story of the nation's founding. He was Franklin's protégé, the editor of Common Sense, and Washington's surgeon general. He was a fierce progressive agitator—a vocal opponent of slavery and prejudice by race, religion or gender, a champion of public education—even as his convictions threatened his name and career, time and again. He was a confidante, and often the physician, of America's first leaders; he brokered the twilight peace between John Adams and Thomas Jefferson. As a doctor, he became "the American Hippocrates," whose brilliant, humane insights and institutional reforms revolutionized the understanding and treatment of mental illness in ways that still reverberate.
 
Like the greatest Revolutionary minds, Dr. Benjamin Rush recognized that 1776 was only the beginning of the American experiment. Rush brings new drama to his singular life and towering legacy, finally installing him in the pantheon of our wisest and boldest Founding Fathers.
About the Author
STEPHEN FRIED is an award-winning journalist and New York Times bestselling author who teaches at Columbia University Graduate School of Journalism and the University of Pennsylvania. He is, most recently, the author of the historical biography Appetite for America, and the coauthor, with Congressman Patrick Kennedy, of A Common Struggle. His earlier books include the biography Thing of Beauty: The Tragedy of Supermodel Gia and the investigative books Bitter Pills and The New Rabbi. A two-time winner of the National Magazine Award, Fried has written frequently for Vanity Fair, GQ, The Washington Post Magazine, Rolling Stone, Glamour, and Philadelphia Magazine. He lives in Philadelphia with his wife, author Diane Ayres.
Praise For Rush: Revolution, Madness, and Benjamin Rush, the Visionary Doctor Who Became a Founding Father…
"This entertaining biography argues that Benjamin Rush, a physician and a signer of the Declaration of Independence, has been undeservedly forgotten. In medicine…[and] as a political thinker, he was brilliant." —The New Yorker

"A perceptive analysis...reveal[s] a dedicated humanitarian with an enduring influence....Through the efforts of Mr. Fried...what Benjamin Rush characterized as 'the distant and more enlightened generations' are now better placed to judge him." —The Wall Street Journal

"Reminds us eloquently, abundantly, what a brilliant, original man Benjamin Rush was, and how his contributions to Philadelphia and the United States continue to bless us all." —The Philadelphia Inquirer

"An amazing life and a fascinating book." —CBS This Morning

"[An] extraordinary and underappreciated man is reinstated to his rightful place in the canon of civilizational advancement in Rush…Had I read Fried's Rush before the year's end, it would have crowned my favorite books of 2018…[a]  superb biography." —Brain Pickings

"Fried, a talented story teller, has given his readers a page-turning text to enjoy...[he] has brought Declaration of Independence signer Benjamin Rush back to life for modern readers. Overall, this volume represents a most worthy addition to major biographies about the founding fathers of the United States...A fast paced volume [that] deserves a wide reading audience."— Journal of the American Revolution

"Fried makes the case, in this comprehensive and fascinating biography, that renaissance man Benjamin Rush merits more attention….Fried portrays Rush as a complex, flawed person and not just a list of accomplishments;…a testament to the authorial thoroughness and insight that will keep readers engaged until the last page." —Publishers Weekly, starred review

"Dr. Benjamin Rush may not be a household name, but the young signatory of the Declaration of Independence led a remarkable life….Historian Stephen Fried has brought this lesser-known revolutionary figure to life." —WHYY

"A well-crafted story of early America and the Revolutionary War…a biography of a Founding Father, physician and founder of psychiatric medicine. Quite a literary undertaking, and done with skill and grace." —The Lancet

"Fried is able to bring a bygone era into focus...a sweeping look at a complicated life." —The Santa Fe New Mexican

"A welcome biography of a Founding Father…[who] became a prominent revolutionary and signer of the Declaration of Independence, then surgeon general of the Continental Army…renowned in the annals of American medicine as a pioneer of medical education and the treatment of the mentally ill….A complete portrait of a complex man...who excited attention and controversy in his day but then fell into the shadows. Fried does well to restore him to history." —Kirkus

"A fantastic biography of a man who deserves more attention and applause from modern society... the introduction to Rush is a brilliant portrayal of the man's importance and provides fuel for the story to follow." —Medium

"Fried's reclamation of this important, overlooked American founder is an invaluable addition to American history collections and a solid recommendation to biography fans." —Booklist

"The best books are full of surprises. Rush has more of them than any historical biography I have read in ages. It is vast and sumptuous and brings to life Founding Father Benjamin Rush in full technicolor. Too long ignored, Rush's varied and mercurial brilliance puts him smack in the company of such figures as Adams and Jefferson and Washington and Hamilton with one exception: he is more interesting than any of them. He revolutionized medicine. He revolutionized healthcare. He revolutionized life. Fried draws it all out with his usual perfect pitch of reportage and writing. What a grand feast and feat."  —Buzz Bissinger, author of Friday Night Lights and A Prayer for the City

"Benjamin Rush is best known as the founding father the more famous founders wrote to. Stephen Fried, in this fascinating biography, shows us why we need to reconsider, and pay more attention to a man whose talents rivaled Franklin's, opinions equaled Adams's, and facility with language approached Jefferson's."—H.W. Brands, author of The First American and Heirs of the Founders

"Stephen Fried has written a gem of a book—the riveting story of a Founding Father who is too often forgotten. In this magnificent work, Benjamin Rush gets the biography he deserves, and readers get an expertly researched, splendidly written account of a brilliant, influential man and the times in which he lived." —Jonathan Eig, author of Ali: A Life

"An engrossing exploration of a founding father whose life sheds new light on the American Revolution, as well as on the ongoing challenges of civil rights and mental healthcare in this country. I had no idea how much Rush helped to shape our young nation and how urgent his voice remains today. Anyone who cares about our past and future—politically, medically, spiritually—should read this masterful biography." —Congressman Patrick J. Kennedy, co-author of A Common Struggle

"An important and fascinating account of a relatively neglected yet critical Founding Father.  Benjamin Rush—Surgeon General of the Continental Army, signer of the Declaration of Independence, and Jefferson's choice for medical advisor to the Lewis and Clark Expedition—is also acknowledged as the father of American Psychiatry for his study and treatment of the mentally ill. Stephen Fried brings to life Rush's extraordinary political and medical contributions, as well as the times in which he lived." —Kay Redfield Jamison, author of An Unquiet Mind and Robert Lowell: Setting the River on Fire
Coverage from NPR