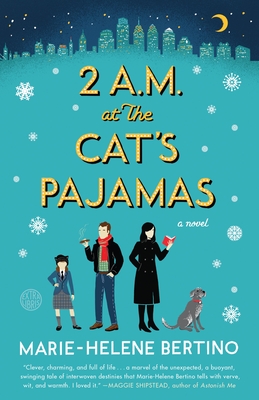 2 A.M. at The Cat's Pajamas
A Novel
Paperback

* Individual store prices may vary.
Other Editions of This Title:
Digital Audiobook (8/4/2014)
Library Binding, Large Print (10/1/2014)
Compact Disc (8/5/2014)
Hardcover (8/5/2014)
Description
An enchanting novel about one day in the lives of three unforgettable characters as they search for love, music, and hope on the snow-covered streets of Philadelphia.
 
Madeleine Altimari is a smart-mouthed, rebellious nine-year-old who also happens to be an aspiring jazz singer. Still mourning the recent death of her mother, and caring for her grief-stricken father, she doesn't realize that on the eve of Christmas Eve she is about to have the most extraordinary day—and night—of her life. After bravely facing down mean-spirited classmates and rejection at school, Madeleine doggedly searches for Philadelphia's legendary jazz club The Cat's Pajamas, where she's determined to make her on-stage debut. On the same day, her fifth grade teacher Sarina Greene, who's just moved back to Philly after a divorce, is nervously looking forward to a dinner party that will reunite her with an old high school crush, afraid to hope that sparks might fly again. And across town at The Cat's Pajamas, club owner Lorca discovers that his beloved haunt may have to close forever, unless someone can find a way to quickly raise the $30,000 that would save it.
 
Together, Madeleine, Sarina, and Lorca will discover life's endless possibilities over the course of one magical night. A vivacious, charming and moving debut, 2 A.M. at The Cat's Pajamas will capture your heart and have you laughing out loud.
Praise For 2 A.M. at The Cat's Pajamas: A Novel…
NPR's Best Books of 2014 selection
PopSugar 2014 Must Reads selection
L Magazine 2014 Gift Guide
Kansas City Star - 100 best books of 2014 Selection
BuzzFeed - The 22 Most Exciting Literary Debuts Of 2014 Selection


"Delightful...[This] story has it all."—Time Out New York

"Inventive, gorgeously written and unforgettable."--NPR

"Enchanting…Rich and real…The book feels lively, with the jostling energy of…well, a club."—The Millions

"Set in a famous Philadelphia jazz club, this uplifting novel centers on three lonely people — including a precocious 9-year-old who dreams of becoming a singer — and their fateful search for companionship over the course of one Christmas Eve night."—Bustle.com

"The story of a lonely 9-year-old girl's quest to perform at a Philadelphia jazz club on Christmas Eve rolls along much like a piece of music — different story lines wind and unwind like musical themes, and these stories are all threaded together with a consistently energized brio like one of the tunes played at the club giving the book its title. Each sentence, as well, is composed with a poetic ear; no line is wasted. That's rare." –San Francisco Chronicle

"Exposes both the beauty and burden of urban living…A clever tale of missed opportunities and seized ones, Cat's Pajamas' characters mirror the story's inspiration. Like jazz, they're unruly, improvised, and endlessly impassioned."–Austin Chronicle
 
"The novel's true genius, though, is [Bertino's] wry insight into her delightful characters…crafted by a writer who shows that less is more, and that perfectly worded less is magic." -- The Philadelphia City Paper

"Bertino conveys heartbreak and hopefulness in this lyrical, outlandish story that's infused with grit and moments of truth...wonderfully weird and witty... magical."--Fredericksburg Free Lance-Star 

"[2 A.M. at The Cat's Pajamas is] funny and sad and full of a lyricism that is as rare as it is appreciated." -- The L Magazine

"[2 A.M. at The Cat's Pajamas] is the most charming thing I have ever read in my entire existence on this planet…Come for the beauty and heartbreak, stay for the funny one-liners." - Book Riot

"The purely original construction of an irresistible story… Readers will fall in love…This assured, moving, brilliantly funny tale of music, mourning, and off-kilter romance entrances with its extraordinarily inventive language. Be prepared for a quick reread of this novel to try to answer the question: How did Bertino do that?" —Library Journal (starred review)

"A torch song to the power of jazz, determination and serendipity….Bertino's carefully crafted verbal cadence gives Philadelphia a thumping heartbeat that captures the feel of the jazz medium perfectly… Funny and wise, this first novel will leave readers with smiles on their faces and a song in their hearts--something with a little swing to it, naturally."—Shelf Awareness

"Vibrant...Bertino's characters are spot-on, and her special brand of humor brings each one to life in this fresh and charming tale."—Booklist

"2 A.M. at The Cat's Pajamas won me over heart and soul. With Madeleine Altimari, a nine year old aspiring jazz singer with a wonderful talent for cursing, Bertino has created one of the most winning and wonderful characters I've met in a long time. Read this book to see a debut author doing something really special, crafting a story where human kindness meets up with an inhospitable world and real magic happens in the aftermath." – Kevin Wilson, New York Times bestselling author of The Family Fang 

"Marie-Helene Bertino bops across Philadelphia like an alleycat on the run, energetic and wild. Her sentences are sharp and surprising, and her wonderful story is full of heart. There is funny poetry in the sound of loneliness, and Bertino has found it." —Emma Straub, author of The Vacationers and Laura Lamont's Life in Pictures 

"Clever, charming and full of life…Like the best jazz, 2 A.M. at The Cat's Pajamas is a marvel of the unexpected, a buoyant, swinging tale of interwoven destinies that Marie-Helene Bertino tells with verve, wit, and warmth. I loved it." —Maggie Shipstead, author of Astonish Me and Seating Arrangements

"2 A.M. at The Cat's Pajamas is as winning and funny as the nine year-old at its heart, and I love it for the way its protagonists turn their back on their city's cruddiness and their own losses to proclaim their happiness to be in this world.  They offer wryness as the antidote to self-pity and benevolence as the antidote to isolation, and they demonstrate how even the most forsaken can turn themselves into a warm, dry house." —Jim Shepard, National Book Award shortlisted author of Like You'd Understand, Anyway
 
"2 A.M. at The Cat's Pajamas is a recipe box full of wonders. With a wildly entertaining cast of characters, Marie-Helene Bertino soars through her native city of Philadelphia, zeroing in with great beauty, wit, skill and love on the exact moments in time that change our lives forever." —Hannah Tinti, author of The Good Thief  

"Once you enter the imagination of Marie-Helene Bertino—a world as weird as it is warm—you will not want to leave. Each sentence is a pop-up box: first delightful for its sweet music, then profound with the shock of truth. This is a dazzling book."—Eleanor Henderson, author of Ten Thousand Saints

"2 A.M. at The Cat's Pajamas is beautiful, alive, and moving. Marie-Helene Bertino has a mesmerizing way with words… [This is] one of those books that stays in your head long after you've finished it, like a song."—Sara Crowe, author of Campari for Breakfast
 
"Sympathetic characters and an evocative setting combine in a story that takes some most unexpected turns. It's thrilling to see bravery reminiscent of short story-telling translate into a novel. The dénouement had me in tears, in stitches and then doing a double take at an ending that seems to come out of nowhere."—Claire King, author of The Night Rainbow


Crown, 9780804140256, 288pp.
Publication Date: October 27, 2015
About the Author
Marie Helene-Bertino is the author of Safe as Houses, winner of the Iowa Short Fiction Prize. An Emerging Writer Fellow at New York's Center for Fiction, she has spent six years as an editor and writing instructor at One Story. A Philadelphia native, she currently lives in Brooklyn.
In order to provide reading groups with the most informed and thought-provoking questions possible, it is necessary to reveal certain aspects of the story in this novel. If you have not finished reading 2 A. M. at The Cat's Pajamas, we respectfully suggest that you wait before reviewing this guide.
As Madeleine imagines herself onstage, how does she picture the ideal woman? Who did you pretend to be when you were her age?
The author lets us see Madeleine's teacher both as Sarina and as Miss Greene. How do Madeleine's impressions compare to the reality of Miss Greene's personal life? How does Sarina manage to carry a torch for Ben after so many years? What does her story tell us about "grown-up" love?
Discuss the recipe box that Madeleine's mother created. Which tips are your favorites? What are your own rules for living?
As you read about Clare and Madeleine's life at Saint Anthony of the Immaculate Heart, did it bring back any memories of you as a fifth grader? What makes Madeleine vulnerable to rejection by the other kids? Why is it hard for everyone to understand what she's going through?
How would you react to a student like Madeleine if you were Principal Randles?
What inspiration does Jack Lorca find in his son, Alex? How is he guided by the other two names tattooed on his arm: Francis and Melissa?
As the author paid tribute to her hometown in 2 a.m. at The Cat's Pajamas, what did you discover about Philadelphia? What makes it the ideal setting for Madeleine's magical moment?
"4:00 P.M." ends with the observation on page 83 that "we carry our ancestors in our names and sometimes we carry our ancestors through the sliding doors of emergency rooms and either way they are heavy, either way we can't escape." How do family legacies affect the characters in the novel? How do Lorca and Madeleine cope with tragedy and loss? What is it like for them to live in the shadow of someone else's dreams?
Beginning on page 144, "11:00 P.M." gives us a poignant glimpse into Madeleine's early years with her parents, Mark and Corrine. How do these images enhance your understanding of Madeleine's world? How did your feelings about Mark shift throughout the novel?
Revisit the history of The Cat's Pajamas nightclub on pages 163–164 and discuss the club itself as a character. What gives life and personality to The Cat's Pajamas? What does the club mean to the Lorca family and to music lovers? How does the club cope with aging? Are there similar one-of-a-kind gems in your community?
As Madeleine takes the stage with Alex, what is at stake for each of them, and for the Cubanistas, beyond the world of The Cat's Pajamas?