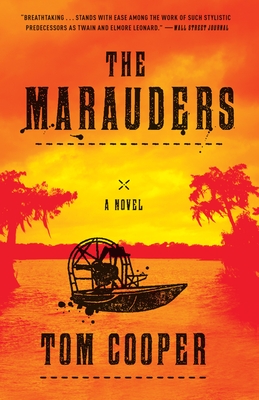 The Marauders
A Novel
Paperback

* Individual store prices may vary.
Other Editions of This Title:
Digital Audiobook (2/2/2015)
Hardcover (2/3/2015)
Description
"A little Elmore Leonard, a little Charles Portis, and very much its own uniquely American self. . .Tom Cooper has written one hell of a novel." –Stephen King 

When the BP oil spill devastates the Louisiana Gulf Coast, the citizens of the bayou town of Jeanette scramble to replace their lost livelihoods. Among them is one-armed, pill-popping shrimper Gus Lindquist, who has nothing left but the dying glimmer of a boyhood dream: finding the lost treasure of pirate Jean Lafitte. With his metal detector and Pez dispenser full of Oxycontin, Lindquist steers his rickety shrimp boat into the savage Louisiana swamps.
 
Along his journey, Gus meets a motley crew of characters: Wes Trench, a young Cajun man estranged from his father since his mother died in Katrina; Reginald and Victor Toup, sociopathic twin brothers and drug lords; Cosgrove and Hanson, petty criminals searching for a secret that could make them rich, or kill them; and Brady Grimes, a BP middleman out to make his career by swindling the townsfolk of Jeanette, among them his own mother.
 
Funny, dark, and compelling, The Marauders throws these characters on a rollicking collision course that all of them might not survive.
Praise For The Marauders: A Novel…
"Sad, grotesque, hilarious, breathtaking...stands with ease among the work of such stylistic predecessors as Twain, Carl Hiaasen and Elmore Leonard. One thing that gives "The Marauders" its own clear hallmark is its quicksilver prose. The book's other standout aspect is how it demands and earns sympathy for all but its most evil characters and for the fate-blasted but nature-blessed locale they inhabit. You might not want to retire there, but you'll savor this visit." - The Wall Street Journal

"Excellent, finely written and funny – an admirable novel from a very promising writer." - USA Today

"It's always the voice, the singular sound of a place like none other, that draws you into a regional mystery. In Tom Cooper's first novel, The Marauders, that beguiling music comes out of the Louisiana bayous, where a raucous chorus of shrimp fishermen, marijuana growers, treasure hunters, professional crooks and common thieves fight to be heard…It hurts to laugh at the preposterous get-rich-quick schemes of these swamp denizens, but laugh we must, if only to find some relief from the grim realism of Cooper's portrait of life in these coastal communities." – The New York Times Book Review

"The Marauders is so damned good you won't believe it's a first novel…and by the time you reach page 20, you won't care. It's rollicking, angry, eye-popping, and fall-on-the-floor funny, sometimes in the course of a single scene. The cast is winning, the post-Katrina bayou setting is richly evoked, the dialogue crackles, and the story rolls on a wave of invention. It's a little Elmore Leonard, a little Charles Portis, and very much its own uniquely American self. Basically, Tom Cooper has written one hell of a novel." - Stephen King

"More fun than a book about the aftermath of an ecological disaster has any right to be" - Esquire

"Wade into moral muck with the pill-popping, treasure-hunting, one-armed hero of this finger-lickin'-good Louisiana swamp noir." - O, The Oprah Magazine

"A sometimes hilarious, sometimes heartbreaking "swamp noir" gumbo with echoes of John Kennedy Toole, Larry Brown and Daniel Woodrell…The Marauders is as grounded in the simple truth as it is awash in the outlandishly eccentric." - Shelf Awareness

"I can't wait for Cooper's next book. Nor can my wife, and she and I seldom agree about novels. He's fun to read--he keeps your head up and your eyes big." - Garden and Gun

"Tom Cooper expertly maps a Gulf Coast of miscreants, romantics, and a severely beleaguered nature, digging at the old, weird south with his own enthralling voice. 'Marauders' is propelled by wonderful characters depicted with grace, humanity, and that rarest of talents: a truly hilarious wit. Mr. Cooper joins such talents as Twain, Portis, and O'Toole in mining the humor of the Southern freak show to deliver the universal news of the human heart." --Nic Pizzolatto, author of Galveston and creator of HBO's 'True Detective' 
Crown, 9780804140584, 320pp.
Publication Date: November 3, 2015
About the Author
TOM COOPER has been published in dozens of literary magazines and journals, most recently in Oxford American, Mid-American Review, Gulf Coast, Boulevard, and Willow Springs. His stories have been nominated four times for the Pushcart Prize. He was born in Ft. Lauderdale, Forida, and now lives in New Orleans, where he writes and teaches. The Marauders is his first novel.