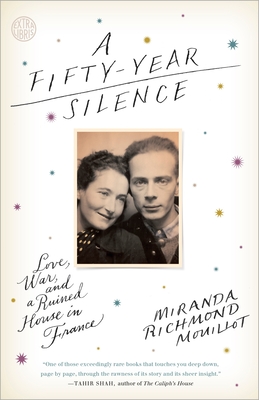 A Fifty-Year Silence
Love, War, and a Ruined House in France
Paperback

* Individual store prices may vary.
Other Editions of This Title:
Digital Audiobook (1/19/2015)
Hardcover (1/20/2015)
Description
A young woman moves across an ocean to uncover the truth about her grandparents' mysterious estrangement and pieces together the extraordinary story of their wartime experiences
 
In 1948, after surviving World War II by escaping Nazi-occupied France for refugee camps in Switzerland, Miranda's grandparents, Anna and Armand, bought an old stone house in a remote, picturesque village in the South of France. Five years later, Anna packed her bags and walked out on Armand, taking the typewriter and their children. Aside from one brief encounter, the two never saw or spoke to each other again, never remarried, and never revealed what had divided them forever.

A Fifty-Year Silence is the deeply involving account of Miranda Richmond Mouillot's journey to find out what happened between her grandmother, a physician, and her grandfather, an interpreter at the Nuremberg Trials, who refused to utter his wife's name aloud after she left him. To discover the roots of their embittered and entrenched silence, Miranda abandons her plans for the future and moves to their stone house, now a crumbling ruin; immerses herself in letters, archival materials, and secondary sources; and teases stories out of her reticent, and declining, grandparents. As she reconstructs how Anna and Armand braved overwhelming odds and how the knowledge her grandfather acquired at Nuremberg destroyed their relationship, Miranda wrestles with the legacy of trauma, the burden of history, and the complexities of memory. She also finds herself learning how not only to survive but to thrive--making a home in the village and falling in love.

With warmth, humor, and rich, evocative details that bring her grandparents' outsize characters and their daily struggles vividly to life, A Fifty-Year Silence is a heartbreaking, uplifting love story spanning two continents and three generations.
Praise For A Fifty-Year Silence: Love, War, and a Ruined House in France…
"What are you guys doing the weekend of January 24? No, you're not. Cross it off, unless it's a beach stay that will allow you uninterrupted time to read Mouillot's A Fifty-Year Silence. I have never before read a book like this one… The story is full of worldly drama—the Nuremberg war trials, a short but beautiful existence in the South of France—but it's the minute family-history details that make the book truly delicious." – Glamour.com, "Best New Books Coming Out in January"

"What makes the book so lively are not only Mouillot's imaginary scenarios, but her dense web of identifications: between herself and her grandmother (both have a talent for finding four-leaved clovers); between her grandparents' experience of the Holocaust and her own generation as bearers of its memory; between herself as author and Marcel Proust, who helps her piece together her grandfather's past; and between her grandparents' love and the love of Proust's protagonists Swann and Odette. Mouillot delightfully crosses different literary genres: tragic romance, third-generation Holocaust survivor novel, autobiography, fiction, Bildungsroman, and intertextual homage." –Haaretz

"Filled with warmth and evocative details, this is a heartrending memoir about historical memory."– FRANCE

"This haunting, beautiful little mystery deftly shows just how long pain can linger through generations, and what shining a light on the past can do to heal a family." – Winnipeg Free Press

"Gorgeous...define[s] the pinnacle of this new genre...Meticulously researched and artfully constructed…a labor of love, infused with familial tenderness." – Jewish Daily Forward

"Eloquent and engrossing....Miranda Richmond Mouillot has imbibed her tale with the frisson of a detective story while gently introducing us to the charm and hidden pain of her extraordinary grandparents... A totally captivating journey that will keep you rapt from start to finish." – Australian Women's Weekly

"Written with an almost poetic transcendence of time, place and memory, this moving memoir chronicles an amazing circle of life. No fairy tale, it is as epic as the times in which Anna and Armand lived and the love they inspired." - BookPage

"As Mouillot upends her own life to investigate [her grandparents'], she begins to understand the lengths to which people will go to protect their fragile dignity and comes to recognize the power of memories that both comfort and torment wounded souls. A vibrant, earnest, and profound tribute." - Booklist

"The corrosive effects of the Holocaust—upon those directly involved and generations thereafter—are illustrated vividly in this candid saga of familial love and misunderstanding, which will resonate with readers of World War II history as well as those who appreciate accounts of ancestral sleuthing in the vein of Anne Sinclair's My Grandfather's Gallery: A Family Memoir of Art and War and Sarah Wildman's Paper Love: Searching for the Girl My Grandfather Left Behind." - Library Journal

"Charming, understated… A wonderful evocation of the way that the Holocaust has haunted many generations." – Publishers Weekly

"A moving family history researched with dedication and completed with a granddaughter's love." - Kirkus Reviews

"A Fifty-Year Silence is one of those exceedingly rare books that touches you deep down – page by page – through the rawness of its story and its sheer insight. The extraordinary quality of the prose, the elegance of the storytelling, and the genius with which Miranda Richmond Mouillot has laid down the twists and turns make this a book to treasure. It is a memoir that sings to us all." – Tahir Shah, author of The Caliph's House

"A Fifty-Year Silence is an existential detective story, a family chronicle, a journey of self-discovery, a meditation on memory, a reckoning with ghosts of a tragic past – and, miraculously, this luminous book succeeds on all levels.  The complex, unforgettable characters of Anna and Armand belong in a novel. The author's own quest to uncover the startling truth about their relationship has the candor and intimacy of the best kind of memoir." – Anya von Bremzen, author of Mastering the Art of Soviet Cooking

"A Fifty-Year Silence bravely confronts a truth that most memoirs deny: even the most thorough investigation of family history cannot elucidate the heart of the past.  Richmond Mouillot's voice – shaped by stories yet resisting any single story – does the profound work of using imagination, place, love, and art to transform the unknowable past into a rooted, liberating spring of identity." – Anouk Markovits, author of I Am Forbidden

"Miranda Richmond Mouillot's loving, suspenseful, and determined quest to uncover the mysterious wound that divides her family holds us fascinated in the intimate spaces where generations seek each other. She beautifully explores how time and memory challenge us all." – Leslie Maitland, author of Crossing the Borders of Time

"In Miranda Richmond Mouillot's luminous and courageous exploration of the two complicated lives of her grandparents, the tragedy of the Holocaust, a crumbling house in France, and her personal search for what might be a kind of truth, A Fifty-Year Silence brings to life a singular family across generations. Richmond Mouillot is a writer of extraordinary grace whose love of her subjects illuminates nearly every page." – Marianne Szegedy-Maszák, author of I Kiss Your Hands Many Times

"Miranda Richmond Mouillot's remarkable book takes the French concept of the lieux de memoire – places of memory – those geographic repositories of story and pain, and upends it.   Richmond Mouillot draws a powerful portrait of her beloved grandparents, long estranged from one another yet both in love with their only granddaughter, whose own lives are a microcosm of the impact of the Holocaust.  In discovering what drove them apart, she unfolds a captivating, intensely moving tale of family, love, war, loss, and finding oneself in the tea leaves of the past." – Sarah Wildman, author of Paper Love

"A keenly observed and poignant memoir of one young woman's journey from North Carolina to the south of France, and from the present day into the dark spaces in the history of her family and of Europe." – Matti Friedman, author of The Aleppo Codex and winner of the Sami Rohr Prize for Jewish Literature
Crown, 9780804140669, 304pp.
Publication Date: January 19, 2016
About the Author
MIRANDA RICHMOND MOUILLOT was born in Asheville, North Carolina. She lives in the South of France with her family.
or
Not Currently Available for Direct Purchase