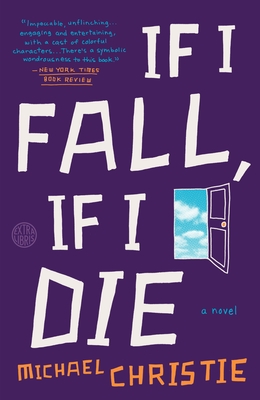 If I Fall, If I Die
A Novel
Paperback

* Individual store prices may vary.
Other Editions of This Title:
Hardcover (1/20/2015)
Description
A heartfelt and wondrous debut about family, fear, and skateboarding, that Karen Russell calls "A bruiser of a tale . . . a death-defying coming-of-age story."

Will has never been outside, at least not since he can remember. And he has certainly never gotten to know anyone other than his mother, a fiercely loving yet wildly eccentric agoraphobe who panics at the thought of opening the front door. Their world is rich and fun- loving—full of art, science experiments, and music—and all confined to their small house.

But Will's thirst for adventure can't be contained. Clad in a protective helmet and unsure of how to talk to other kids, he finally ventures outside.  At his new school he meets Jonah, an artsy loner who introduces Will to the high-flying freedoms of skateboarding.  Together, they search for a missing local boy, help a bedraggled vagabond, and evade a dangerous bootlegger.  The adventure is more than Will ever expected, pulling him far from the confines of his closed-off world and into the throes of early adulthood, and all the risks that everyday life offers.   

In buoyant, kinetic prose, Michael Christie has written an emotionally resonant and keenly observed novel about mothers and sons, fears and uncertainties, and the lengths we'll go for those we love.
Praise For If I Fall, If I Die: A Novel…
Longlisted for the Giller Prize

"Impeccable, unflinching. . . . Engaging and entertaining, with a cast of colorful characters. . . . There's a symbolic wondrousness to this book." —The New York Times Book Review

"Deftly written. . . . Christie's fine novel is really a kind of spiritual cousin of Paul Harding's Tinkers as a study of people who are in this world but not quite of it. . . . Altogether brilliant." —Kirkus (starred)

"Magical… Brims with a fierce poignancy that makes the book very difficult to put down."—Publishers Weekly

"A bright and busy prose style...Christie does a yeoman's job of depicting the dynamics of the parent-child relationship and the thrills of skateboarding...The novel is at its best in its complex portrayal of mental illness."—Booklist

"This is a bruiser of a tale, one you will feel in your shins and your solar plexus.  Michael Christie is a virtuosic prose stylist and boy is he so very wise and so funny on families and friendships, fear and joy, and the physics of sky and pavement. If I Fall, I Die is a death-defying coming of age story; it's also as weird and as convincing a love story as I have ever read.  And so beautifully told that you'll want to pass it on immediately." —Karen Russell

"An astonishing piece of work. Christie combines lyrical prose and true-to-life characters--and skateboarding--to craft a remarkable tale of mothers and sons, and what it means to grow up." —Philipp Meyer

"Reading If I Fall, If I Die is like hopping on a skateboard and grabbing hold of the bumper of an accelerating car. Christie's prose pulls you on a ride through the winding streets of phobia, family, and friendship at such a clip you won't dare let go."—David Gilbert

"Rarely has the tender claustrophobia of the mother-son dynamic, the raw humanity of mental illness, or the delicate, dangerous process of growing up been rendered with such heart and sensitivity. If I Fall, If I Die mines the fundamental dilemmas of both childhood and parenthood to sublime effect. I can't recall a funnier, truer or more beautiful debut." - Patrick DeWitt

"Both a mystery and a coming-of-age novel, Christie's book captures the moment when every child ventures out into the world on their own, and the point when every parent must finally let go. . . ."--Globe and Mail

"If I Fall, If I Die stands out for its probing of the boy's unique mindset and sensitive descriptions of his trying social acclimatization. . . . A sort of Alice in Wonderland in reverse, where a kid from a place where fantasy reigns clambers out of his rabbit hole and emerges, awestruck, into the real world. . . . [His] journey brings out the wondrous in the mundane, and the emotional adventure of abiding friendship."--Toronto Star

"Christie keeps the story thundering along; once Will has begun his adventures in the Outside the narrative barely pauses for a breather . . . . Surprisingly gripping. . . Love and fear are twin guides for If I Fall, If I Die; this novel balances both with ease."--Winnipeg Free Press

"This exceptional debut novel is a warm, often funny dramatisation of the balance between anxious love and worthwhile risk."--Sunday Times (UK)

"There is a fairy-tale quality to the story, which reads as an allegory of the rampant anxiety of the modern age. Will's voice is engaging and likeable, drawing us into the magic and horror of his world. . . . As Will comes to understand the foreign ways of society, there are echoes of Mark Haddon's The Curious Incident of the Dog in the Night-Time. . . . We are willing to suspend disbelief as the character's insights, clever and colourful, propel his adventures along."--Irish Times

"A book you'll want to keep, but won't be able to resist sharing with friends."--Cosmopolitan (UK)

"If I Fall, If I Die is a richly plotted debut novel rife with vivid characters."--McSweeney's

"[A] complex family story. . . . An excellent debut novel."--Sydney Morning Herald, Pick of the Week 

"A master of his environment, Christie is also deft at inhabiting the mind of a child in his writing … powerful and page-turning … A first novel that is complex, symbolic and a little bit wondrous."--Sunday Business Post (UK)
Hogarth, 9780804140829, 352pp.
Publication Date: October 20, 2015
About the Author
MICHAEL CHRISTIE received an MFA from the University of British Columbia and is a former professional skateboarder. His first book, The Beggar's Garden, was a finalist for a number of major Canadian prizes and the winner of the City of Vancouver Book Award. He lives with his family on Galiano Island, British Columbia. If I Fall, If I Die is his U.S. debut.
or
Not Currently Available for Direct Purchase