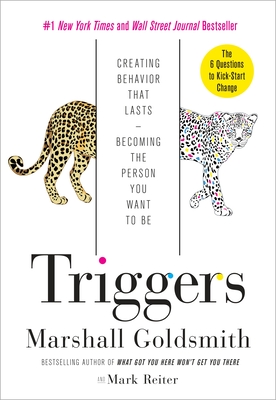 Triggers
Creating Behavior That Lasts--Becoming the Person You Want to Be
Hardcover

* Individual store prices may vary.
Other Editions of This Title:
Digital Audiobook (5/18/2015)
Description
Bestselling author and world-renowned executive coach Marshall Goldsmith examines the environmental and psychological triggers that can derail us at work and in life.
Do you ever find that you are not the patient, compassionate problem solver you believe yourself to be? Are you surprised at how irritated or flustered the normally unflappable you becomes in the presence of a specific colleague at work? Have you ever felt your temper accelerate from zero to sixty when another driver cuts you off in traffic?
Our reactions don't occur in a vacuum. They are usually the result of unappreciated triggers in our environment—the people and situations that lure us into behaving in a manner diametrically opposed to the colleague, partner, parent, or friend we imagine ourselves to be. These triggers are constant and relentless and omnipresent. So often the environment seems to be outside our control. Even if that is true, as Goldsmith points out, we have a choice in how we respond.
In Triggers, his most powerful and insightful book yet, Goldsmith shows how we can overcome the trigger points in our lives, and enact meaningful and lasting change. Goldsmith offers a simple "magic bullet" solution in the form of daily self-monitoring, hinging around what he calls "active" questions. These are questions that measure our effort, not our results. There's a difference between achieving and trying; we can't always achieve a desired result, but anyone can try. In the course of Triggers, Goldsmith details the six "engaging questions" that can help us take responsibility for our efforts to improve and help us recognize when we fall short.
Filled with revealing and illuminating stories from his work with some of the most successful chief executives and power brokers in the business world, Goldsmith offers a personal playbook on how to achieve change in our lives, make it stick, and become the person we want to be.


Praise For Triggers: Creating Behavior That Lasts--Becoming the Person You Want to Be…
Praise for Marshall Goldsmith and Triggers

"Triggers provides the self awareness you need to create your own world, rather than being created by the world around you."—Alan Mulally, CEO of the Year (US) and #3 on Fortune magazine's 50 Greatest Leaders in the World (2014) 

"Reading Triggers is like talking with Marshall. You get clear, practical, and actionable suggestions."—Ian Read, CEO, Pfizer

"Triggers inspires us to be better people, better leaders, better fellow travelers. 'Creating behavior' is our new battle cry for a bright future."—Frances Hesselbein, President and CEO, The Frances Hesselbein Leadership Institute, 1998 Presidential Medal of Freedom Award Recipient

"Marshall is a valuable coach and partner in driving organizational change and performance improvement. Triggers will guide a new group of executives looking to reach their full business and personal potential." 
--Brian C. Cornell, Chairman and CEO, Target Corporation

"Marshall Goldsmith is one of the world's foremost experts at helping people get better. In this new book, he provides a rich set of new, practical, life tested ideas, concepts and frameworks that will help those of us who want to change, be the best that we can be, and be the person we want to be."—Hubert Joly, CEO, Best Buy

"I have had the great fortune of working with Marshall for several years. He has helped me in so many ways. Triggers represents a natural progression in Marshall's work and many of the ideas in it have already helped me and many of his other clients. As with all of his books, I know that Marshall's focused, practical and insightful approach will help you in leadership, but even more important, it can help you in life!"—Jim Yong Kim, 12th President The World Bank

"Marshall Goldsmith is a great author and world-renowned executive coach. His contribution to our group has been immense and we have greatly benefited by his unparalleled experience and his knowledge. In Triggers he shares illuminating stories from his work with great global leaders. He helps us transform our lives and helps us become more holistic human beings. This is a book worth reading for every practicing professional and for those who aspire to leadership.—GM Rao, CEO GMR Group (India), Indian Entrepreneur of the Year

"How do we create the change we need for our organizations and for ourselves? Marshall Goldsmith is the master of helping us all find that path, avoiding the negative triggers and building upon the triggers that bring out our best. Here, again, he teaches with his unique insight, warmth and positive energy. Our job is to learn and do better, for a better outcome for all, which this book helps guide."—Tony Marx – CEO New York Public Library

"You can't teach an old dog new tricks…without Marshall Goldsmith's help. With his coaching, you can change your old behavior to create new outcomes."—Deanna Mulligan – CEO Guardian Life, Fortune 50 Most Powerful Women in Business

Currency, 9780804141239, 272pp.
Publication Date: May 19, 2015
About the Author
Marshall Goldsmith is the leading executive coach in the world and the author of the New York Times bestsellers What Got You Here Won't Get You There and Mojo. He received his PhD from UCLA Anderson School of Management. His client list is a who's who of American CEOs. He and his wife live in San Diego.