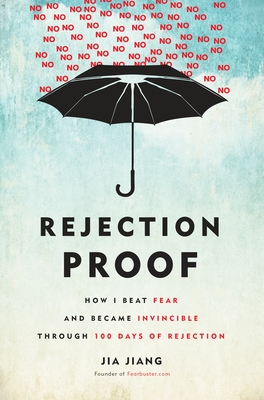 Rejection Proof
How I Beat Fear and Became Invincible Through 100 Days of Rejection
Hardcover

* Individual store prices may vary.
Other Editions of This Title:
Digital Audiobook (5/18/2015)
MP3 CD (5/19/2015)
Compact Disc (5/19/2015)
Compact Disc (5/19/2015)
Description
An entertaining and inspiring account of conquering the fear of rejection, offering a completely new perspective on how to turn a no into a yes.

Jia Jiang came to the United States with the dream of being the next Bill Gates. But despite early success in the corporate world, his first attempt to pursue his entrepreneurial dream ended in rejection. Jia was crushed, and spiraled into a period of deep self doubt. But he realized that his fear of rejection was a bigger obstacle than any single rejection would ever be, and he needed to find a way to cope with being told no without letting it destroy him. Thus was born his "100 days of rejection" experiment, during which he willfully sought rejection on a daily basis--from requesting a lesson in sales from a car salesman (no) to asking a flight attendant if he could make an announcement on the loud speaker (yes) to his famous request to get Krispy Kreme doughnuts in the shape of Olympic rings (yes, with a viral video to prove it).

Jia learned that even the most preposterous wish may be granted if you ask in the right way, and shares the secret of successful asking, how to pick targets, and how to tell when an initial no can be converted into something positive. But more important, he learned techniques for steeling himself against rejection and ways to develop his own confidence--a plan that can't be derailed by a single setback. Filled with great stories and valuable insight, Rejection Proof is a fun and thoughtful examination of how to overcome fear and dare to live more boldly.
Praise For Rejection Proof: How I Beat Fear and Became Invincible Through 100 Days of Rejection…
"Rejection Proof smashes fear in the face with a one-two punch. You'll laugh out loud at Jia's crazy social experiments, but you'll also go away thinking differently about what you can accomplish."  --Chris Guillebeau, New York Times bestselling author of The Happiness of Pursuit and The $100 Startup

"Jia's  compelling and inspiring book is a wonderful example of how shifting our perspective can allow us to really see what makes us tick." --Dan Ariely, Professor, Duke University, Author of Predictably Irrational

"I hope you buy two copies of this book because as soon as you read it, you'll want to give it to someone else who needs a boost of bravery too. And your friend is not going to give it back because it's not just a book, it's a constant companion for the next adventure. So buy two, better yet, buy 10 because it's hard to imagine someone who won't be encouraged and challenged by what Jia Jiang has written in Rejection Proof."
Jon Acuff, New York Times bestselling author of Do Over: Rescue Monday, Reinvent Your Work & Never Get Stuck and Start

"A clever and inspiring read that will change the way you approach anything that may seem out of reach. This book made me want to look fear in the eye...and then kick it in the ass." - Alison Levine, author of New York Times bestseller On the Edge: The Art of High-Impact Leadership

"Rejection Proof is a fun, thoughtful examination of how to overcome our fears and dare to live more boldly. You have no idea what you can achieve until you try!" --Nancy Duarte, bestselling author of Slide:ology: The Art and Science of Creating Great Presentations

"Jia Jiang helps us see the folly in spending our lives avoiding failure and rejection. His advice helps us build powerful companies, careers, brands, relationships and lives. If you are human, you need this book!" -Pamela Slim, author of Body of Work

"Every page of Rejection Proof had me both laughing and feeling inspired. Jia's 100 days of ridiculous requests of strangers is a journey that will not only make you more resilient, but will also give you insights into persuasion and how to turn "no's" into "yes's". Highly recommended." --Kevin Kruse, New York Times Bestselling Author, We

"Jia will help you break free of the one thing that's probably held you back most: fear of rejection. His collection of incredible experiments in overcoming fear of rejection will inspire you while it makes you laugh." — Andrew Warner, founder Mixergy
Harmony, 9780804141383, 240pp.
Publication Date: April 14, 2015
About the Author
JIA JIANG is founder of the popular blog and video series 100 Days of Rejection. His story has been covered by dozens of news outlets, including Bloomberg Businessweek, Yahoo News, the Huffington Post, Forbes, Inc.com, MTV, Gawker, the Daily Mail, Fox News, and CBS's The Jeff Probst Show. A native of Beijing, China, Jiang came to the U.S. as a teenager to pursue his dream of becoming an entrepreneur. Jiang holds an MBA from Duke University and a bachelor's degree in computer science from Brigham Young University.