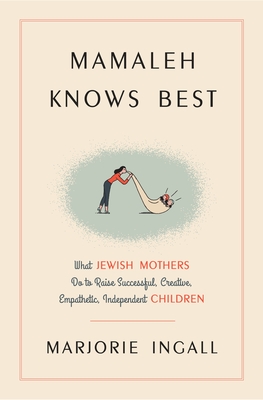 Mamaleh Knows Best
What Jewish Mothers Do to Raise Successful, Creative, Empathetic, Independent Children
Hardcover

* Individual store prices may vary.
Description
We all know the stereotype of the Jewish mother: Hectoring, guilt-inducing, clingy as a limpet. In Mamaleh Knows Best, Tablet Magazine columnist Marjorie Ingall smashes this tired trope with a hammer. Blending personal anecdotes, humor, historical texts, and scientific research, Ingall shares Jewish secrets for raising self-sufficient, ethical, and accomplished children. She offers abundant examples showing how Jewish mothers have nurtured their children's independence, fostered discipline, urged a healthy distrust of authority, consciously cultivated geekiness and kindness, stressed education, and maintained a sense of humor. These time-tested strategies have proven successful in a wide variety of settings and fields over the vast span of history. But you don't have to be Jewish to cultivate the same qualities in your own children.

Ingall will make you think, she will make you laugh, and she will make you a better parent. You might not produce a Nobel Prize winner (or hey, you might), but you'll definitely get a great human being.


Praise For Mamaleh Knows Best: What Jewish Mothers Do to Raise Successful, Creative, Empathetic, Independent Children…
Whether or not you're not a Jewish mother (and I am)  you'll love Mamaleh's wit, wisdom, and insight into parenting. If I were Marjorie Ingalls' mom? I'd be kvelling!
—Peggy Orenstein, author of Girls & Sex

"Marjorie Ingall is such a winning writer that as you tear through her laugh-out-loud, warm-hearted book, you might not notice the deep wisdom it delivers — not just on how to raise a mensch, but how to be one."
—Gayle Forman, #1 New York Times bestselling author of If I Stay
 
"The Helicopter Mom. The Tiger Mom. Mama Bear. Seriously, to hell with all of your click-bait Lines and Tigers and Bears. Oy vey! Instead, listen to Mamaleh, the brilliant Marjorie Ingall, who pulls no punches and tells it like it is in this winning romp through history, Judaism, and parenting norms. It goes super well with a bowl of chicken soup and a side of reality."
—Deborah Copaken, New York Times bestselling author of The Red Book and Hell is Other Parents
 
"What accounts for the outsized success of a people who have been marginalized, brutalized, and kicked around throughout history? Marjorie Ingall would argue that it's all mom's fault. Mamaleh is the best parenting book I've read. Ingall is ridiculously smart, and truly funny, offering modern advice that is grounded in thousands of years of tradition, full of ethical integrity, emotional authenticity, and chutzpah."
—Julie Holland, MD, author of Weekends at Bellevue and Moody Bitches

"This wonderful, insightful and very funny book will help parents no matter if they're Jewish, Christian, atheist, Buddhist, Muslim, Zoroastrian or Norse pagans. Marjorie Ingall writes wisely about everything from education to money, from Albert Einstein to Bette Midler. Such nachas I have!"
— A.J. Jacobs, New York Times bestselling author of Drop Dead Healthy and The Year of Living Biblically

"Mamaleh Knows Best is composed of equal parts of charm, humor and wisdom. It not only teaches how to raise children, but how to raise compassionate and enlightened adults."
—Rabbi David Wolpe, author of David, The Divided Heart

"Ingall's engaging guide will help parents, Jewish or not, navigate the jagged terrain of child-rearing with a hearty dose of confidence and laughter."
—Publisher's Weekly starred review

"Social scientists have emphasized that what kids really need to become healthy adults is tenacity and self-reliance, flexibility and resilience…the premise of Marjorie Ingall's rich, insightful book "Mamaleh Knows Best" is that these qualities are exactly what Jewish parents have aspired to instill in their kids for millenniums."
—New York Times Book Review

"If you're a parent – even one who gave birth before the really cool strollers were invented – you'll find infinite insight, brilliant advice, and plenty of laughter here."
—Real Simple
 
"In this entertaining mash-up of memoir and research, the author deftly (and humorously) dissects the truth from the stereotype of the Jewish mother."
—Good Housekeeping

"A witty look into Jewish culture and parenting practices over the ages. . . equal parts funny and profound."
—Shelf Awareness starred review
Harmony, 9780804141413, 256pp.
Publication Date: August 30, 2016
About the Author
MARJORIE INGALL is a columnist for Tablet magazine, the National-Magazine-Award-winning journal of Jewish culture and ideas, and a regular contributor to the New York Times Book Review. For seven years she wrote the "East Village Mamele" column for The Jewish Daily Forward. She has been a contributing editor at Glamour and a contributing writer at Self, and has written for Ms., Wired, Real Simple, Redbook, Parents, Parenting and the late lamented Sassy, where she was the senior writer and books editor. She is the author of The Field Guide to North American Males, co-author of Hungry with the model Crystal Renn, and co-author of Smart Sex with Jessica Vitkus. She is a former senior writer and producer at the Oxygen TV network, where she discovered her perkiness levels were not up to a job in daytime talk television.
or
Not Currently Available for Direct Purchase