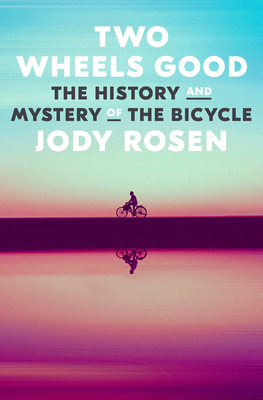 Two Wheels Good
The History and Mystery of the Bicycle
Hardcover

* Individual store prices may vary.
Other Editions of This Title:
Digital Audiobook (5/23/2022)
Description
A panoramic revisionist portrait of the nineteenth-century invention that is transforming the twenty-first-century world

"Excellent . . . calls to mind Bill Bryson, John McPhee, Rebecca Solnit."—The New York Times Book Review (Editors' Choice)

The bicycle is a vestige of the Victorian era, seemingly at odds with our age of smartphones and ride-sharing apps and driverless cars. Yet we live on a bicycle planet. Across the world, more people travel by bicycle than any other form of transportation. Almost anyone can learn to ride a bike—and nearly everyone does.

In Two Wheels Good, journalist and critic Jody Rosen reshapes our understanding of this ubiquitous machine, an ever-present force in humanity's life and dream life—and a flash point in culture wars—for more than two hundred years. Combining history, reportage, travelogue, and memoir, Rosen's book sweeps across centuries and around the globe, unfolding the bicycle's saga from its invention in 1817 to its present-day renaissance as a "green machine," an emblem of sustainability in a world afflicted by pandemic and climate change. Readers meet unforgettable characters: feminist rebels who steered bikes to the barricades in the 1890s, a prospector who pedaled across the frozen Yukon to join the Klondike gold rush, a Bhutanese king who races mountain bikes in the Himalayas, a cycle-rickshaw driver who navigates the seething streets of the world's fastest-growing megacity, astronauts who ride a floating bicycle in zero gravity aboard the International Space Station.

Two Wheels Good examines the bicycle's past and peers into its future, challenging myths and clichés while uncovering cycling's connection to colonial conquest and the gentrification of cities. But the book is also a love letter: a reflection on the sensual and spiritual pleasures of bike riding and an ode to an engineering marvel—a wondrous vehicle whose passenger is also its engine.
Praise For Two Wheels Good: The History and Mystery of the Bicycle…
"Excellent. . . . Two Wheels Good takes the form of bricolage, blending meticulous historical research, local reporting from bicycle-dependent locales like Bhutan and Bangladesh and personal memories . . . . The book excels across all of them and, in its curious, mingled character, calls to mind Bill Bryson, John McPhee, Rebecca Solnit—obsessives, for whom the material world and their own infinitesimal presence within it constitute the most natural subject of artistic inquiry."—The New York Times Book Review

"Comprehensive . . . [Two Wheels Good] often feels like a leisurely ride, full of spontaneous detours into unexpected delight. But what makes the book essential is its rigorous reporting."—The Atlantic

"[A] complex cultural history. . . . The strength of Two Wheels Good is the journalist's eye [Rosen] brings to a basic technology that has had radically disparate identities at different times and in different parts of the world."—Curbed

"A lively biography of a tool central to the greening of urban spaces. It's also a fascinating, sweeping everyday explainer, moving from the bike's 19th-century origins to its importance globally."—Chicago Tribune

"Encyclopedic. . . . A deeply researched and vastly entertaining history of the bicycle."—Dallas Morning News

"The real feat of this book is that it takes us on a ride—across the centuries and around the globe, through startling history and vivid first-person reporting—offering not just a wry, rich, deeply researched meditation on the bicycle and our relationship to it, but also the headlong rush of cruising on two wheels into the unknown."—Patrick Radden Keefe, author of Empire of Pain

"When I fell in love with riding a bike in New York City, what I found myself craving was a history. But I'm greedy: I wished that whoever wrote this history would find a way to make it personal and ruminative, to bring cities and eras to life. Jody Rosen has written that very book. I got more than I knew I wanted."—Wesley Morris, Pulitzer Prize–winning critic, The New York Times

"The best thing I've ever read on a single subject. With curiosity, conscientiousness, and an exquisitely light touch, Rosen makes a convincing case that the story of the bike is the story of modern life."—Lauren Collins, author of When in French

"This is social history as it ought to be written: funny, precise, surprising, anti-dogmatic, and unafraid of following a story, brakes off, to wherever the tale might want to glide."—Adam Gopnik, author of Paris to the Moon

"Wide-ranging and inquisitive, Two Wheels Good is like an entire library of books on the bicycle."—Lucy Sante, author of Low Life

"Eye-opening . . . a lively social history of the bicycle . . . Fans of bicycling and how-the-world-works reportage alike will find this a great pleasure."—Kirkus Reviews (starred review)

"Witty prose, exhaustive research, and Rosen's contagious enthusiasm ensure that this standout history will appeal to cyclists and non-cyclists alike."—Publishers Weekly (starred review)
Crown, 9780804141499, 416pp.
Publication Date: May 24, 2022
About the Author
Jody Rosen is a contributing writer for The New York Times Magazine. His work has appeared in Slate, New York, The New Yorker, and many other publications. He lives in Brooklyn with his family.