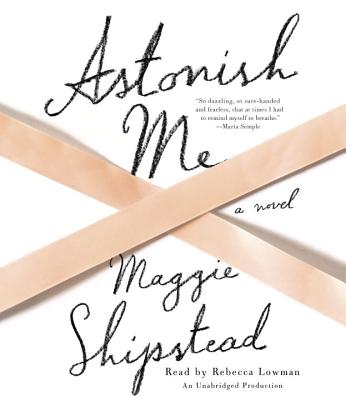 Astonish Me
Compact Disc

* Individual store prices may vary.
Other Editions of This Title:
Digital Audiobook (4/7/2014)
Paperback (1/6/2015)
Hardcover, Large Print (1/14/2015)
Hardcover (4/8/2014)
Description
From the author of the widely acclaimed debut novel Seating Arrangements, winner of the Dylan Thomas Prize and the Los Angeles Times Book Prize for First Fiction: a gorgeously written, fiercely compelling glimpse into the demanding world of professional ballet and its magnetic hold over two generations. Astonish Me is the irresistible story of Joan, a young American dancer who helps a Soviet ballet star, the great Arslan Rusakov, defect in 1975. A flash of fame and a passionate love affair follow, but Joan knows that, onstage and off, she is destined to remain in the background. She will never possess Arslan, and she will never be a prima ballerina. She will rise no higher than the corps, one dancer among many.
After her relationship with Arslan sours, Joan plots to make a new life for herself. She quits ballet, marries a good man, and settles in California with him and their son, Harry. But as the years pass, Joan comes to understand that ballet isn't finished with her yet, for there is no mistaking that Harry is a prodigy. Through Harry, Joan is pulled back into a world she thought she'd left behind--back into dangerous secrets, and back, inevitably, to Arslan. Combining a sweeping, operatic plot with subtly observed characters, Maggie Shipstead gives us a novel of stunning intensity and deft psychological nuance. Gripping, dramatic, and brilliantly conjured, Astonish Me confirms Shipstead's range and ability and raises provocative questions about the nature of talent, the choices we must make in search of fulfillment, and how we square the yearning for comfort with the demands of art. From the Hardcover edition.
Praise For Astonish Me…
"Flawless . . . Tightly choreographed . . . Shipstead gains entry into exclusive worlds and trains her opera glasses on private social rituals, as well as behind-the-scenes hanky panky . . . Similar to classic ballet, the power of Astonish Me arises out of the pairing of a melodramatic storyline with scrupulously executed range of movement . . . Shipstead sweeps you into this insider world of sweat, narcissism, and short-lived magic . . . Transcendent."
—Maureen Corrigan, NPR

"Deeply engrossing . . . Dazzles with vivid imagery and startling turns of phrase . . . Like the prima ballerina at the heart of the novel itself, Shipstead delivers a glorious story that does exactly what it says it will . . . A deeply thoughtful meditation on the relentless pursuit of perfection and just how far we're willing to go for love . . . Proves that Shipstead's star is still on the rise as she pushes herself to exhilarating new heights . . . As nuanced and delightful as any reader could ever hope for a book to be."
—BookPage 

"Dazzling . . . Maggie Shipstead's thrilling second book, Astonish Me, is an homage to, and exposé of, the exhilarating, punishing world of ballet; it's also a searing rumination on insecurity, secrecy, and friendship . . . Shipstead nails the details of being perpetually en pointe: the adrenaline rush after a performance, the intimate atmosphere of the dressing room, the nagging feelings of inadequacy, the erotically charged and emotionally cruel competitiveness, and the inability to shake perfectionism long after retirement. Like a brilliant choreographer, she has masterminded a breathtaking work of art."
—O Magazine

"Impressively sure-footed . . . Shipstead's new novel, Astonish Me, swaps the privileged world of private-school prepsters that populated her best-selling debut, Seating Arrangements, for the equally rarefied realm of professional ballet—brilliantly exposing its dark, slavish underbelly with insight and panache . . . Shipstead's handling of her characters is supple and satisfying. The triumphs and mistakes they make onstage mirror the movements and missteps they make offstage."
—Elle 

"Dispels any idea that Shipstead is some kind of one-trick preppy . . . Nearly every sentence here lands with a bull's-eye thwock of emotional truth, and the inner lives of her characters feel as real and immediate as the shifting settings they inhabit . . . Shipstead's youth may be a talking point, but her talent transcends it. She's astonishing. Grade: A-."
—Entertainment Weekly

"A grand arabesque into the world of dance . . . Shisptead isn't interested in the straightforward answers . . . [She] succeeds at capturing the messy, intimate drama of domesticity: furtive glances exchanged over dinner tables, after-hours pillow talk, the different breeds of jealousy that lurk among friends, lovers, rivals, and spouses . . . By studying how Joan, Arslan, and other satellite characters orbit around one another, the book examines the lengths people go to (or don't) to be perfect . . . Thrilling."
—TIME Magazine

"Full of the kind of prose you want to curl up and nest in like a cat: seamless and full of small elegances . . . Showcase[s] Shipstead's immense talent for observation . . . Shipstead creates this book slowly and artfully like a pastry chef. It's a lemon tart of a book, lovely and neat . . . Reading Astonish Me, I didn't need to be astonished. I was happy."
—NPR
 
"Like watching a lone skater glide across a barely frozen lake, the immaculate pirouettes and pliés that make up Maggie Shipstead's Astonish Me thrill in their precarious perfection . . . Shipstead's insights into human nature take center stage. The story's surprisingly satisfying outcome encourages us to accept imperfection and even take refuge in doing so: granting not just permission to allow the ice to crack, but to force it to."
—Nylon Magazine
 
"Shipstead takes readers on a dazzling tour inside the alluring world of professional ballet, a world that is simultaneously exquisite and dangerously cruel. It's an intoxicating world of art, beauty, sweat, romance, jealousy, and restraint."
—Bustle 

"Astonish Me has a kinesthetic energy, not unlike that of a dancer performing . . . An enjoyable meditation not only on ballet, but on desire, ambition, and love."
—Huffington Post

"Readers who reveled in Shipstead's sardonic comedy-of-manners debut will rejoice in the emotionally nuanced tale of barre-crossed lovers and the majestic, mysterious world of professional dance. A supple, daring, and vivid portrait of desire and betrayal."
—Booklist (starred review)
 
"Explosive . . . Shipstead moves her story back and forth in time with the same seamless precision found in the details of a beautiful ballet, capturing the brutality of the training, the impossible perfection on stage, and the messy fallout that erupts when personal and professional lines blur."
—Library Journal

"Shipstead's prose moves fluidly through settings as varied as a ballet rehearsal and a suburban backyard, and her characterizations are full. The story proceeds with a quiet insistence that is matched by the inevitability of its denouement."
—Publishers Weekly

"Etonnez-moi, Diaghilev famously challenged Jean Cocteau: 'Astonish me.' That's a fair description of what Maggie Shipstead did to me on nearly every page of this impressive novel. Like its subject, the ballet, this book is intricately choreographed, technically demanding, yet seemingly relaxed, written in a prose of great emotional range and acuity. I will be paying close attention to Shipstead's career from here on in."
—Jeffrey Eugenides

"In this exquisitely rendered story of love, loss, betrayal, secrecy, and artistic ambition, Maggie Shipstead takes hold of the reader and doesn't let go. Astonish Me is a haunting, powerful novel."
—Dani Shapiro

"Maggie Shipstead's prose is so graceful and muscular, so dazzling, so sure-handed and fearless, that at times I had to remind myself to breathe. Astonish Me is a treasure of small surprises."
—Maria Semple  
Random House Audio Publishing Group, 9780804165594, 8pp.
Publication Date: April 8, 2014
About the Author
MAGGIE SHIPSTEAD was born in 1983 and grew up in Orange County, California. Her highly acclaimed debut novel, Seating Arrangements, was a national best seller and the winner of the Dylan Thomas Prize as well as a finalist for the Flaherty-Dunnan First Novel Prize. She is a graduate of the Iowa Writers' Workshop and a former Wallace Stegner Fellow at Stanford. In winter 2012, she was a resident at the Cite Internationale des Arts in Paris. Her writing has appeared in The New York Times, The San Francisco Chronicle, Tin House, The Paris Review Daily, The Virginia Quarterly Review, American Short Fiction, The Best American Short Stories, and elsewhere. Her story "La Moretta" was a 2012 National Magazine Award finalist.
or
Not Currently Available for Direct Purchase