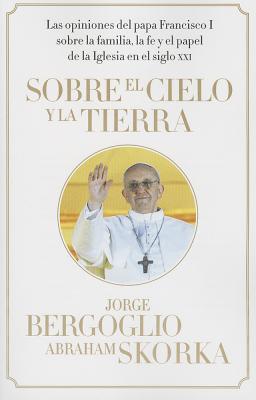 Sobre el Cielo y la Tierra = Over Heaven and Earth (Paperback)
Vintage Books, 9780804168762, 220pp.
Publication Date: April 2, 2013
Description
La obra maestra del Senor es el hombre .
Papa Francisco

El cardenal Jorge Mario Bergoglio, desde el 13 de marzo de 2013 papa Francisco, y el rabino Abraham Skorka, rector del Seminario Rabinico Latinoamericano, son dos tenaces promotores del dialogo interreligioso, a traves del cual buscan construir horizontes comunes sin diluir las particularidades que los caracterizan.
Sobre el cielo y la tierra es el resultado de una serie de profundas conversaciones que mantuvieron de manera alternada en la sede del Episcopado y en la comunidad judia Benei Tikva. En sus encuentros transitaron las mas variadas cuestiones teologicas y terrenales. Dios, el fundamentalismo, los ateos, la muerte, el Holocausto, la homosexualidad, el capitalismo son apenas un punado de los temas en los que dan a conocer sus opiniones el nuevo lider de la Iglesia catolica y el prestigioso rabino Skorka.
About the Author
JORGE BERGOGLIOJorge Mario Bergoglio nacio en Buenos Aires el 17 de diciembre de 1936. En 1969 recibio la ordenacion sacerdotal y en 1992 la ordenacion episcopal.Fue nombrado arzobispo de Buenos Aires en 1998 y cardenal del titulo de San Roberto Bellarmino en 2001. El 13 de marzo de 2013 se convirtio en el primer Papa latinoamericano adoptando el nombre de Francisco. ABRAHAM SKORKAAbraham Skorka nacio en Buenos Aires el 5 de julio de 1950. Es rector del Seminario Rabinico y rabino de la Comunidad Benei Tikva. En 2012 la Pontificia Universidad Catolica Argentina le otorgo el Doctorado Honoris Causa, convirtiendose asi en el primer rabino en recibir tal condecoracion y es coautor y compilador de Introduccion al Derecho Hebreo (2001), y autor de Miles de anos por semana (1997) y Hacia un manana sin fe? (2006), entre otros."
Praise For Sobre el Cielo y la Tierra = Over Heaven and Earth…
Elogios para Sobre el cielo y la tierra

"El Bergoglio que emerge en estas páginas es tanto provocativo intelectual como refrescantemente honesto". —Newsweek¶
Advertisement