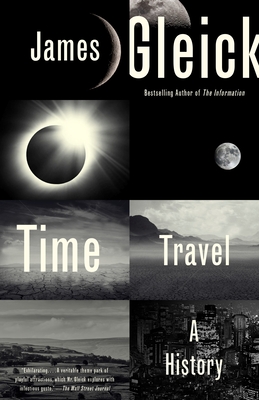 Time Travel
A History
Paperback

* Individual store prices may vary.
Other Editions of This Title:
Digital Audiobook (9/26/2016)
CD-Audio (9/27/2016)
Hardcover (9/27/2016)
Description
Best Books of 2016
BOSTON GLOBE * THE ATLANTIC


From the acclaimed bestselling author of The Information and Chaos comes this enthralling history of time travel—a concept that has preoccupied physicists and storytellers over the course of the last century.

James Gleick delivers a mind-bending exploration of time travel—from its origins in literature and science to its influence on our understanding of time itself. Gleick vividly explores physics, technology, philosophy, and art as each relates to time travel and tells the story of the concept's cultural evolutions—from H.G. Wells to Doctor Who, from Proust to Woody Allen. He takes a close look at the porous boundary between science fiction and modern physics, and, finally, delves into what it all means in our own moment in time—the world of the instantaneous, with its all-consuming present and vanishing future.
Praise For Time Travel: A History…
"Exhilarating. . . . A veritable theme park of playful attractions, which Mr. Gleick explores with infectious gusto."
—The Wall Street Journal

"A fascinating mash-up of philosophy, literary criticism, physics and cultural observation. . . . A wonderful reminder that the most potent time-traveling technology we have is also the oldest technology we have: storytelling."
—The New York Times Book Review

"Mind-blowing. . . . A fascinating argument that the most important time is the present."
—TIME Magazine
 
"Illuminating and entertaining. . . . There isn't a paragraph in Gleick's book without good sentences and fascinating information."
—The New York Review of Books

"A bracing swim in the waters of science, technology and fiction."
—Washington Post
 
"Far ranging, accessible, and witty, Time Travel tackles its elusive subject from unusual angles but with fine-tuned focus. . . . Knowledgeable, curious and humane, Gleick proves to be the perfect tour guide for this mind-bending intellectual expedition into the past, present and future. 
—San Francisco Chronicle
 
"Like [David Foster] Wallace, Gleick's a wide-ranging enthusiast and a graceful explainer. . . . One of the great charms of this book is its author's willingness to embrace multiple points of view and to credit art and experience as much as theory."
—Los Angeles Times
 
"Fascinating. . . . Gleick's hybrid of history, literary criticism, theoretical physics, and philosophical meditation is itself a time-jumping, head-tripping odyssey, and it works so well. Even though Gleick can elucidate complex ideas into accessible language, he's even better at explicating notions that remain perplexing. . . . Time Travel is as elegant and eloquent as it is edifying."
—The Millions
 
"A brilliant, wise, insightful and mind-boggling look at the nature of time."
—The Missourian
 
"Extraordinary. . . . Ultimately, Time Travel centers around a single question: Why do we need time travel? To find the answer, Gleick brilliantly stitches together moments at seemingly disparate points in history: He goes from explaining the plot of an episode of Doctor Who in one sentence to revisiting the invention of the Cinématographe in 1890s France the next. But what could be a dizzying narrative is deftly handled. And that's because Gleick's adventure in time travel is, in the end, not about distinctions between past and future, but a love letter to 'the unending now.'"
—The Atlantic, "The Best Books We Read in 2016"
 
"Isaac Newton's biographer takes a smart, scholarly look at this science fiction staple. With a little help from Gleick, you might finally understand Interstellar."
—Esquire
 
"Intoxicating. . . . The consummate temporal tour guide, Gleick deftly navigates the twists and turns of our fascination with time travel."
—The Guardian
 
"An engaging and entertaining look at science that will always remain fiction. It's lucidly written, a breeze to read and erudite in assessing a vast range of literary and popular media treatments of time travel as dream and desire."
—Science News
 
"A pleasurable romp over Wells's fourth dimension and polished Victorian machinery."
—Nature
 
"A grand thought experiment, using physics and philosophy as the active agents, and literature as the catalyst. . . . What emerges is an inquiry, the most elegant since Borges, into why we think about time, why its directionality troubles us so, and what asking these questions at all reveals about the deepest mysteries of human consciousness and about what Gleick so beguilingly calls 'the fast-expanding tapestry of interwoven ideas and facts that we call our culture.'"
—Brainpickings
 
"In Time Travel, James Gleick provides an absorbing history of the idea, eloquently elucidating the reasons for its enduring appeal. . . . Within physics, Gleick captures some of the intellectual ferment in his account of the debate about whether time is an illusion. Within literature, he's particularly incisive in his account of alternative histories, which originated as an accident of time travel."
—New Scientist
Vintage, 9780804168922, 352pp.
Publication Date: September 5, 2017
About the Author
JAMES GLEICK (around.com) is our leading chronicler of science and technology, the best-selling author of Chaos: Making a New Science, Genius: The Life and Science of Richard Feynman, and The Information: A History, a Theory, a Flood. His books have been translated into thirty languages.

around.com