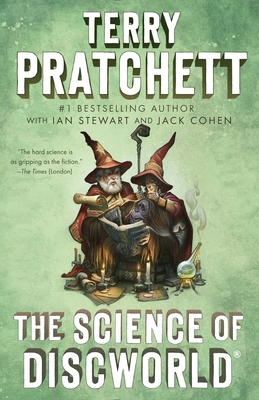 The Science of Discworld
A Novel (Science of Discworld Series #1)
Paperback

* Individual store prices may vary.
Other Editions of This Title:
Digital Audiobook (6/2/2014)
Description
Not just another science book and not just another Discworld novella, The Science of Discworld is a creative, mind-bending mash-up of fiction and fact, that offers a wizard's-eye view of our world that will forever change how you look at the universe.

Can Unseen University's eccentric wizards and orangutan Librarian possibly shed any useful light on hard, rational Earthly science? 
 
In the course of an exciting experiment, the wizards of Discworld have accidentally created a new universe. Within this universe is a planet that they name Roundworld. Roundworld is, of course, Earth, and the universe is our own. As the wizards watch their creation grow, Terry Pratchett and acclaimed science writers Ian Stewart and Jack Cohen use Discworld to examine science from the outside. Interwoven with the Pratchett's original story are entertaining, enlightening chapters which explain key scientific principles such as the Big Bang theory and the evolution of life on earth, as well as great moments in the history of science.
 

Praise For The Science of Discworld: A Novel (Science of Discworld Series #1)…
"For Pratchett and Discworld devotees the volume is, of course, compulsory reading, but even science buffs who would normally eschew anything resembling fantasy will find much here to pique their interests.... The book adds another whimsical episode to Discworld lore and contrasts the magical 'rules' of Pratchett's realm with the human world's more logic-oriented science." --Booklist

"The hard science is as gripping as the fiction." --The Times (London)

"An irreverent but genuinely profound romp through the history and philosophy of science, cunningly disguised as a collection of funny stories about wizards and mobile luggage." --Frontiers
 
"Terry Pratchett is more than a magician. He is the kindest, most fascinating teacher you ever had." --Harlan Ellison
Anchor, 9780804168946, 432pp.
Publication Date: June 3, 2014
About the Author
TERRY PRATCHETT is the acclaimed creator of the bestselling Discworld series. He has been appointed OBE and a Knight Bachelor in recognition of his services to literature.

IAN STEWART is a Fellow of the Royal Society, professor of mathematics at the University of Warwick, and author of numerous books on math and popular science, as well as science fiction novels co-authored with Jack Cohen.

JACK COHEN is a professor of biology and honorary professor of mathematics at the University of Warwick, and has co-authored several books with Ian Stewart.