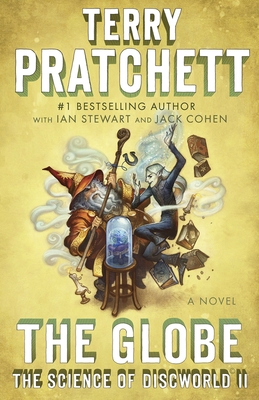 The Globe
The Science of Discworld II: A Novel (Science of Discworld Series #2)
Paperback

* Individual store prices may vary.
Other Editions of This Title:
Digital Audiobook (1/19/2015)
Description
Roundworld, aka Earth, is under siege. Are three wizards and an orangutan Librarian enough to thwart the Elvish threat?
 
When the wizards of Unseen University first created Roundworld, they were so concerned with discovering the rules of this new universe that they overlooked its inhabitants entirely. Now, they have noticed humanity. And humanity has company. Arriving in Roundworld, the wizards find the situation is even worse than they'd expected. Under the elves' influence, humans are superstitious, fearful, and fruitlessly trying to work magic in a world ruled by logic. Ridcully, Rincewind, Ponder Stibbons, and the orangutan Librarian must travel through time to get humanity back on track and out of the dark ages.
 
The Globe goes beyond science to explore the development of the human mind. Terry Pratchett and his acclaimed co-authors Ian Stewart and Jack Cohen combine the tale of the wizards rewriting human history with discussions of the origins and evolution of culture, language, art, and science, offering a fascinating and brilliantly original view of the world we live in.
Praise For The Globe: The Science of Discworld II: A Novel (Science of Discworld Series #2)…
"For anyone looking for something fresh or even more off the beaten path than Pratchett's own 'Discworld' universe. . . . The Globe manages to cover everything from the origin of human life on earth, to the birth of art, William Shakespeare, Elves, Wizards, time travel, and altering history with such brilliant effortlessness that it all gels into a cohesive and exciting whole—which demands to be both read and enjoyed." --ScienceFiction.com

"For Pratchett and Discworld devotees the volume is, of course, compulsory reading, but even science buffs who would normally eschew anything resembling fantasy will find much here to pique their interests.... The book adds another whimsical episode to Discworld lore and contrasts the magical 'rules' of Pratchett's realm with the human world's more logic-oriented science." --Booklist

"The hard science is as gripping as the fiction." --The Times (London)

"An irreverent but genuinely profound romp through the history and philosophy of science, cunningly disguised as a collection of funny stories about wizards and mobile luggage." --Frontiers
 
"Terry Pratchett is more than a magician. He is the kindest, most fascinating teacher you ever had." --Harlan Ellison
Anchor, 9780804168960, 384pp.
Publication Date: January 20, 2015
About the Author
TERRY PRATCHETT is the acclaimed creator of the bestselling Discworld series. He was appointed OBE and a Knight Bachelor in recognition of his services to literature. 

IAN STEWART is a Fellow of the Royal Society, professor of mathematics at the University of Warwick, and author of numerous books on math and popular science, as well as science fiction novels co-authored with Jack Cohen.

JACK COHEN is a professor of biology and honorary professor of mathematics at the University of Warwick, and has co-authored several books with Ian Stewart.