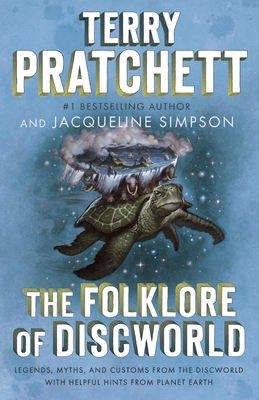 The Folklore of Discworld
Legends, Myths, and Customs from the Discworld with Helpful Hints from Planet Earth
Paperback

* Individual store prices may vary.
Other Editions of This Title:
Digital Audiobook (3/24/2014)
Description
OFFERING INSIGHTS INTO ALL 40 DISCWORLD NOVELS
Find out
- Why cheeses roll down hills
- The hazards of treacle mining
- What's so uncanny about the humble hare
-The origins of orcs (which are not the same as goblins!)
- Why witches come in threes
  
Legends, myths, fairytales, superstitions. Our world is full of the stories we have told ourselves about where we came from and how we got there. It is the same on Discworld, except that beings such as vampires, trolls, golems, witches and, possibly, gods, which on Earth are creatures of the imagination, are real, alive, and in some cases kicking on the Disc.
 
The Folklore of Discworld, coauthored by Terry Pratchett and leading British folklorist Jacqueline Simpson, is an invaluable reference for longtime Discworld fans and newcomers alike. An irreverent yet illuminating look at the living myths and folklore that are reflected, celebrated, and affectionately libeled in the uniquely imaginative universe of Discworld.
Praise For The Folklore of Discworld: Legends, Myths, and Customs from the Discworld with Helpful Hints from Planet Earth…
"Beautiful analysis of the overlapping myth and legends in both Discworld and ours. You'll learn a lot about each." —The Bookseller

Praise for Terry Pratchett

"Like all great creators of imaginary worlds, Terry Pratchett writes like an enthralled and driven reader. He creates a brilliant excess of delectable detail, he respects his own creation and his readers."
     --A. S. Byatt

"It is [his] closeness to reality--within a fantasy context--that makes Pratchett's books so popular with a wider readership than merely the goblin junkies and interplanetary nargs."
     --The Sunday Times (London)

"One of the most interesting and critically underrated novelists we have. . . . The Folklore of Discworld—co-authored with the eminent folklorist Jacqueline Simpson—emphasizes his irreverence and drollery."
     — The Times

"Pratchett is, like Mark Twain or Jonathan Swift, not just a great writer but also an original thinker . . . Funny, exciting, lighthearted and, like all the best comedy, very serious."
     —The Guardian
Anchor, 9780804169035, 528pp.
Publication Date: March 25, 2014
About the Author
TERRY PRATCHETT is the acclaimed creator of the bestselling Discworld series, the latest of which is Raising Steam. He has been appointed OBE and a Knight Bachelor in recognition of his services to literature. Sir Terry lives in England.

DR. JACQUELINE SIMPSON is a long-standing member and office-holder on the committee of the Folklore Society. Her publications include Green Men and White Swans: The Folklore of British Pub Names; A Dictionary of English Folklore; Folklore of Sussex; Icelandic Folktales and Legends; and (with Jennifer Westwood) The Lore of the Land: A Guide to England's Legends.