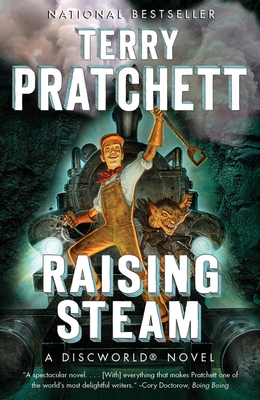 Raising Steam
Paperback

* Individual store prices may vary.
Other Editions of This Title:
Digital Audiobook (3/17/2014)
Description
NATIONAL BESTSELLER 

Steam is rising over Discworld. . . .
 
Mister Simnel has produced a great clanging monster of a machine that harnesses the power of all the elements—earth, air, fire, and water—and it's soon drawing astonished crowds. To the consternation of Ankh-Morpork's formidable Patrician, Lord Vetinari, no one is in charge of this new invention. Who better to take the lead than the man he has already appointed master of the Post Office, the Mint and the Royal Bank?
 
Moist von Lipwig is not a man who enjoys hard work—unless it is dependent on words, which are not very heavy and don't always need greasing. He does enjoy being alive, however, which makes a new job offer from Vetinari hard to refuse. Moist will have to grapple with gallons of grease, goblins, a controller with a history of throwing employees down the stairs, and some very angry dwarfs if he's going to stop it all from going off the rails.
Praise For Raising Steam…
 "Spectacular. . . . A tremendous synthesis of everything that makes Pratchett one of the world's most delightful writers."
    —Cory Doctorow, Boing Boing

"Consistently funny, wise and clever. . . . Filled with characters who leap off the page and metaphors that make you laugh out loud."
    —Newsday
 
"Salted among all the treacle miners and nascent trainspotters are some serious ideas about technology and the irrevocable changes it brings. . . . [Pratchett] seems to be having fun. . . . And forty books in, why not?"
    —The Washington Post

"Delightful. . . . How many writers are more fun to spend time with? . . . Pratchett melds politics, finance and the occasional dark turn with his fantasy and humor, and as ever his footnotes are not to be missed."
    —The Seattle Times

"A Dickensian mirror of contemporary western society. . . . Raising Steam is the latest transformation of a remarkable fictional world that has evolved and grown with its creator—and it shows how . . . the Discworld has taken on a life of its own."
    —Tor.com

"From the first, the novels demonstrated Pratchett's eye for telling detail and the absurdities of the human condition. . . . He remains one of the most consistently funny writers around; a master of the stealth simile, the time-delay pun and the deflationary three-part list. . . . I could tell which of my fellow tube passengers had downloaded it to their e-readers by the bouts of spontaneous laughter."
    —Ben Aaronovitch, The Guardian (London)

"Terry Pratchett's creation is still going strong after thirty years. . . . Like Wodehouse's Jeeves and Wooster stories. . . . It is at the level of the sentence that Pratchett wins his fans."
    —The Times (London)

"As always, Pratchett's unforgettable characters and lively story mirror the best, the worst, and the oddest bits of our own world, entertaining readers while skewering social and political foibles in a melting pot of humanity, dwarfs, trolls, goblins, vampires, and a werewolf or two."
    —Publishers Weekly (starred review)

"Brimming with Pratchett's trademark wit, a yarn with a serious point made with style and elegance."
    —Kirkus Reviews
Anchor, 9780804169202, 384pp.
Publication Date: October 28, 2014
About the Author
Terry Pratchett is the acclaimed creator of the globally bestselling Discworld series, the first of which, The Color of Magic, was published in 1983. Raising Steam is his fortieth Discworld novel. His books have been widely adapted for stage and screen; he is the winner of multiple prizes, including the Carnegie Medal, and was awarded a knighthood for services to literature. After falling out with his keyboard, he now talks to his computer. Occasionally, these days, it answers back.