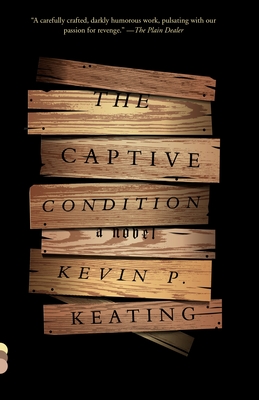 The Captive Condition
A Novel (Vintage Contemporaries)
Paperback

* Individual store prices may vary.
Other Editions of This Title:
MP3 CD (5/31/2016)
Hardcover (7/7/2015)
Description
For years Normandy Falls has been haunted by its strange history and aggrieved spirits said to roam its graveyards. Despite warnings, Edmund Campion is determined to move there to pursue a graduate degree. One night Edmund stumbles upon the body of Emily Ryan drowned in her family pool. Was it suicide, Edmund wonders, or murder? Elsewhere, a low-level criminal named The Gonk takes over a remote cottage, complete with a burial ground and moonshine still, and devises plans for both; Xavier D'Avignon, the eccentric chef of a failing French restaurant, supplies customers with a hallucinogenic cocktail he makes in his kitchen; and Colette Collins, an elderly local artist of the surreal, attends a New Year's Eve retrospective that is destined to set the whole town on fire.
Praise For The Captive Condition: A Novel (Vintage Contemporaries)…
"A carefully crafted, darkly humorous work, pulsating with our passion for revenge."—The Plain Dealer 

"An engaging memoir chronicling several years of Layne Mosler's unique and nomadic life. . . . An invigorating read, a paean to taking the serendipitous road to wherever it happens to lead." —Booklist 

"Let's get this part out of the way: this is a breakthrough novel, one that makes a career. . . . The plot is juicy but it's Keating's wordplay that draws a reader in. . . . Keating's got those nice long sentences and can always grasp the exact right archaic word like Franzen or David Foster Wallace. But anyone who's read classic horror can quickly see he's more influenced by the words of Poe and Lovecraft than those pretentious Writer's Lab types." —James Renner, The Cleveland Scene
 
"Literary novels, horror, and humor seldom mix--fantasist Christopher Moore being one of the rare exceptions--but now comes Kevin P. Keating to deliver a brilliant novel so dark, yet so laugh-out-loud funny, that he's close to inventing a new genre." —Mystery Scene Magazine

"A black comedy that transcends its own offbeat energy and becomes truly disturbing. . . . Shows Keating to be an astute student of spooky scene-setters from Edgar Allan Poe to Stephen King to David Lynch. But in many of the final passages, such as a horrific building fire, Keating proves to be at least their equal. . . . A darkly funny read and a stylistic tour de force." —Publishers Weekly, starred review

"A weird and wonderfully rendered universe. . . . Heavily cadenced prose and A-level vocabulary, along the lines of Tristan Egolf's Lord of the Barnyard. . . . A highly literary look at the faces of evil in almost all of its guises. . . . Oh, and many characters here are constantly high on psychedelic carrot juice." —Library Journal, starred review

"The roots of American fiction run dark and mad, and Kevin Keating's The Captive Condition is the wicked blossom of that heritage. A rare achievement, bitingly intelligent, masterful in style, and of such horror as to chill the blood. Keating's haunted town of Normandy Falls and its besotted academics, its hard-bitten locals, all in their various descents into the maelstrom, never cease to fascinate and unsettle.  The Captive Condition is an American horror story in the truest sense, a gothic vivisection of a town and gown in the blighted Midwest. A frightening, gorgeous, and wickedly funny pre-mortem performed on both academia and the Rust Belt. With The Captive Condition, Keating gives us an apocalyptic vision that Poe or Brockton Brown might have imagined in their wildest moments. Lovers of literary darkness should greet this novel and its author with joy and acclaim." —Kent Wascom, author of The Blood of Heaven

"Haunting and evocative, full of images and a voice that will leave scars, Keating's impressive tale of seething hatred and simmering class warfare lurking under a small Midwestern town is lyrical and achingly beautiful. Beware though, there's a very dark, ferocious heart beating within that will plunge the reader into darkness without warning, like Francis Bacon attacking a Norman Rockwell painting."—Jeff Jacobson, author of Sleep Tight

"Kevin P. Keating is the Edgar Allen Poe of the rust belt, reinvigorating our abandoned factories and blighted warehouses, making that machinery work again to produce ornate, beautifully rendered, modern, gothic horror." —Karl Taro Greenfeld, author of Triburbia  

"An unforgettable, creepy novel from the dark corners of Kevin P. Keating's imagination. Art and academia come under his scalpel as he dissects the frozen complacency in Normandy Falls, a Rust Belt town populated by more ghosts than people. It's a "place of dark and draggling horrors thick with spirits" and Keating makes the most of this Gothic atmosphere. I was delighted to find the ghost of Poe haunting these pages with madcap glee." —David Abrams, author of Fobbit
 
"Emotionally and psychologically complex, chilling and deliciously dark." —Publishers Weekly
Vintage, 9780804169301, 288pp.
Publication Date: July 12, 2016
About the Author
After working as a boilermaker in the steel mills in Ohio, Kevin P. Keating became a professor of English and began teaching at Baldwin Wallace University. His essays and stories have appeared in numerous literary journals. He lives in Cleveland.
or
Not Currently Available for Direct Purchase