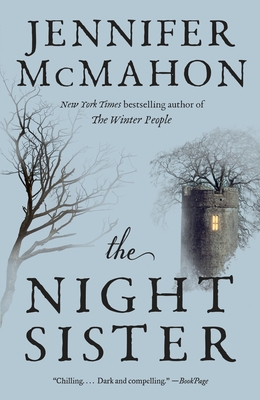 The Night Sister
Paperback

* Individual store prices may vary.
Other Editions of This Title:
Digital Audiobook (8/3/2015)
Library Binding, Large Print (10/1/2015)
Compact Disc (8/4/2015)
Hardcover (8/4/2015)
Description
From the New York Times bestselling author Jennifer McMahon (The Winter People) comes an atmospheric, gripping, and suspenseful tale that probes the bond between sisters and the peril of keeping secrets.

The Tower Motel was once a thriving attraction of rural Vermont. Today it lies in disrepair, alive only in the memories of the three women—Amy, Piper, and Piper's kid sister, Margot—who played there as children. They loved exploring the abandoned rooms … until the day their innocent games uncovered something dark and twisted that ruined their friendship forever.

Now, Amy stands accused of committing a horrific crime, and the only hint to her motives is a hasty message that forces Piper and Margot to revisit the motel's past, and the fate of two sisters who lived there in its heyday.  Sylvie Slater had dreams of running off to Hollywood and becoming Alfred Hitchcock's leading lady, while her little sister, Rose, was content with their simple life. Each believed the other to be something truly monstrous, but only one knows the secret that will haunt the generations to come.
Praise For The Night Sister…
"Chilling…. A powerful story of childhood friendship and sisterhood…. Dark and compelling." —BookPage 

"McMahon  manages to turn Vermont's verdant, picturesque scenery into the backdrop for some truly unnerving plots…. [and] such issues as sibling rivalry, forgiveness, family legacies and unconditional love." —Bookreporter
 
"A modern-day Grimm's tale." —Curled Up With a Good Book


Praise for Jennifer McMahon and The Winter People 

 
"One of the year's most chilling novels . . . melds the mystery genre with the supernatural for a psychological thriller that's as scary as it is enthralling." —The Miami Herald
 
 
"Crisp, mysterious and scary. . . . Reminiscent of Stephen King." —USA Today
 
 
"McMahon has developed a subgenre of psychological mysteries . . . in creepily seductive settings." —Booklist (starred review)
 
 
"Gives readers just want they want from a good thriller: can't-put-it-down, stay-up-until-dawn reading." —Bookpage
 
 
"McMahon's gift is the deliciously twisty way she subverts all of your expectations, keeping you guessing with wry wit and feverish chills." —People
 
 
 "A hauntingly beautiful read." —Oprah.com 
Anchor, 9780804169974, 384pp.
Publication Date: March 8, 2016
About the Author
JENNIFER McMAHON is the author of six novels, including the New York Times best-sellers Promise Not to Tell and The Winter People. She graduated from Goddard College and studied poetry in the MFA Writing Program at Vermont College.
1. Sylvie and Rose are rivals, while Piper and Margot have a close bond. What determines whether sisters get along? How do the siblings in the book compare to yours?
2. Amy, Piper, and Margot are first-rate sleuths at age twelve. What's special about that age? Are adolescents better than their parents at seeing the truth and having an open mind?
3. Discuss the novel's interwoven timelines. Would you rather grow up in the 21st century, the 1950s, or the 1980s? In The Night Sister, what stays the same throughout all three eras?
4. What fuels Jason's attraction to Amy? How do his feelings about her change throughout their lifetimes?
5. How was your reading affected by Sylvie's letters to Alfred Hitchcock, and the real-life connection to Vermont in The Trouble with Harry? How do you think Hitchcock and his staff would have responded to her letters?
6. What were your theories about Fenton? How did your opinion of him shift?
7. With echoes of Psycho's Bates Motel, what makes the Tower Motel a powerful setting for this storyline? What did the tower represent to each generation? What did you expect the 29th room to look like?
8. Compare the novel's three marriages: Charlotte and Clarence, Amy and Mark, Margot and Jason. What are the greatest strengths and vulnerabilities in these relationships?
9. What did you believe about the moth Rose keeps in a jar?
10. "Mare" is an Old English word, not an invention of the author; we use it when we talk about nightmares. How did you react to Oma's lessons about mares? What do you believe about the tangible nature of evil?
11. What do you predict for Rose and Lou? As mothers, did Charlotte and Amy do the right thing?

At the heart of the novel is a legacy of secrecy. Are there any long-held secrets in your family? What would it take to be ostracized by your relatives?
12. How does The Night Sister enhance your experience of Jennifer McMahon's previous novels? What is unique about the way her characters confront the unknown?