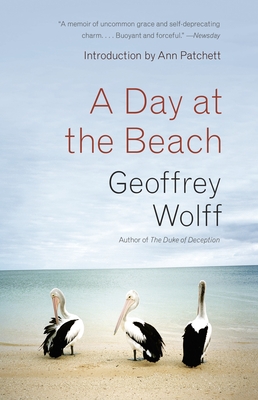 A Day at the Beach: Recollections (Paperback)
Recollections
Vintage Books, 9780804170093, 314pp.
Publication Date: November 5, 2013
Description
In this essay collection, now with a new introduction by Ann Patchett, Geoffrey Wolff recounts the moral (and sometimes immoral) education of a writer, friend, husband, and father. He shows us his wildly dysfunctional childhood Christmases—presided over by his con-man father—then shifts to his brash, short-lived teaching career in Istanbul. With dazzling literary agility, Wolff guides us through the surprising, invaluable turns that shaped his path: his victory over the chaos of drink, his open-heart surgery, his life-affirming surrender to the slopes of the Matterhorn, and his transcendent love of family. Long considered a classic, now expanded and back in print after two decades, A Day at the Beach shares Wolff's spirited, elegant, and deeply felt observations on an extraordinary life.
About the Author
Geoffrey Wolff is the author of six novels and six works of nonfiction, including the memoir "The Duke of Deception," which was a finalist for the Pulitzer Prize. In 1994 he received the Award in Literature from the American Academy of Arts and Letters. From 1995 to 2006, he directed the Graduate Program in Writing at the University of California, Irvine. For his writing, he has received fellowships from the Guggenheim Foundation, the National Endowment for the Arts, and the American Academy in Berlin. He lives in Bath, Maine.
Praise For A Day at the Beach: Recollections…
"A memoir of uncommon grace and self-deprecating charm. . . . Buoyant and forceful." —Newsday

"Wolff is always a dream to read. . . . A Day at the Beach is a délice from one of America's best memoirists." —The Village Voice

"Sparkling. . . . Style is the hero of these essays. . . . [Wolff] has lived a rich, full life that sounds almost Victorian in its mix of adventure and stability." —The New York Times
 
"More fun, more instructive, more heartwarming than any day at the beach I can recall. A splendid collection." —George Plimpton

"Elegant. . . . Provide[s] an upbeat counterpoint to the troubled father-son relationship chronicled in The Duke of Deception. . . . In Geoffrey Wolff, America is blessed." —Los Angeles Times

"Honest and touching. . . . [Wolff explores] the romance of building the clean well-lighted sentence." —Chicago Tribune

"Exhilarating. . . . Conjures up a diversity of scenes, set in locations ranging from Istanbul to Greenwich Village to a Caribbean beach." —Publishers Weekly

"Wolff is one of the all-time great yarn spinners, and the texture of his prose is a marvel." —Frank Conroy

"A Day at the Beach is at once charming and deeply moving. Anyone who admired The Duke of Deception will be drawn to this compelling memoir." —Richard Selzer

"It's impossible to read Geoffrey Wolff's essays without being reminded what good writing is for. The complexities, the punishments, the exuberance of having a full life are his subject. There is no parsimony here, no falseness, no evasion. There is just the deeply satisfying familiarity of Wolff's voice. You sense the completeness of the man in the writer." —Verlyn Klinkenborg

"A Day at the Beach sneaks up on you in several places with remarkably steady views of American values in the face of mortality. It is an absorbing book, literate, full of life and marvelous information." —Thomas McGuane

"Wolff has ripened through the years to a generous empathy and a supple specificity that mark him as a very special talent. As a story-telling essayist, he can be bravura, gentle or informative, balancing mercy with incongruity. One reads him wishing he were in the room." —Edward Hoagland
Advertisement