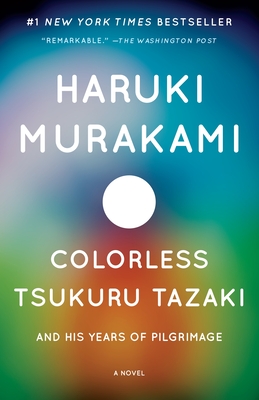 Colorless Tsukuru Tazaki and His Years of Pilgrimage (Vintage International)
Paperback

* Individual store prices may vary.
Other Editions of This Title:
Digital Audiobook (8/11/2014)
Hardcover (8/12/2014)
Paperback, Vietnamese (7/6/2014)
Paperback, Chinese (10/1/2013)
Hardcover, Chinese (10/1/2013)
Paperback, Large Print (8/12/2014)
Compact Disc (8/12/2014)
Description
An instant #1 New York Times Bestseller

One of the most revered voices in literature today gives us a story of love, friend­ship, and heartbreak for the ages.

Colorless Tsukuru Tazaki and His Years of Pilgrimage is the remarkable story of a young man haunted by a great loss; of dreams and nightmares that have unintended consequences for the world around us; and of a journey into the past that is necessary to mend the present.

A New York Times and Washington Post notable book, and one of the Financial Times, St. Louis Post-Dispatch, Slate, Mother Jones, The Daily Beast, and BookPage's best books of the year
Praise For Colorless Tsukuru Tazaki and His Years of Pilgrimage (Vintage International)…
"Mesmerizing, immersive, hallucinogenic." —Entertainment Weekly

"Readers wait for [Murakami's] work the way past generations lined up at record stores for new albums by the Beatles or Bob Dylan. . . . Reveals another side of Murakami, one not so easy to pin down. . . A book for both the new and experienced reader." —Patti Smith, The New York Times Book Review 

"Hypnotic." —The Boston Globe
 
"Brilliant." —The Miami Herald
 
"A masterpiece." —Elle
 
"Wistful, mysterious, winsome, disturbing, seductive." —The Atlantic
 
"Remarkable." — The Washington Post
 
 "Intoxicating. . . . Full of beauty, strangeness, and color." —NPR

"[Murakami] is ever alert to minds and hearts, to what it is, precisely, that they feel and see, and to humanity's abiding and indomitable spirit. . . . A deeply affecting novel, not only for the dark nooks and crannies it explores, but for the magic that seeps into its characters' subconsciouses, for the lengths to which they will go to protect or damage one another, for the brilliant characterizations it delivers along the way." —The Washington Post
 
"More than just a story but rather a meditation. . . . There is a rawness, a vulnerability, to these characters." —Los Angeles Times
 
"Tsukuru's pilgrimage will never end, because he is moving constantly away from his destination, which is his old self. This is a narrow poignancy, but a powerful one, and Murakami is its master. Perhaps that's why he has come to speak not just for his thwarted nation, but for so many of us who love art—since it's only there, alas, in novels such as this one, that we're allowed to live twice." —Chicago Tribune
 
"Bold and colorful threads of fiction blur smoothly together to form the muted white of an almost ordinary realism. Like J.M. Coetzee, Murakami smoothly interlaces allegorical meanings with everyday particulars of contemporary social reality. . . . Tsukuru's situation will resonate with anyone who feels adrift in this age of Google and Facebook." —San Francisco Chronicle
 
"Colorless Tsukuru spins a weave of . . . vivid images around a great mystery. . . . The story flows along smoothly, wrapping around details like objects in a stream." —The Boston Globe
 
 "The premise is simple enough, but in the works of Murakami, nothing is simple. . . . A perfect introduction to Murakami's world, where questions of guilt and motivation abound, and the future is an open question." —The Miami Herald
 
"Beautiful, rich with moving images and lush yet exquisitely controlled language. . . . Fans of elegant, intelligent fiction will welcome this book." —Tampa Bay Times
 
"Moving. . . . One of Murakami's most endearing and enduring traits as a writer is an almost reportorial attention to detail, the combined effect of which gives you a complete picture while still feeling a little ethereal." —Milwaukee Journal Sentinel
 
"Shockingly seductive. . . . Murakami has a knack for swift, seamless storytelling. . . . Don't be surprised if you devour Colorless Tsukuru Tazaki and His Years of Pilgrimage in the course of a night or two. . . . Charming and unexpected." —Richmond Times-Dispatch
 
"Satisfying. . . . Murakami can find mystery in the mundane and conjure it in sparse, Raymond Carveresque prose." —Financial Times
 
"Colorless Tsukuru Tazaki alights in some mysterious places but doesn't settle there. . . . [It] is replete with emotionally frank, philosophical discussions. . . . Reflective." —The Dallas Morning News
 
"A piercing and surprisingly compact story about friendship and loneliness. . . . Murakami skillfully explores the depths of Tsukuru's isolation and pain." —St. Louis Post-Dispatch
 
"Truly captivating . . . Calling Murakami a 'universally respected author' or even a 'paragon of literature' is no longer apt. The man is a cultural force unto himself. . . . [In Colorless Tsukuru] the staples of his work . . . all come together to form a beautiful whole." —A.V. Club
 
"Spare and contained. . . . Quiet, with disturbing depths." —The Columbus Dispatch
 
"A testament to the mystery, magic, and mastery of this much-revered Japanese writer's imaginative powers. Murakami's moxie is characterized by a brilliant detective-story-like blend of intuition, hard-nosed logic, impeccable pacing, and poetic revelations." —Elle
Vintage, 9780804170123, 336pp.
Publication Date: May 5, 2015
About the Author
Haruki Murakami was born in Kyoto in 1949 and now lives near Tokyo. His work has been translated into more than fifty languages. The most recent of his many international honors is the Jerusalem Prize, whose previous recipients include J. M. Coetzee, Milan Kundera, and V. S. Naipaul. Translated by Philip Gabriel.