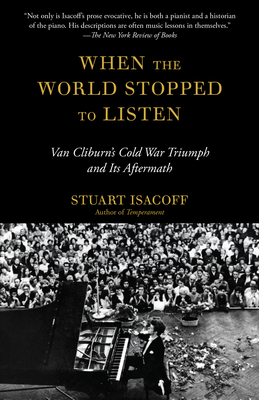 When the World Stopped to Listen (Paperback)
Van Cliburn's Cold War Triumph, and Its Aftermath
Vintage, 9780804170239, 320pp.
Publication Date: March 6, 2018
Other Editions of This Title:
Hardcover (4/18/2017)
MP3 CD (4/18/2017)
Compact Disc (4/18/2017)
Compact Disc (4/18/2017)
* Individual store prices may vary.
Description
April 1958: The Soviets were leading the space race, the Iron Curtain was at its heaviest, and the Tchaikovsky International Piano Competition in Moscow seemed certain to crown a hometown champion. But as the world's finest young pianists descended on the Russian capital, an unlikely favorite emerged: Van Cliburn, a polite, lanky Texan whose passionate virtuosity captured the hearts of the Russian people—and thawed Cold War tensions in a way no one would have thought possible.
 
This is the story of what unfolded that spring—for Cliburn and the other competitors, for jurors and party officials, and for the citizens of the world. It is a behind-the-scenes look at one of the most remarkable events in musical history, filled with political intrigue and personal struggle as artists strove for self-expression and governments jockeyed for prestige. At the core of it all is the value of artistic achievement, the supremacy of the heart, and the transcendent freedom that can be found, through music, even in the darkest moments of human history.
About the Author
Stuart Isacoff is a pianist, writer, and the founder of Piano Today magazine, which he edited for nearly three decades. A winner of the ASCAP Deems Taylor Award for excellence in writing about music, he is a regular contributor to The Wall Street Journal and many other publications. He is also the author of A Natural History of the Piano and Temperament: How Music Became a Battleground for the Great Minds of Western Civilization. He lives in Closter, New Jersey.

www.stuartisacoff.net
Praise For When the World Stopped to Listen: Van Cliburn's Cold War Triumph, and Its Aftermath…
"Not only is Isacoff's prose evocative, he is both a pianist and a historian of the piano. His descriptions are often music lessons in themselves." —The New York Review of Books

"If you want to know why Cliburn played the way he played—and how his distinctive style helped him win—then Mr. Isacoff is your man." —The Wall Street Journal

"A vivid tale of politics and music in high places." —Financial Times
 
"Riveting. . . . [Isacoff] approaches the subject with the seasoned eye of a classical music journalist." —Gramophone

"I have never read a more beautiful or penetrating description of Cliburn's Moscow triumph. . . . [A] deeply human portrait. . . . Through this book, it seems we can finally know Van Cliburn." —Tim Madigan, Fort Worth Star-Telegram

"Stuart Isacoff is a music scholar, and a superb one. . . . This was a fascinating and important event. . . . A juicy book." —The National Review

"A page-turner that resonates long after the final sentence. . . . Compelling, historically vivid. . . . You simply must read this book." —American Music Teacher

"Detailed and vivid. . . . Isacoff brings both a pianist's insights and a historian's rigor to an event that shook the musical world—indeed, the world at large." —Classical Voice North America

"A great book about a great American musician who, in the tensions of Cold War, helped move our world from war to peace, from direct confrontation to peaceful coexistence." —Sergei Khrushchev, author of Khrushchev in Power

"Exciting, thorough, and deeply moving. . . . A most satisfying experience." —Emanuel Ax, Musician

"Stuart Isacoff lets us relive the career-birth of an American musical hero and a politically momentous event as profound as the collapse of the Berlin Wall. Beautifully written, this is an insider's report of the onstage and offstage drama." —André Watts, Concert Pianist

"Extensively researched and illuminating . . . revisits the 1958 Tchaikovsky Competition in Moscow from a broader perspective, providing new information about that event and its elusive winner." —Barbara Jepson, President, Music Critics Association of North America

"Vivid. . . . An insider narrative. . . . Isacoff compellingly details the various backstage intrigues." —Los Angeles Review of Books

"A polished, chatty retelling of the most consequential competition in the political history of classical music. Isacoff pulls aside the curtain on the competition. . . . He combines a sharp, unsparing biographical eye with a mastery of the musical and social history of the time." —Book Reporter

"A rare look at one of the most inspiring events in the history of music. It is the story of artists' struggle and their victory over political intrigues and conspiracies and political hate." —The Washington Book Review

"Beautifully written, this will undoubtedly be the reference book about the life of a pianist who, not unlike the Russian Sputnik satellites which shot to world fame as fast as they burnt out, left a blinding light in piano history." —Pianist (UK)

"Well-researched. . . . Recreates what seems like a time so long ago." —New York Journal of Books