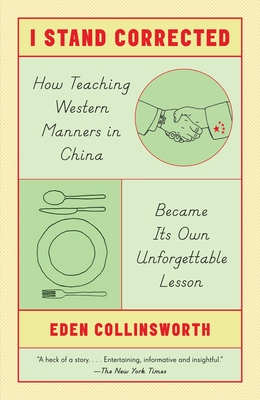 I Stand Corrected
How Teaching Western Manners in China Became Its Own Unforgettable Lesson
Paperback

* Individual store prices may vary.
Description
"What do you mean, he's asked how much I am?" asked a stunned Eden Collinsworth upon learning that a Chinese businessman had inquired if she were available for purchase. Despite this precarious introduction to China, no country has fascinated Collinsworth more during a career that has moved her around the world. Convinced that—despite the nation's status as a world leader—the Chinese are still socially uncomfortable with their Western counterparts, she collaborated with a major Chinese publisher to produce a bestselling Western etiquette guide.
          Now, in these pages, Collinsworth tells the unforgettable story of the year she spent living among the Chinese while writing a book featuring advice on such topics as the rules of the handshake, making sense of foreigners, and behavior that is considered universally rude. Informative, hilarious, and thought-provoking, I Stand Corrected is at once an entertaining memoir and essential reading for those looking to understand the mores of the rapidly changing—and increasingly important—nation that is China.
Praise For I Stand Corrected: How Teaching Western Manners in China Became Its Own Unforgettable Lesson…
"A heck of a story. . . . Entertaining, informative and insightful." —The New York Times

"A must-read."  —Bloomberg Radio

"If Eden Collinsworth weren't so good a writer, she'd do well with her own reality TV show. She has a fearless, go-anywhere, do-almost-anything attitude that—combined with her intelligence and keen observational powers—makes for exceptional storytelling." —Minneapolis Star Tribune
 
"Hilarious and insightful. . . . A compulsive page-turner. . . .An insider's view into the rising power of the East." —Amanda Foreman, author of Georgiana and A World on Fire

"I Stand Corrected has many interesting, even important, things to say about commerce and manners in China, but the book's real pleasure is Eden Collinsworth's company. Her mind is lucid and original, and she's very funny." —Alec Wilkinson, author of The Ice Balloon

"There are very few like Eden Collinsworth who have actually known China, who have seen its transformation firsthand. With her wonderful book I Stand Corrected, she uses her knowledge and experience to build a bridge for readers to cross the river between cultures." —Xinran, author of China Witness, Sky Burial, and The Good Women of China

"Eden Collinsworth's adventures on her way to writing a best-selling manual of Western deportment for the Chinese are enchanting. . . . I Stand Corrected is an original, fearless, and funny book that you read for its laughs as well as its lessons." —Joan Juliet Buck

"Enlightening, enthralling, and sometimes laugh-out-loud funny. Her revealing and profoundly interesting insight into Chinese culture must be the first of its kind." —Blythe Danner

 "Wonderful. . . . A rare, true gift. . . . A traveler of the world, often with her multilingual son, Collinsworth waxes intelligently and humorously about other cultures." —Booklist (starred review)

"Collinsworth's observations bring the Chinese and their rituals and history to life ... Entertaining, informative adventures of a woman determined to understand the people of China." —Kirkus Reviews

"An entertaining take on life as a foreigner in China." —Publishers Weekly

Anchor, 9780804170468, 304pp.
Publication Date: November 10, 2015
About the Author
Eden Collinsworth is a former media executive and business consultant. She launched the Los Angeles-based monthly lifestyle magazine, Buzz, after which she became VP & director of cross media business development at Hearst Corporation. She has been the chief-of-staff of a global think tank and, in 2011, launched Collinsworth & Associates, a Beijing-based consulting company that specializes in intercultural communication. Her Chinese language book The Tao of Improving Your Likeability: A Personal Guide to Effective Business Etiquette in Today's Global World has become a major best seller in mainland China. 

www.edencollinsworth.com
or
Not Currently Available for Direct Purchase