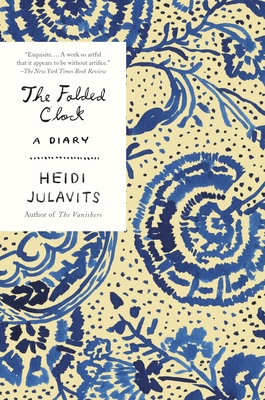 The Folded Clock (Paperback)
A Diary
Anchor, 9780804171441, 304pp.
Publication Date: March 8, 2016
Other Editions of This Title:
Compact Disc (4/21/2015)
Hardcover (4/7/2015)
* Individual store prices may vary.
Description
A New York Times Notable Book

Rereading her childhood diaries, Heidi Julavits hoped to find incontrovertible proof that she was always destined to be a writer. Instead, they "revealed me to possess the mind of a phobic tax auditor." Thus was born a desire to try again, to chronicle her daily life—now as a forty-something woman, wife, mother, and writer. A meditation on time and self, youth and aging, friendship and romance, faith and fate, and art and ambition, in The Folded Clock one of the most gifted prose stylists in American letters explodes the typically confessional diary form with her trademark humor, honesty, and searing intelligence.
About the Author
Heidi Julavits is also the author of four critically acclaimed novels (The Vanishers, The Uses of Enchantment, The Effect of Living Backwards, and The Mineral Palace) and coeditor, with Sheila Heti and Leanne Shapton, of the New York Times bestseller Women in Clothes. Her fiction has appeared in Harper's Magazine, McSweeney's, and The Best American Short Stories, among other places. She's a founding editor of The Believer magazine and the recipient of a Guggenheim Fellowship. She lives in Manhattan, where she teaches at Columbia University. She was born and raised in Portland, Maine.
Praise For The Folded Clock: A Diary…
"Exquisite. . . . A work so artful that it appears to be without artifice." —The New York Times Book Review

"Playful, intimate, and deeply insightful. . . . What you can tell from this book is that [Julavits] is someone you truly want to know—even better than you already do from reading her diary." —Chicago Tribune

"Scathingly funny. . . . An engaging portrait of a woman's sense of identity, which continually shape-shifts with time." —Los Angeles Times

"[A] fascinating quasi-memoir. . . . The humor and the pathos of the book arise from [the] mismatch between the urgency of a decision in the moment and the awareness that always runs beneath it: that time will eventually make most things not matter." —The Washington Post

"A profound meditation on the passing of time." —Entertainment Weekly

"Cleverly crafted [and] thoughtfully entertaining. . . . Julavits's best book yet." —O, The Oprah Magazine

"Poignant." —The Boston Globe

"[Julavits] has a native's eye for the small, sometimes indiscernible quirks that define local behavior. . . . There is glorious slippage, just enough to see its author in the various stages of her life, adhering to the truth as she sees it." —Minneapolis Star Tribune

"[Julavits] takes moments in time and blows them up with thought and introspection and tangential relations. She condenses them down into polished nuggets. . . . Her mind is so smart and delightful and open." —The Rumpus

"I was utterly compelled by the big-hearted engine of rigor and wonder that drives them: her live electric mind." —Leslie Jamison, author of The Empathy Exams

"Daring and inquisitive. . . . By probing deeply her interior and exterior environments, Julavits shows us our potential for expansion in all areas of our lives, even the most mundane." —Bustle
"Hilarious. . . . The thrill is where Julavits takes us." —New York Post

"Blur[s] the lines between contemplation and revelation, fact and fiction. . . . Julavits reveals a whole lot, in often-flawless prose, about motherhood, time, petty jealousies, grand debates, and the irresistible attractions of The Bachelorette." —Vulture

"A comforting read." —Refinery29

"Irresistible and, at times, transcendent. . . . [Julavits is] like a mash-up of Lena Dunham and Kierkegaard. Which is to say, the book is at once raunchy, outrageous and funny, wistful, contemplative and smart." —Portland Press Herald

"A joy to read.  It's a treasure house of revealing stories, and a thought-provoking illustration of the way that everyday encounters . . . provoke kaleidoscopic and dramatic memories to unfold within us. . . . This is a book worth reading and re-reading." —Rebecca Curtis, author of Twenty Grand and Other Tales of Love & Money

"Intricate and delicately worked. . . . Julavits transforms her diary into an exceptional work of art." —BookPage

"The Folded Clock is evidence of Julavits at her finest—an incisive and penetrating thinker, as exacting as she is forgiving in her observations about the self and the world." —Electric Lit