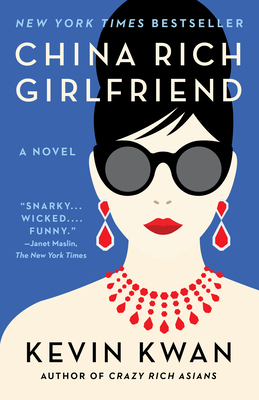 China Rich Girlfriend (Crazy Rich Asians Trilogy)
Paperback

* Individual store prices may vary.
Other Editions of This Title:
Digital Audiobook (6/15/2015)
Paperback (6/23/2020)
Paperback, Chinese (11/1/2019)
Paperback, Chinese (9/11/2019)
CD-Audio (6/16/2015)
Hardcover (6/16/2015)
Description
From the bestselling author of Crazy Rich Asians (the basis for the acclaimed major motion picture) comes a deliciously fun story of family, fortune, and fame in Mainland China. 

Book Two of the Crazy Rich Asians Trilogy

It's the eve of Rachel Chu's wedding, and she should be over the moon. She has a flawless Asscher-cut diamond, a wedding dress she loves, and a fiancé willing to thwart his meddling relatives and give up one of the biggest fortunes in Asia in order to marry her. Still, Rachel mourns the fact that her birthfather, a man she never knew, won't be there to walk her down the aisle. 

Then a chance accident reveals his identity. Suddenly, Rachel is drawn into a dizzying world of Shanghai splendor, a world where people attend church in a penthouse, where exotic cars race down the boulevard, and where people aren't just crazy rich … they're China rich.

Look for Kevin Kwan's latest novel, Sex & Vanity!
Praise For China Rich Girlfriend (Crazy Rich Asians Trilogy)…
"Snarky. . . Wicked. . . Funny." —Janet Maslin, The New York Times


"Deliciously fun. . . . Satire at its best." —People

 
"Scandalous." —Town and Country 

 
"Makes Downton Abbey look more like Downton Arrivistes. . . . Ingenious." —The Daily Beast 

 
"Frothy."—Hanya Yanigahara, Conde Nast Traveler 

 
"Lifestyles of the rich and famous, China-style" —The Houston Chronicle


"This year's best beach reading. . . . As frothy as the egg whites on the sort of cocktail you should drink while reading Kwan's books. . . . Highly entertaining." —The Washington Post

 
"A crazy parade through the lives of the aspirational elite." —Los Angeles Times


"The equivalent of a Bubble Tea concoction laced with Henry James extracts and Jackie Collins sprinkles. . . . In the same way that Edith Wharton catalogued the Gilded Age via novels like The Age of Innocence, Kwan—in his novels—is doing his bit for a China that now has the second-highest number of millionaires in the world." —The Daily Beast 


"A taste of Asian opulence served with skewering humor." —The Daily News

 
"Kwan's characters are powerful and attractive, living in the lap of luxury." —NPR, "All Things Considered"
 
 
"Very enjoyable. . . . Just as funny as Crazy Rich Asians, this globe-spanning tale of excess includes enough snootiness and class snobbery to fill a multitude of designer handbags." —Minneapolis Star Tribune
 

 "With the same hilarity . . . as the first novel, China Rich Girlfriend will not disappoint both fans and newcomers to the series." —Town and Country 
 

 "An equally good-natured, catty-as-hell sequel. . . . Part Oscar Wilde, part Judith Krantz, part Arthur Frommer . . . Hilarious . . . Over-the-top and hard to stop." —Kirkus Reviews


"China Rich Girlfriend is the most fun I've had reading a book in quite some time. . . . A jam-packed, lively story." —Amy Scribner, BookPage 


"A heady taste of vicarious escapism. . . . Read China Rich Girlfriend for the exuberant spectacle of zippy vintage cars, gossipy matriarchs-who-lunch and reckless profligacy but read it also for its very engaging narrative about people like us." —Thuy On, The Sydney Morning Herald 


"[An] amusing, whirlwind novel." —The Miami Herald


"Like Gossip Girl and Dynasty and the royal family of England all at the same time. Kwan's characters behave hideously—and it's hilarious." —Elaine "Lainey" Lui, Flare


"Will have readers clamoring for more." —Library Journal (starred review)


"An engaging page-turner with a multi-layered, inventive narrative. Kwan has clearly taken a few lessons from one of America's great social satirists—think Tom Wolfe set loose on the wealthiest enclaves of Confucian Asia." —South China Morning Post



Anchor, 9780804172066, 496pp.
Publication Date: May 31, 2016
About the Author
Kevin Kwan is the author of Crazy Rich Asians, the international bestseller now being adapted into a major motion picture.  Born and raised in Singapore, Kwan has called Manhattan home for the past two decades but still craves pineapple tarts and a decent plate of Hokkien mee.

Please visit www.kevinkwanbooks.com