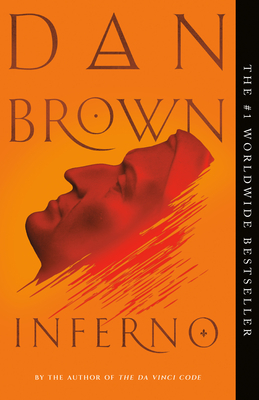 Inferno (Robert Langdon #4)
Paperback

* Individual store prices may vary.
Other Editions of This Title:
Paperback (5/6/2014)
Hardcover (5/14/2013)
Paperback, Spanish (5/6/2014)
Paperback, Spanish (9/20/2016)
Paperback (9/20/2016)
Paperback (9/20/2016)
CD-Audio (5/14/2013)
Paperback, Large Print (5/14/2013)
Hardcover, Spanish (5/14/2013)
Paperback, Chinese (11/1/2013)
Prebound (5/6/2014)
Hardcover, Vietnamese (2/1/2014)
Paperback, Chinese (10/29/2013)
Description
#1 WORLDWIDE BESTSELLER

Harvard professor of symbology Robert Langdon awakens in an Italian hospital, disoriented and with no recollection of the past thirty-six hours, including the origin of the macabre object hidden in his belongings. With a relentless female assassin trailing them through Florence, he and his resourceful doctor, Sienna Brooks, are forced to flee. Embarking on a harrowing journey, they must unravel a series of codes, which are the work of a brilliant scientist whose obsession with the end of the world is matched only by his passion for one of the most influential masterpieces ever written, Dante Alighieri's The Inferno.
 
Dan Brown has raised the bar yet again, combining classical Italian art, history, and literature with cutting-edge science in this captivating thriller.
Praise For Inferno (Robert Langdon #4)…
"A book-length scavenger hunt. . . . Jam-packed with tricks." —The New York Times

"Fast, clever, well-informed. . . . Dan Brown is the master of the intellectual cliffhanger." —The Wall Street Journal

"One hell of a good read. . . . As close as a book can come to a summertime cinematic blockbuster." —USA Today
 
"A diverting thriller." —Entertainment Weekly

"Brown isn't just a novelist; he's a crossover pop culture sensation. . . . Inferno is the kind of satisfying escapist read that summers were made for." —The Boston Globe

"Harrowing fun threaded with coded messages, art history, science, and imminent doom." —Daily News (New York)

"[Brown is] the planet's most dastardly thriller writer. . . . Inferno moves with . . . velocity, excitement, and fun." —The Independent (UK)

"An adventure ride through a literary text. . . . [A] sweeping spectacle." —Pittsburgh Post-Gazette

"A fast and furious race." —The Plain Dealer

"A master of the breathless, puzzle-driven thriller." —Richmond Times-Dispatch

"What Brown does in a way that appeals to millions of people around the world is tell stories that remind us there's more to the world than meets the eye." —The Huffington Post

Anchor, 9780804172264, 576pp.
Publication Date: May 6, 2014
About the Author
Dan Brown is the author of The Da Vinci Code, one of the most widely read novels of all time, as well as the international bestsellers Inferno, The Lost Symbol, Angels & Demons, Deception Point, and Digital Fortress. He lives in New England with his wife.
What features does Inferno share with Dan Brown's other Robert Langdon novels: The Da Vinci Code, Angels & Demons, and The Lost Symbol? In what ways is it different from those earlier works?
Why has Brown used these lines from Dante as an epigraph to Inferno: "The darkest places in hell are reserved for those who maintain their neutrality in times of moral crisis"? How does that statement illuminate the novel? What is the particular danger of maintaining moral neutrality in Inferno?
What accounts for the frenetic narrative pace of the novel? How does Dan Brown use chapter endings to create suspense? What other devices create a narrative tension that pulls the reader along?
What are some of the most surprising twists and turns in Inferno?
What role does the setting play in Inferno? In what ways are Florence, Venice, and Istanbul integral to the plot of the novel?
The brilliant biochemist Bertrand Zobrist asserts some unsettling ideas. He argues that the Black Plague, which killed one-third of Europe's population, was one of the best things that ever happened to humanity and ushered in the Renaissance. He also believes that the human race won't survive unless we have another mass extinction event, similar in scale to the Black Plague. In his confrontation with Dr. Sinskey, he rails, "We are on the brink of the end of humanity, and our world leaders are sitting in boardrooms commissioning studies on solar power, recycling, and hybrid automobiles…. Ozone depletion, lack of water, and pollution are not the disease—they are the symptoms. The disease is overpopulation" [p. 139]. Is Zobrist right about these issues? Is his solution the lesser of two evils or is it too morally repugnant even to consider?
How does Langdon use his knowledge of literature, art, and symbology to decipher the clues that lead him to the location of Zobrist's virus? In what ways is Dante's great poem, The Inferno, central to the novel?
The Consortium, which allows Bertrand Zobrist to do his work on the virus undetected, has a philosophy of "Provide the service. Ask no questions. Pass no judgment" [p. 75]. Is that a dangerous philosophy, and if so, why? Why does the Provost, by the end of the novel, realize that "For the first time in his life, ignorance no longer felt like the moral high ground"? [p. 444]. How disconcerting is it to learn that the Consortium really does exist, though under a different name, with offices in seven countries?
Sienna Brooks is perhaps the most complex character in the novel. What kind of woman is she? How has her past influenced who she has become? How does she change over the course of the novel? Why does she feel that she has finally found a purpose at the end of the book?
In what ways do issues of trust and betrayal play out in Inferno?
Sienna explains one of the fundamental tenets of Transhumanism: "We as humans have a moral obligation to participate in our evolutionary process . . . to use our technology to advance the species, to create better humans-healthier, stronger, with higher-functioning brains. Everything will soon be possible" [p. 453]. Do an internet search on "Transhumanism" and discuss/debate the motivations and philosophical assumptions of the movement. What does Dan Brown's use of a real-life contemporary movement like Transhumanism add to Inferno? Does Transhumanism offer valid solutions to some of the essential problems that confront the human species?
In an emotional speech to Dr. Sinskey, Sienna says, "Bertrand died all alone because people like yourself refused to open your minds enough even to admit that our catastrophic circumstances might actually require an uncomfortable solution. All Bertrand ever did was speak the truth . . . and for that, he was ostracized" [p. 449]. Does Bertrand go from villain to hero by the end of the book? Do the ends (saving the human species) justify the means (releasing a virus that will dramatically limit population growth) in this case?
Why doesn't Robert Langdon give up on Sienna, even after he realizes what her motives are?
At the end of the novel, Dr. Sinskey invites Sienna to accompany her to a conference where they will address world leaders about the virus Bertrand Zobrist has released and discuss the issue of population control. Is there a significance to having two women, rather than two men, assume this role?