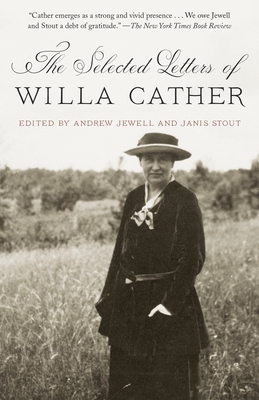 The Selected Letters of Willa Cather
Paperback

* Individual store prices may vary.
Other Editions of This Title:
Hardcover (4/16/2013)
Description
**Time Magazine 10 Top Nonfiction Books of 2013**

Willa Cather's letters—withheld from publication for more than six decades—are finally available to the public in this fascinating selection. The hundreds collected here range from witty reports of life as a teenager in Red Cloud in the 1880s through her college years at the University of Nebraska, her time as a journalist in Pittsburgh and New York, and her growing eminence as a novelist. They describe her many travels and record her last years, when the loss of loved ones and the disasters of World War II brought her near to despair. Above all, they reveal her passionate interest in people, literature, and the arts. The voice is one we recognize from her fiction: confident, elegant, detailed, openhearted, concerned with profound ideas, but also at times sentimental, sarcastic, and funny. A deep pleasure to read, this volume reveals the intimate joys and sorrows of one of America's most admired writers.
Praise For The Selected Letters of Willa Cather…
"By turns effusive, despairing, mischievous, vain, and bighearted, The Selected Letters unfolds like an epistolary autobiography, teeming with rich period detail and the savvy observations of a complicated artist at the height of her powers." —O Magazine

"Jewell and Stout have performed a valuable service with this book, from which Cather emerges as a strong and vivid presence, a woman at once surprisingly modern and touchingly--if not always sweetly--old-fashioned. . . . As a pure prose stylist, she ranks with Hemingway; as a self-made American artist and feminist pioneer, she traveled a far greater distance--from tiny Red Cloud to Manhattan--than Fitzgerald did when he made the leap from middle-class St. Paul to Princeton. These letters bring her fuzzy image into much sharper focus, and for that we owe Jewell and Stout a debt of gratitude."--front cover, New York Times Book Review

"If Selected Letters tells us something profound about Cather, it is this: She was too active, too interesting and too alive to keep herself a secret forever. It has always been inevitable that, one day, one way or another, this would be proven in Cather's own words." —The Daily News

"The editors maintain a fine balance, providing useful illustrative material, but knowing, too, when to fall silent and let Cather speak for herself. And speak she does, in a voice that's alternately eloquent, determined, respectful, erudite, affectionate and wise—and sometimes cantankerous and cranky. Combined, the letters compose a portrait of an artist, a woman who crafted some of the finest fiction of the twentieth century." —The Cleveland Plain Dealer
 
"This prodigious editorial feat gives readers a glimpse for the first time into the mind of the Pulitzer Prize-winning author of O Pioneers! . . .  Throughout, Cather emerges as a humorous, profound, and difficult personality whose cosmopolitan life and commitment to crafting a successful public persona should challenge misconceptions." —Publishers Weekly, Pick of the Week, starred review
  
"A revealing, even revelatory collection of correspondence from Willa Cather . . . A splendidly edited, generous gift to lovers of Cather and American literature." —Kirkus Reviews, starred review
 

Vintage, 9780804172271, 752pp.
Publication Date: August 26, 2014
About the Author
Andrew Jewell is an associate professor at the University of Nebraska–Lincoln and editor of the Willa Cather Archive (cather.unl.edu). He is coeditor of the book The American Literature Scholar in the Digital Age and a member of the Willa Cather Foundation Board of Governors.
 
Janis Stout is the author of nine scholarly books, including Willa Cather: The Writer and Her World and two books about Katherine Anne Porter. She has also edited two volumes on Cather and written a memoir about retirement, This Last House.