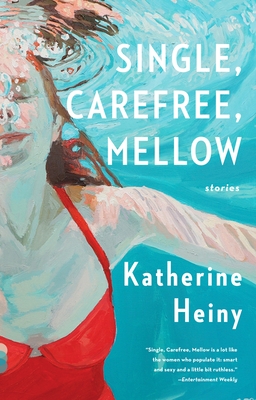 Single, Carefree, Mellow (Vintage Contemporaries)
Paperback

* Individual store prices may vary.
Other Editions of This Title:
Digital Audiobook (2/2/2015)
Hardcover (2/3/2015)
Description
For the commitment-averse women in the eleven sublime stories of Single, Carefree, Mellow, falling in love is never easy and always inconvenient. Maya is in love with both her boyfriend and her boss. Sadie's lover calls her as he drives to meet his wife at marriage counseling. Nina is more worried that the Presbyterian minister living above her garage will hear her kids swearing than that he will find out she's sleeping with her running partner. 

The women grapple with love amidst everything from unwelcome houseguests to disastrous birthday parties as Katherine Heiny spins a debut that is superbly accomplished, endlessly entertaining, and laugh-out-loud funny.
 

Praise For Single, Carefree, Mellow (Vintage Contemporaries)…
"Single, Carefree, Mellow is a lot like the women who populate it: smart and sexy and a little bit ruthless." —Entertainment Weekly

"Something like Cheever mixed with Ephron." —The New York Times Book Review 
 
 "Single, Carefree, Mellow is an extraordinary, cohesive story collection that is so incredibly brilliant it alternately inspires me and makes me really, really jealous." —Elin Hilderbrand, author of The Rumor 
 
"A tour de force." —Elle
 
"Katherine Heiny's work does something magical: elevates the mundane so that it has the stakes of a mystery novel, gives women's interior lives the gravity they so richly deserve—and makes you laugh along the way." —Lena Dunham, author of Not That Kind of Girl
 
"Heartbreaking and darkly comic." —The Atlantic

"Sharply perceptive . . . Ms. Heiny [has] powers of writerly seduction . . . Ms. Heiny [has a] gift for dreaming up otherwise smart women who lapse into temporary insanity while besotted." —Janet Maslin, The New York Times

 "[Heiny is] a badass storyteller." —The Huffington Post
 
"Chances are you've already heard the buzz on this collection of short stories, each of which has a relationship or affair at its center. But no matter how good you imagine it is, it's better." —Glamour.com
 
"Heiny's smart and stylishly written stories are a delight. The women who populate this book . . . are wonderful human and relatable, both hapless and full of heart." —Adelle Waldman, author of The Love Affairs of Nathaniel P
 
"Not since Laurie Colwin has a writer so poignantly and wittily depicted the joys of infidelity. Katherine Heiny knows the secret: happy marriages make for happy affairs. Also happy readers." —Susan Rieger, author of The Divorce Papers
 
"Winning stories you won't forget." —People
 
"To encounter the wry, funny stories in Katherine Heiny's Single, Carefree, Mellow is to experience the best form of simultaneous pleasure and sadness." —The Philadelphia Tribune
 
"Katherine Heiny where have you been all my life? . . . . There are echoes of Lorrie Moore, Melissa Bank, and even Alice Munro, but the voice is fresh and original throughout. More, more, more. Please!" —Stephen McCauley, author of The Object of My Affection and Insignificant Others

"It's no small trick to write with lightness and humor that nevertheless has an edge of tartness, but in story after story, Heiny does so with aplomb. Her work is sharp and refreshing, a parade of gin and tonics that somehow never get you drunker than that first expansive, thoughtful buzz." —Tin House

"Gorgeous . . . . Heavy lies the crown made of Grrrl Power."—New York Observer
 
"A quirky delight." —The Columbus Dispatch

"Not all [of Heiny's characters] are single (or carefree or mellow), but they are all singular, and following their stories is like sitting at a dive bar tossing back deceptively pretty, surprisingly strong drinks with a pal who may not always make the best decisions but always comes away with the most colorful tales." —Kirkus Reviews (starred)

"Somehow manages to be both laugh-out-loud funny and wise, sometimes in the very same sentence. . . . This book is amazing, brilliant, and nothing short of wonderful." —Jennifer Close, author of Girls in White Dresses and The Smart One


Vintage, 9780804173155, 240pp.
Publication Date: January 26, 2016
About the Author
Katherine Heiny's fiction has been published in The New Yorker, Ploughshares, Narrative,Glimmer Train, and many other places. She lives in Washington, D.C., with her husband and children. Single, Carefree, Mellow is her first book.