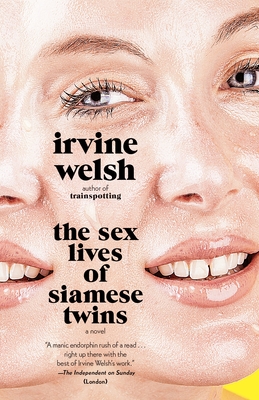 The Sex Lives of Siamese Twins (Vintage International) (Paperback)
Vintage, 9780804173216, 368pp.
Publication Date: January 12, 2016
Other Editions of This Title:
Digital Audiobook (2/2/2015)
Hardcover (2/3/2015)
* Individual store prices may vary.
Description
When Lucy Brennan, a Miami Beach personal-fitness trainer, disarms an apparently crazed gunman, the police and the breaking-news cameras are not far behind. Within hours, Lucy becomes a hero. The solitary eye-witness, the depressed and overweight Lena Sorenson, thrilled by Lucy's heroism and decisiveness, becomes obsessed with the trainer and enrolls as a client at her Bodysculpt gym. It quickly becomes clear that Lena is more interested in Lucy's body than her own, and a budding fatal attraction takes hold. However, it's when Lucy imprisons Lena, and can't stop thinking about the sex lives of Siamese twins, that the real problems start. In Lucy and Lena, Irvine Welsh has created two of his most memorable female protagonists, and one of the most bizarre, sadomasochistic folie à deux in contemporary fiction. The Sex Lives of Siamese Twins taps into two great obsessions of our time--how we look and where we live--and tells a story so subversive and dark it blacks out the Florida sun.
About the Author
Irvine Welsh is the author of Trainspotting, Ecstasy, Glue, Porno, Filth, Marabou Stork Nightmares, The Acid House, and, most recently, Skagboys. He currently lives in Chicago, IL.
Praise For The Sex Lives of Siamese Twins (Vintage International)…
Praise for The Sex Lives of Siamese Twins:

"...[A] reliably maniacal spin on the Pygmalion tale."
—Publishers Weekly

"Welsh, who now lives in the US, never fails to shock… Welsh's depiction of the south Florida landscape evokes a sense of sun-soaked desperation as bleak as any Edinburgh heroin den. The excitement of Welsh's writing derives from the perverse glee he takes in our lowest obsessions. His best effects are comic, and rely on sharp turns and a profane finish. An unruly sprawl it may be, but The Sex Lives of Siamese Twins is, nevertheless, a compulsive read."
—Financial Times
 
"Welsh, whose ear for tasty dialogue has always been his forte, has never written with greater verve. Call it fast food, or a banquet of healthy cautionary wholegrain, this is a novel packed with energy. Welsh's fans will love its excess of sprinkled expletives, and its discipline, its ambition. Those new to his work will find perseverance has its reward."
—The Scotsman
 
"No one can write about a sociopath in love with so much heart… not only cleverly conceived but genuinely, hauntingly, transgressive."
—The Guardian
 
"This knockabout caper of Miami vice…[is] a riot of sex and exercise."
—The Observer
 
"From that lurid title onwards this is a visceral romp of a novel, a manic endorphin rush of a read that nevertheless also manages to sneak in some serious commentary on the state of American society, putting this book right up there with the best of Irvine Welsh's work… At heart this is a book about the failed American dream. The pathological desire and compulsion for self-improvement runs strong in American society, and where better to shine a spotlight on it than in the infamously superficial and vacuous Miami? One of the most impressive things about Welsh's work is his literary sleight of hand. All of that is present in this novel, but underneath this is a deeply thoughtful and almost loving look at the unique nature of the American experience and mindset. To have managed all that is no mean feat. Welsh is a class act."
—Independent on Sunday
 
"The Sex Lives of Siamese Twins for the first time takes a strong and convincing grip on voices which sound far removed from those of the Muirhouse scheme in which the author grew up. With a cast of characters poised between humanity and grotesquery, and the exposure of some extreme behaviors which are no less apparent than during some entirely pornographic sexual encounters, this is unmistakably Welsh, and many readers might not appreciate its sensational veneer. Yet how far he has removed himself from his comfort zone in writing female Americans is validated by the clarity with which he eviscerates Western society's great—and potentially most dangerous—obsessions with food, health, sex and emotional perfection. At the age of 55, he's also at last produced proof he can write convincingly about experiences suitably removed from his own."
—The Independent
 
"If the title alone doesn't pique your interest—and really, how could it not—then the nitty-gritty of Irvine Welsh's latest novel, about a personal trainer and her new schlubby female charge who somehow get dragged into a story of killing, revenge and, yes, schtupping, should do the rest."
—Esquire U.K.
 
"Welsh's novel makes for a boisterous, exuberant beach read."
—The Sunday Times
 
"The master of visceral fiction, Welsh's new novel moves from the grit of Scotland to the sickly heat of Miami… Welsh's latest might be Miami-based, but it's as shady, crazy and dark as his previous work, with sex, shootings and an unusual pair of heroines"
—Shortlist

"A visceral romp of a novel, a manic endorphin rush of a read that nevertheless also manages to sneak in some serious commentary on the state of American society, putting this book right up there with the best of Irvine Welsh's work. . . . Welsh is a class act." --Independent on Sunday, UK

"This knockabout caper of Miami vice [is] a riot of sex and exercise." --The Observer, UK

"No one can write about a sociopath in love with so much heart... not only cleverly conceived but genuinely, hauntingly, transgressive." --The Guardian, UK