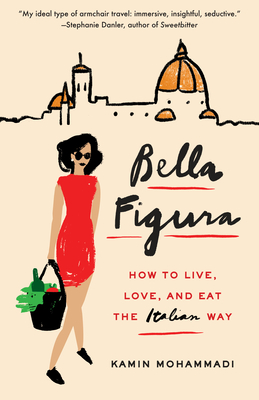 Bella Figura
How to Live, Love, and Eat the Italian Way
Paperback

* Individual store prices may vary.
Other Editions of This Title:
Digital Audiobook (5/7/2018)
Paperback, Chinese (2/10/2020)
Hardcover (5/8/2018)
Description
"She walks down the street with a swing in her step and a lift to her head. She radiates allure as if followed by a personal spotlight. She may be tall or short, slim or pneumatically curvaceous, dressed discreetly or ostentatiously—it matters not. Her gait, her composure, the very tilt of her head is an ode to grace and self-possession that makes her beautiful whatever her actual features reveal."
 
This is the bella figura, the Italian concept of making every aspect of life as beautiful as it can be, that Kamin Mohammadi discovered when she escaped the London corporate media world for a year in Italy. Following the lead of her new neighbors, she soon found a happier, healthier, and more beautiful way of living.
 
The bella figura knows:
• That the food that you eat should give you pleasure while eating it. Pause for meals, and set a place, even if you are eating alone.
• To seize any opportunity to get moving—be it taking the stairs, doing a coffee run at work, or dancing with abandon.
• To drink a spoonful of excellent-quality extra-virgin olive oil four times a day.
• To seek out nature, be it a city park, a tree on your street, or some wild place.
• And to love yourself. The bella figura—occupies her space, emotionally and physically, with style and entitlement.
Praise For Bella Figura: How to Live, Love, and Eat the Italian Way…
"This book is my ideal type of armchair travel: immersive, insightful, seductive. In Bella Figura, Kamin Mohammadi takes us to the year in Florence that changed her life, and gives us the tools to bring the grace of the Italian lifestyle to our own lives. It's a reminder to slow down, look around, taste, listen, and to open ourselves to new possibilities." —Stephanie Danler, author of Sweetbitter

"Uprooting her life, London-based Kamin Mohammadi relocated to bucolic Florence. Her glorious memoir Bella Figura is witty, intelligent and heartfelt in equal measure and will delight anyone dreaming of a summer holiday—or a brand new life—in Italy." —Taiye Selasi, The Guardian

"If you've ever thought about quitting your job, moving to Italy, wearing incredible clothes and eating unbelievable food, here's your bible." —Fodors

"Mohammadi's sparkling, month-by-month account of a year in Italy is a less exotic (and perhaps less self-absorbed), more outwardly observant version of Elizabeth Gilbert's Eat, Pray, Love, but without the praying." —Booklist

"In this charming hybrid of self-help and memoir, journalist Mohammadi relates a journey that began 10 years ago when she left her frazzled and unfulfilling life in London for a year's sabbatical in Florence. . . . [She] conveys life lessons learned in Italy (from the health benefits of olive oil to the importance of slowing down and observing one's surroundings), alongside her progression toward self-acceptance. . . . Mohammadi captures myriad aspects of the charming Italian lifestyle, and her story's happy ending is a testament to its benefits." —Publishers Weekly

"You'll fall in love with Kamin Mohammadi's Bella Figura: How to Live, Love, and Eat the Italian Way, her memoir on moving to Florence and finding love (and self-love) in one of the most beautiful cities in the world." —Hello Giggles
 
"A charming, delightful memoir of self-transformation. . . . Interspersed throughout with delicious recipes and bella figura–inspired lifestyle tips, the book is a down-to-earth modern-day fairy tale for the world-weary that celebrates personal transformation and all things delectably Italian." —Kirkus Reviews
Vintage, 9780804173292, 304pp.
Publication Date: April 23, 2019
About the Author
Kamin Mohammadi was born in Iran in 1969 and was exiled to the United Kingdom in 1979. She is a journalist, travel writer, and broadcaster whose work has appeared in the British and international press, including The Times, Financial Times, Harper's Bazaar, Marie Claire, and The Guardian. She lives outside Florence and in London. www.kamin.co.uk