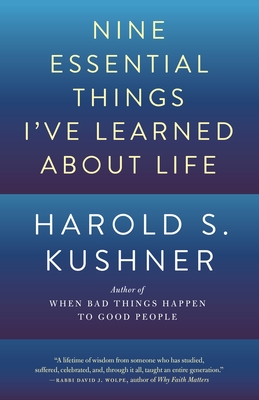 Nine Essential Things I've Learned About Life (Paperback)
Anchor, 9780804173452, 192pp.
Publication Date: September 6, 2016
* Individual store prices may vary.
Description
In this compassionate and deeply personal work, Rabbi Harold S. Kushner distills his experiences as a twenty-first-century rabbi into nine essential takeaways. Offering readers a lifetime's worth of spiritual food for thought, pragmatic advice, and strength for trying times, he gives fresh, vital insight into belief, conscience, mercy, and more. Grounded in Kushner's brilliant readings of scripture, history, and popular culture, Nine Essential Things I've Learned About Life is practical, illuminating, and compulsory advice for living a good life.
About the Author
Harold S. Kushner is rabbi laureate of Temple Israel in Natick, Massachusetts, having long served that congregation. He is best known as the author of When Bad Things Happen to Good People. This is his thirteenth book.
Praise For Nine Essential Things I've Learned About Life…
"A lifetime of wisdom from someone who has studied, suffered, celebrated, and through it all, taught an entire generation." —Rabbi David Wolpe, author of Why Faith Matters

"Whatever one's religious beliefs may be, Mr. Kushner has much to say about the enduring value of community, the universal need for a sense of belonging, the moral sense that makes us human and the ways in which we also help ourselves by helping others." —The Wall Street Journal

"Kushner both wrestles with and celebrates the capacity of faith and community to re-affirm life's purpose and generate joy and meaning in the 21st century." —Dr. Erica Brown, author of Happier Endings: A Meditation on Life and Death
 
"As always, Rabbi Kushner writes in a way that makes deep religious thought accessible to the casual reader while giving the more sophisticated reader a great deal to ponder. . . . This is a book that will stimulate your mind and encourage you to examine what are the lasting lessons in your life." —The Jewish Book Council

"This book is a provocation and a balm for the skeptical and the religious, offering persuasive evidence that belief, forgiveness, hope, altruism, and joy are all possible, even in the face of death." —Publishers Weekly

"An absorbing read and easy to comprehend." —Library Journal

"In Nine Essential Things I've Learned About Life, the empathy and understanding of Rabbi Harold Kushner shine forth on every page. He draws upon his vast storehouse of knowledge and speaks clearly from his compassionate heart to provide insight and comfort to his readers. This is a profoundly wise and spiritual book." —Rabbi David Ellenson, chancellor emeritus of Hebrew Union College–Jewish Institute of Religion
 
"I remember how, when I was in school, Harold Kushner's words opened up Judaism to me in new ways. He spoke with wisdom and clarity, a love of the tradition, and a willingness to challenge it all the same. Now, decades later, Rabbi Kushner's wisdom and his understanding of faith have grown even richer. His book offers inspiring guidance from a man who has embraced life." —Rabbi Mychal B. Springer, director, Center for Pastoral Education at the Jewish Theological Seminary