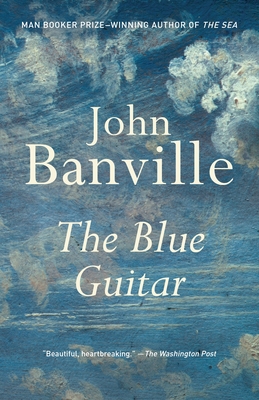 The Blue Guitar (Vintage International) (Paperback)
Vintage, 9780804173612, 272pp.
Publication Date: August 9, 2016
Other Editions of This Title:
Hardcover (9/15/2015)
Compact Disc (2/16/2016)
Library Binding, Large Print (12/1/2015)
* Individual store prices may vary.
Description
Oliver Otway Orme—a man equally self-aggrandizing and self-deprecating—is a painter of some renown, and a petty thief who has never been caught . . . until now. Unfortunately, the purloined possession in question is the wife of the man who was, perhaps, his best friend. Fearing the consequences, Olly has fled—not only from his mistress, his home, and his wife, but from the very impulse to paint, and from his own demons. He sequesters himself in the house where he was born, and thus, he sets about trying to uncover the answer to how and why things have turned out as they did. A witty and trenchant novel about artistic creation and the ways in which we learn to possess one another—and hold on to ourselves—The Blue Guitar shows Man Booker Prize-winning author John Banville at the peak of his powers.
About the Author
John Banville was born in Wexford, Ireland, in 1945. He has been the recipient of the James Tait Black Memorial Prize (1976), the Guardian Fiction Prize (1981), the Guinness Peat Aviation Book Award (1989), and the Lannan Literary Award for Fiction (1997). He has been both short-listed for the Booker Prize (1989) and awarded the Man Booker Prize (2005) as well as nominated for the Man Booker International Prize (2007). Other awards include the Franz Kafka Prize (2011), the Austrian State Prize for European Literature (2013), and the Prince of Asturias Award for Literature (2014). He lives in Dublin.
Praise For The Blue Guitar (Vintage International)…
"Beautiful, heartbreaking." —The Washington Post

"Banville traces [a] journey of self-discovery in the distinctive language he commands so effortlessly: precise yet evocative, clear-eyed and down-to-earth, yet shimmering with the mutability and mystery of art." —The Boston Globe

"Eloquent . . . Oliver has some of the wry comic haplessness of a Beckett character . . . enveloping." —The Wall Street Journal
 
"Banville's sentences shine. The humble becomes memorable." —Minneapolis Star Tribune
 
"Elegant and affecting." —The Times Literary Supplement

"[Banville] shows himself, once again, as one of contemporary literature's finest and most expert witnesses. . . What enraptures—always—is the writing itself. He holds words up to the light as carefully as any watchmaker or poet." —The Observer
 
"A literary event to be savored and celebrated. . . . [A] brilliant effort punctuated with words and phrases that make life just a little more enjoyable in the reading. . . . Reading John Banville is truly good for the soul." —The Free Lance-Star (Fredericksburg)
 
"Stirring. . . Densely alliterative and purposely playful prose." —Financial Times
 
"Banville, the Nabokov of contemporary lit, can turn even a straightforward comeuppance tale into breathtaking literary art. . . . At times, [his] prose seems drunk with the sheer joy of describing a vibrantly strange world in perfectly knit sentences." —Richmond Times-Dispatch
 
"The best of literature, rich, lush and moving. . . . Every page is jewelled with startlingly evocative images. [Banville's] prose is a feast for all the senses. . . . His first-person narration sweeps like a lighthouse beam from present to past and back again, illuminating the dark with a pitiless glare." —The Independent on Sunday (London)
 
"The reader is carried along by [Ollie's] wonderfully narcissistic voice." —The New Yorker
 
"Ingenious and moving. . . . This engrossing and often beautiful novel is a true work of art that rewards careful reading." —The Daily Telegraph (London)
 
"[Banville] is in love with language, eloquent, witty and a master of illuminating description." —The Post and Courier (Charleston)
 
"Superb. . . . A remarkable work of literary art: subtle, resonant, whimsical and deeply touching by turns, the work of a great prose stylist with a masterly command of cultural history. . . . [Banville is] the most accomplished stylist writing in English in our time." —Sydney Morning Herald
 
"Moving, entertaining, edifying and affirmative. . . . The Blue Guitar is a remarkable achievement: the work of a writer who knows not only about pain and eloquence, but about the consolations of learning how to think, to look and to listen." —The National (UAE)
 
"Banville is such a fine architect of sentences—infusing them with wit and yearning—that the plot hardly matters. For what a brilliant navel-gazer Banville is: he creates loop-de-loops of self-absorbed prose that resonate so deeply about the human condition that they never become tiresome. Bon mots fill these pages, every one essential." —Publishers Weekly (starred)