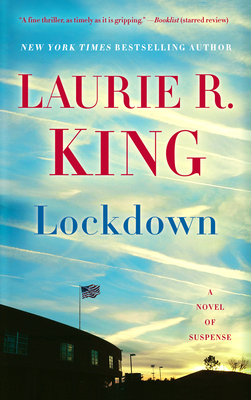 Lockdown (Paperback)
A Novel of Suspense
Bantam, 9780804177955, 416pp.
Publication Date: July 24, 2018
Other Editions of This Title:
Hardcover (6/13/2017)
Hardcover, Large Print (6/14/2017)
* Individual store prices may vary.
Description
A community comes together when threatened by someone with a thirst for revenge in this stunningly intricate, tautly plotted novel of rich psychological suspense from the New York Times bestselling author of the Mary Russell mysteries.

Career Day at Guadalupe Middle School: A day given to innocent hopes and youthful dreams. A day no one in attendance will ever forget.

A year ago, Principal Linda McDonald arrived at Guadalupe determined to overturn the school's reputation for truancy, gang violence, and neglect. One of her initiatives is Career Day—bringing together children, teachers, and community presenters in a celebration of the future. But there are some in attendance who reject McDonald's bright vision.

A principal with a secret. A husband with a murky past. A cop with too many questions. A kid under pressure to prove himself. A girl struggling to escape a mother's history. A young basketball player with an affection for guns.

Even the school janitor has a story he dare not reveal.

But no one at the gathering anticipates the shocking turn of events that will transform a day of possibilities into an explosive confrontation.

Tense, poignant, and brilliantly paced, Laurie R. King's novel charts compelling characters on a collision course—a chain of interactions that locks together hidden lives, troubling secrets, and the bravest impulses of the human heart. 

Praise for Lockdown

"A fine thriller, as timely as it is gripping."—Booklist (starred review)
 
"King delivers, providing both a drama-filled anatomy of the school and a chance for its community to show its best by the way it confronts the worst Career Day imaginable."—Kirkus Reviews
 
"Lockdown [has] the tension of a ticking time bomb."—San Jose Mercury News
 
"Dramatic . . . harrowing."—Santa Cruz Sentinel
 
"King is a strong, purposeful writer with a keen eye for detail. . . . [This book earns] its page-turner status."—The Stranger
 
"Keeps readers guessing to the very end."—Charleston Currents
About the Author
Laurie R. King is the New York Times bestselling author of fourteen Mary Russell mysteries, five contemporary novels featuring Kate Martinelli, the Stuyvesant & Grey novels Touchstone and The Bones of Paris, and the acclaimed A Darker Place, Folly, Califia's Daughters (written under the pen name Leigh Richards), and Keeping Watch. She lives in Northern California.
Praise For Lockdown: A Novel of Suspense…
"A fine thriller, as timely as it is gripping."—Booklist (starred review)
 
"[Laurie R.] King delivers, providing both a drama-filled anatomy of the school and a chance for its community to show its best by the way it confronts the worst Career Day imaginable."—Kirkus Reviews
 
"Lockdown [has] the tension of a ticking time bomb."—San Jose Mercury News
 
"Dramatic . . . harrowing."—Santa Cruz Sentinel
 
"King is a strong, purposeful writer with a keen eye for detail. . . . [This book earns] its page-turner status."—The Stranger
 
"Keeps readers guessing to the very end."—Charleston Currents