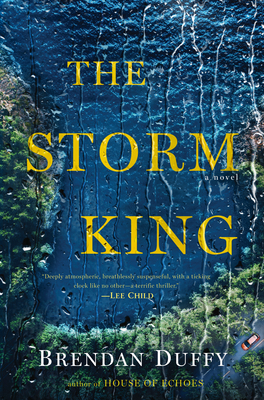 The Storm King (Hardcover)
A Novel
Ballantine Books, 9780804178143, 400pp.
Publication Date: February 6, 2018
Other Editions of This Title:
Digital Audiobook (2/5/2018)
Library Binding, Large Print (5/16/2018)
* Individual store prices may vary.
Description
"Deeply atmospheric, breathlessly suspenseful, with a ticking clock like no other—a terrific thriller."—Lee Child

Haunted by dark secrets and an unsolved mystery, a young doctor returns to his isolated Adirondacks hometown in a tense, gripping novel in the vein of Michael Koryta and Harlan Coben.

Burying the past only gives it strength—and fury.

Nate McHale has assembled the kind of life most people would envy. After a tumultuous youth marked by his inexplicable survival of a devastating tragedy, Nate left his Adirondack hometown of Greystone Lake and never looked back.  Fourteen years later, he's become a respected New York City surgeon, devoted husband, and loving father. 
        
Then a body is discovered deep in the forests that surround Greystone Lake.
       
This disturbing news finally draws Nate home. While navigating a tense landscape of secrets and suspicion, resentments and guilt, Nate reconnects with estranged friends and old enemies, and encounters strangers who seem to know impossible things about him. Haunting every moment is the Lake's  sinister history and the memory of wild, beautiful Lucy Bennett, with whom Nate is forever linked by shattering loss and youthful passion. 
     
As a massive hurricane bears down on the Northeast, the air becomes electric, the clouds grow dark, and escalating acts of violence echo events from Nate's own past. Without a doubt, a reckoning is coming—one that will lay bare the lies that lifelong friends have told themselves and unleash a vengeance that may consume them all.

Praise for The Storm King

"Brendan Duffy's second book mingles horror, historical fiction, supernatural suspense and old-fashioned murder mystery, the rare phantasmagoria whose pieces click into a satisfying resolution. . . . This is a gutsy, intricate, evocative piece of mischief, much closer than anyone usually gets to that particular spell cast by Stephen King."—USA Today

"Duffy follows his debut, House of Echoes, with a stunning literary thriller, which combines accomplished wordsmithing with startling twists."—Publishers Weekly (starred review)

"An elaborately layered, creepily atmospheric story that blends haunting legends and the psychological terror of a murderer on the hunt. A winning thriller sure to draw readers of Jennifer McMahon, Ruth Ware, and Michael Koryta."—Booklist (starred review)
About the Author
Brendan Duffy is an editor and the author of House of Echoes. He lives in New York.
Praise For The Storm King: A Novel…
"Deeply atmospheric, breathlessly suspenseful, with a ticking clock like no other—a terrific thriller."—Lee Child

"Brendan Duffy's second book mingles horror, historical fiction, supernatural suspense and old-fashioned murder mystery, the rare phantasmagoria whose pieces click into a satisfying resolution. . . . This is a gutsy, intricate, evocative piece of mischief, much closer than anyone usually gets to that particular spell cast by Stephen King."—USA Today

"Duffy follows his debut, House of Echoes, with a stunning literary thriller, which combines accomplished wordsmithing with startling twists."—Publishers Weekly (starred review)

"An elaborately layered, creepily atmospheric story that blends haunting legends and the psychological terror of a murderer on the hunt. A winning thriller sure to draw readers of Jennifer McMahon, Ruth Ware, and Michael Koryta."—Booklist (starred review)

"Brendan Duffy owes me several nights of sleep, because once I finished the first chapter of his novel, I couldn't stop turning the pages until I'd read every last thrilling, unsettling, heartbreakingly lovely last one of them. Duffy's novel is, on the surface, a gripping murder mystery—but beneath that lies a love story, a cautionary coming-of-age tale, and a devastating meditation on violence and loss. A whirlwind of intrigue, vengeance, and wild longing, The Storm King will sweep you off your feet and blow you away."—Robin Wasserman, author of Girls on Fire

"Duffy's sophomore offering again toes the line between thriller and horror in this tale that flips between coming-of-age and coming-home-again timelines. Smartly-drawn characters aren't who they first seem, their layers revealed slowly like lightning illuminating a stormy night. The richly atmospheric setting crackles with tension between the hurricane bearing down and the past coming to light."—RT Book Reviews
 
"A slow-burning mystery, a delectable piece of crime fiction, and a coming-of-age story—all wrapped into one neat and tidy novel . . . full of rich characters and insightful writing . . . highly recommended."—The Suspense Is Thrilling Me
 
"A haunting, wonderfully written thriller."—Criminal Element
 
"Duffy has written a mystery that unleashes a well of emotions—from thrills and chills to heartbreak and sorrow. This is one tale that most definitely will keep readers hooked until the very end."—Suspense Magazine
 
"A powerful story . . . Former friends regroup when a secret kept for years comes to light, threatening the lives they have built. Brendan Duffy adds so many layers that those bare plot bones feel like an entirely new creature."—The News & Observer