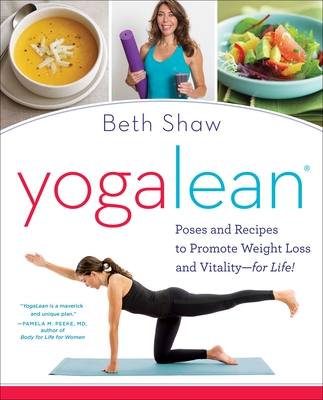 YogaLean (Paperback)
Poses and Recipes to Promote Weight Loss and Vitality-for Life!
Ballantine Books, 9780804178556, 352pp.
Publication Date: September 9, 2014
* Individual store prices may vary.
Description
From the founder of YogaFit™, one of the world's leading mind-body education and yoga training organizations, comes a revolutionary approach to weight loss and wellness.
 
Forget diets and guilt and judgments! Achieve your optimal weight by developing what internationally recognized yoga and fitness expert Beth Shaw calls Lean Consciousness. The ultimate path to weight loss, weight management, and whole-life wellness, Lean Consciousness grows out of filling your mind with good intentions, fueling your body with good food, and then moving your body intentionally. Combining the latest nutrition and exercise science with yogic wisdom and principles, YogaLean offers an easy-to-follow and inspiring holistic lifestyle program:
 
• fully illustrated yoga poses that promote a lean physique, strengthen your core, increase energy, improve balance, boost metabolism, and enhance confidence
• a menu of cardio and weight-training workouts that complement your yoga, refine your physical strength, and ward off disease
• easy recipes (gluten-free!) and simple suggestions for breakfast, lunch, dinner, and snacks that will help you burn fat more efficiently
• stress-reducing and clarity-enhancing daily meditations
• breathing exercises to fortify your immune system
• strategies for clearing clutter from your space in order to clear barriers from your life
• a one-week jumpstart plan outlining precisely what to eat and how to exercise your body and mind!
 
Praise for YogaLean
 
"YogaLean is a maverick and unique plan."—Pamela Peeke, MD, author of Body for Life for Women

"Perfect for people who want to integrate yoga and nutrition into a 360-degree program to lose weight and increase their energy levels. The book walks readers through cohesive plans for four distinct motivations: amp up energy, promote a leaner body, increase immunity, and promote youthfulness inside and out."—Christa Avampato, founder, Compass Yoga
 
"The ultimate path to whole-life wellness."—Massage Magazine
About the Author
Beth Shaw is the president and founder of the world-renowned YogaFit™ training systems and the author of Beth Shaw's YogaFit. She and her company have been featured in O: The Oprah Magazine, Time, More, Entrepreneur, Yoga Journal, Glamour, Self, and USA Today, as well as on CNN, NBC, CBS, Showtime, and E! Entertainment Television. She lives in Beverly Hills, California.
Praise For YogaLean: Poses and Recipes to Promote Weight Loss and Vitality-for Life!…
"YogaLean is a maverick and unique plan."—Pamela Peeke, MD, author of Body for Life for Women

"Perfect for people who want to integrate yoga and nutrition into a 360-degree program to lose weight and increase their energy levels. The book walks readers through cohesive plans for four distinct motivations: amp up energy, promote a leaner body, increase immunity, and promote youthfulness inside and out."—Christa Avampato, founder, Compass Yoga
 
"The ultimate path to whole-life wellness."—Massage Magazine