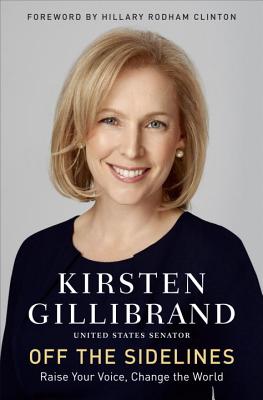 Off the Sidelines
Raise Your Voice, Change the World
Hardcover

* Individual store prices may vary.
Other Editions of This Title:
Digital Audiobook (9/8/2014)
Paperback (4/28/2015)
Compact Disc (9/9/2014)
Description
"NEW YORK TIMES "BESTSELLER Foreword by Hillary Rodham Clinton
Fourteen years before Kirsten Gillibrand succeeded Hillary Rodham Clinton as senator from New York, she heard her future mentor say these life-changing words: Decisions are being made every day in Washington, and if you are not part of those decisions, you might not like what they decide, and you ll have no one to blame but yourself. A young corporate lawyer at the time, Gillibrand felt as if she d been struck by lightning. She instantly knew that her voice "all" women's voices were essential to shaping the future of this country, and that she had a greater purpose in life: to speak up and effect change. Now, in this extraordinary memoir, the senator, wife, and mother of two recounts her personal journey in public service and galvanizes women to reach beyond their busy lives and make a meaningful difference in the world around them.
"
Off the Sidelines "is a playbook for women who want to step up, whether in Congress or the boardroom or the local PTA. If women were fully represented in politics, Gillibrand says, national priorities would shift to issues that directly impact them: affordable daycare, paid family medical leave, and equal pay. Pulling back the curtain on Beltway politics, she speaks candidly about her legislative successes (securing federally funded medical care for 9/11 first responders, repealing Don t Ask, Don t Tell) and her crushing disappointments (failing by five votes to pass a bill protecting survivors of sexual assault in the military).
Gillibrand also shares stories of growing up the daughter and granddaughter of two trailblazing feminists in a politically active family in Albany, New York, and retraces her nonlinear path to public office. She lays bare the highs and lows of being a young (pregnant ) woman in Congress, the joys and sacrifices every working mother shares, and the support system she turns to in her darkest moments: her husband, their two little boys, and lots of girlfriends.
In "Off the Sidelines, "Gillibrand is the tough-love older sister and cheerleader every woman needs. She explains why ambition is not a dirty word, failure is a gift, listening is the most effective tool, and the debate over women having it all is absurd at best and demeaning at worst. In her sharp, honest, and refreshingly relatable voice, she dares us all to tap into our inner strength, find personal fulfillment, and speak up for what we believe in.
Praise for "Off the Sidelines"
""
Gillibrand has written a handbook for the next generation of women to redefine their role in our world. Arianna Huffington
There are moments of immensely appealing self-disclosure that seldom appear in other books of this genre. . . . This isn t your mother's political memoir. "The New York Times Book Review"
Kirsten Gillibrand is a beautiful example of what we can become when we are true to ourselves and brave enough to let our voices be heard. This book is intimately honest and deeply insightful. Connie Britton
One of the most helpful, readable, down-to-earth, and truly democratic books ever to come out of the halls of power. Gloria Steinem
A powerful message . . . Gillibrand is] a fearless advocate for women. "Marie Claire
"
With her new memoir, Sen. Kirsten Gillibrand seems to be taking a page out of the presidential playbook. . . . In style, however, Gillibrand's book differs significantly from previous political memoirs. Hers is a quick read, chatty, candid. "The Washington Post.
Ballantine Books, 9780804179072, 194pp.
Publication Date: September 9, 2014
About the Author
A magna cum laude graduate of Dartmouth College in 1988, Senator Kirsten Gillibrand went on to receive her law degree from the UCLA School of Law in 1991 and served as a law clerk on the Second Circuit Court of Appeals. After working as an attorney in New York City for nearly a decade, Gillibrand served as special counsel to Secretary of Housing and Urban Development Andrew Cuomo during the Clinton administration, then as an attorney before serving in the U.S. House of Representatives, representing New York s 20th Congressional District, which spans ten counties in upstate New York. Gillibrand was first sworn in as United States senator from New York in January 2009, filling Hillary Rodham Clinton s seat. In November 2012 she was elected to her first six-year Senate term with 72 percent of the vote, a New York State record, winning sixty of New York s sixty-two counties. She lives in Troy, New York, with her husband, Jonathan, and their sons, Theo and Henry."
or
Not Currently Available for Direct Purchase