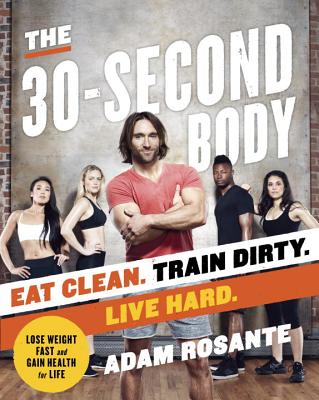 The 30-Second Body (Paperback)
Eat Clean. Train Dirty. Live Hard.
Zinc Ink, 9780804179201, 192pp.
Publication Date: March 17, 2015
* Individual store prices may vary.
Description
YOUR BEST BODY BEGINS HERE AND NOW!
 
Ditch the gym membership and say goodbye to weights and machines! Take control of your shape and your weight at home with celebrity fitness trainer Adam Rosante's three-tiered, simple-to-follow plan:
 
• Eat Clean: Feed your body right with simple meals designed to help you feel your best inside and out. No weird and wacky "diet" gimmicks; just an easy embrace of healthy whole foods.
 
• Train Dirty: Using compound movements, progress overload, and high-intensity 30-second interval training, Rosante's exercises will skyrocket your metabolism, torch fat, and build lean muscle without requiring the use of a single piece of equipment.
 
• Live Hard: Strengthen the single most important muscle in your body: your mind. You'll learn how "Lottery Mindset Marketing" has conditioned you to fail in your weight-loss goals—and how to overcome it.
 
Featuring inspiring testimonials, motivational advice, instructive photos, and a complete workout calendar, The 30-Second Body is a comprehensive one-stop solution, your road map to losing weight fast and taking charge of your life!

Praise for The 30-Second Body
 
"Easy, effective, and efficient . . . [The 30-Second Body] is more like an easy-to-read playbook than an intimidating diet or fitness guide. It's filled with illuminating fitness quickies on how to build a better smoothie and high-intensity workout moves you can do anywhere."—Well+Good
About the Author
Adam Rosante is an internationally renowned fitness and wellness coach. He is the creator of The People's Bootcamp, a pay-what-you-can fitness boutique in New York City that boasts consistently sold-out crowds, and WaveShape, a surf-inspired online and DVD workout program that's used by thousands around the globe. He has appeared on Today with Kathie Lee Gifford and Hoda Kotb, CBS New York's The Couch, and other programs, and is frequently called upon by some of the most popular magazines in print to create workout plans and offer lifestyle advice. A host on Hearst's CosmoBody network and a fitness ambassador for Target, Rosante was recently named one of the sexiest trainers in the country by Self. He and his wife live in Manhattan and Montauk.
Praise For The 30-Second Body: Eat Clean. Train Dirty. Live Hard.…
"Easy, effective, and efficient . . . [The 30-Second Body] is more like an easy-to-read playbook than an intimidating diet or fitness guide. It's filled with illuminating fitness quickies on how to build a better smoothie and high-intensity workout moves you can do anywhere."—Well+Good
or
Not Currently Available for Direct Purchase