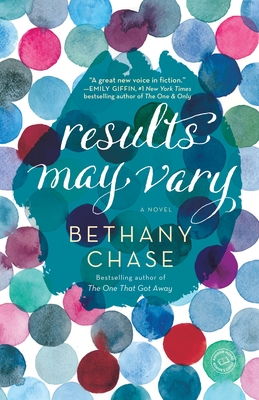 Results May Vary (Paperback)
A Novel
Ballantine Books, 9780804179447, 352pp.
Publication Date: August 9, 2016
Other Editions of This Title:
Hardcover, Large Print (3/22/2017)
* Individual store prices may vary.
Description
From Bethany Chase—whom bestselling author Emily Giffin calls "a great new voice in fiction"—comes a wise and delightfully relatable novel about a woman's journey to rebuild her life, and her heart, after a stunning betrayal.
 
Can you ever really know the person you love?
 
She never saw it coming. Without even a shiver of suspicion to warn her, art curator Caroline Hammond discovers that her husband is having an affair with a man—a revelation that forces her to question their entire history together, from their early days as high school sweethearts through their ten years as a happily married couple. In her now upside-down world, Caroline begins envisioning her life without the relationship that has defined it: the loneliness of being an "I" instead of a "we"; the rekindled yet tenuous closeness with her younger sister; and the unexpected—and potentially disastrous—attraction she can't get off her mind. Caroline always thought she knew her own love story, but as her husband's other secrets emerge, she must decide whether that story's ending will mean forgiving the man she's loved for half her life, or facing her future without him.
 
Compassionate and uplifting, Results May Vary is a bittersweet celebration of the heart's ability to turn unexpected troubles into extraordinary strength.
 
Praise for Results May Vary

"Chase has written an incredibly charming novel about shifting from being completed by a man to becoming a whole woman. Witnessing Caro's growth is a pleasure."—Library Journal
 
"Bethany Chase writes with a realism of expression that allows readers to empathize and appreciate the characters' personalities and frustrations. The push and pull written into interpersonal dynamics between characters feels true to life, and is best seen in Caroline's relationship with her sister. The surprises keep readers alert and the tempo of the novel holds their attention until the very last page."—RT Book Reviews

"This latest novel from Chase will appeal to anyone who has ever looked up to realize they define themselves by those surrounding them. Caroline's exploration of self-discovery is a familiar one, yet Chase has a way with phrasing and a thoughtful approach that pushes this one notch above the others. . . . A good fit for fans of Emily Giffin and Kristin Hannah."—Booklist

"An altogether addictive read . . . Chase creates characters a reader can truly care about [in] a novel that doles out both laughter and tears."—Kirkus Reviews

"Results May Vary is an openhearted and sweetly rendered story of lost love and found strength."—Melissa DeCarlo, author of The Art of Crash Landing

"Relatable, engaging, and ultimately uplifting, as it explores the secrets hidden beneath the surface of a marriage that seems enviable . . . You'll root for Caroline as she struggles through heartbreak toward an unexpected new future."—Sarah Pekkanen, author of The Perfect Neighbors
About the Author
A native of Virginia's Shenandoah Valley, Bethany Chase headed to Williams College for an English degree and somehow came out the other side an interior designer. When she's not writing or designing, you can usually find her in a karaoke bar. She lives with her lovely husband and occasionally psychotic cat in Brooklyn, three flights up.
Praise For Results May Vary: A Novel…
Praise for Results May Vary

"Chase has written an incredibly charming novel about shifting from being completed by a man to becoming a whole woman. Witnessing Caro's growth is a pleasure."—Library Journal
 
"Bethany Chase writes with a realism of expression that allows readers to empathize and appreciate the characters' personalities and frustrations. The push and pull written into interpersonal dynamics between characters feels true to life, and is best seen in Caroline's relationship with her sister. The surprises keep readers alert and the tempo of the novel holds their attention until the very last page."—RT Book Reviews

"This latest novel from Chase will appeal to anyone who has ever looked up to realize they define themselves by those surrounding them. Caroline's exploration of self-discovery is a familiar one, yet Chase has a way with phrasing and a thoughtful approach that pushes this one notch above the others. . . . A good fit for fans of Emily Giffin and Kristin Hannah."—Booklist

"An altogether addictive read . . . [Bethany] Chase creates characters a reader can truly care about [in] a novel that doles out both laughter and tears."—Kirkus Reviews

"Relatable, engaging, and ultimately uplifting, as it explores the secrets hidden beneath the surface of a marriage that seems enviable . . . You'll root for Caroline as she struggles through heartbreak toward an unexpected new future."—Sarah Pekkanen, author of The Perfect Neighbors

"Results May Vary is an openhearted and sweetly rendered story of lost love and found strength."—Melissa DeCarlo, author of The Art of Crash Landing

Praise for Bethany Chase's The One That Got Away
 
"An authentic and warm voice infuses this story of humor, heartbreak, and home."—Patti Callahan Henry, author of And Then I Found You
 
"This perfectly paced story is full of fresh, engaging characters."—Marisa de los Santos, author of Falling Together
or
Not Currently Available for Direct Purchase