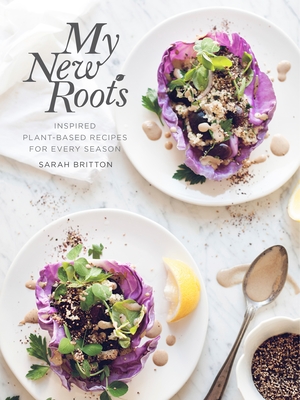 My New Roots (Hardcover)
Inspired Plant-Based Recipes for Every Season: A Cookbook
Clarkson Potter, 9780804185387, 256pp.
Publication Date: March 31, 2015
* Individual store prices may vary.
Description
At long last, Sarah Britton, called the "queen bee of the health blogs" by Bon Appétit, reveals 100 gorgeous, all-new plant-based recipes in her debut cookbook, inspired by her wildly popular blog.

Every month, half a million readers—vegetarians, vegans, paleo followers, and gluten-free gourmets alike—flock to Sarah's adaptable and accessible recipes that make powerfully healthy ingredients simply irresistible. My New Roots is the ultimate guide to revitalizing one's health and palate, one delicious recipe at a time: no fad diets or gimmicks here. Whether readers are newcomers to natural foods or are already devotees, they will discover how easy it is to eat healthfully and happily when whole foods and plants are at the center of every plate.
About the Author
SARAH BRITTON (BFA, CNP) is the acclaimed holistic nutritionist, writer, and photographer behind the popular healthy foods blog MyNewRoots.org, winner of a 2014 Saveur "Best Food Blog" award. Sarah has been featured in O, the Oprah Magazine, Bon Appétit, and Whole Living and has spoken at TedTalks. She gives nutrition seminars and workshops throughout North America and Europe and has been involved in numerous culinary projects, including Noma's Test Kitchen. She lives in Copenhagen with her husband and their son.
Praise For My New Roots: Inspired Plant-Based Recipes for Every Season: A Cookbook…
"My New Roots is beautiful proof that eating with nutrition in mind need not be a compromise. This is an unabashedly enthusiastic riff on the food-as-medicine approach to cooking and eating. Sarah's playful and encouraging voice is infectious; you get the sense that she is waiting on the other side of each recipe to give you a high five."
—Heidi Swanson, author of Super Natural Every Day
 
"Sarah always treads the beautiful line between making whole foods practical and also appealing, leading the way in this new real food movement."
—Sarah Wilson, author of I Quit Sugar

"I have been waiting for this book since I first started reading Sarah's blog years ago. She has a gift for writing truly wonderful recipes, vibrant with produce, and has the knowledge to explain why these plant-based foods are good for us. Her sweet spirit shines through every page. So thrilled to have this keeper in my kitchen!"
—Sara Forte, author of The Sprouted Kitchen

"Being healthy and happy is so easy when you're cooking with Sarah. Her gentle approach, love and passion for whole foods, and flair for pairing mind-blowing flavors create fabulous and fresh food that looks stunning and is bursting with personality and life-affirming goodness. With unbelievable tastes and textures, My New Roots takes you on an exquisite journey that seduces you with every lift of the fork, leaving you voracious for vegetables."
—Tess Masters, author of The Blender Girl
 
"It's a rare book that delivers inspiration through its every page, yet each one of Sarah's recipes sings with flavor and originality. The entire collection is a seductive introduction to a more wholesome way of eating and an irresistible call to the kitchen."
—Clotilde Dusoulier, author of The French Market Cookbook and Edible French
 
"Sarah's creativity always inspires. With its vibrant recipes, evocative visuals, witty combinations, and approachable ways to live better, this book is a must for anyone interested in optimal, delicious health."
—Laura Wright, thefirstmess.com 

"The recipes in Britton's book and on her blog are all plant-based and vegetable-laden, but that doesn't mean rabbit food: Britton is sharing recipes with substance; this is food to dig into, it just also happens to be healthy."
—Food52.com

"My New Roots is a cozy book with beautiful photographs, lovely anecdotes, and helpful advice from Britton sprinkled throughout. She brings the same charm and food savvy to this project as she does to her blog, and it's easy to see why she has fans around the globe…"
--Yahoo.com