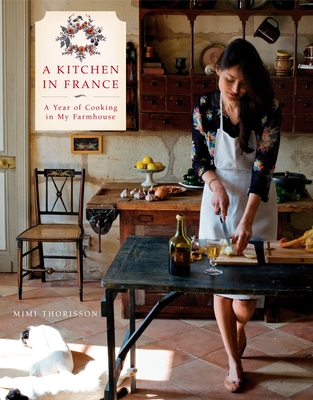 A Kitchen in France
A Year of Cooking in My Farmhouse: A Cookbook
Hardcover

* Individual store prices may vary.
Description
With beguiling recipes and sumptuous photography, A Kitchen in France transports you to the French countryside and marks the debut of a captivating new voice in cooking.

"This is real food: delicious, honest recipes that celebrate the beauty of picking what is ripe and in season, and capture the essence of life in rural France."
—Alice Waters

When Mimi Thorisson and her family moved from Paris to a small town in out-of-the-way Médoc, she did not quite know what was in store for them. She found wonderful ingredients—from local farmers and the neighboring woods—and, most important, time to cook. Her cookbook chronicles the family's seasonal meals and life in an old farmhouse, all photographed by her husband, Oddur. Mimi's convivial recipes—such as Roast Chicken with Herbs and Crème Fraîche, Cèpe and Parsley Tartlets, Winter Vegetable Cocotte, Apple Tart with Orange Flower Water, and Salted Butter Crème Caramel—will bring the warmth of rural France into your home.
Praise For A Kitchen in France: A Year of Cooking in My Farmhouse: A Cookbook…
"A Kitchen in France…encourages us to cook together and share good food and wine with people we love."
--The Wall Street Journal
 
"This highly personal and friendly book encourages readers to really appreciate ingredients, and time spent in the kitchen and at the table."
--Cherry Bombe

"Equally enthralling as her recipes is Thorisson's seemingly effortless conjuring of a rustic dream life, often exquisitely illustrated by her husband's photography…"
—Vogue

"If you've ever read Mimi Thorisson's blog, Manger, you know what it is to envy her life, full of long walks through the French countryside with her children and seeming endless brigade of dogs, which end at home with bushels full of produce that she effortlessly turns into feasts, all cassoulets and tarts and roasts and good wine to wash it all down. But if you're going to buy one aspirational cookbook this fall, it's Mimi's—because you'll actually take on many of her recipes, and absorb a bit of her style of entertaining in the process."
—Food52.com

"Mimi Thorisson's picture-perfect life would almost be too idyllic to bear if she weren't so generous: This lovely home cook willingly shares culinary secrets in her popular blog of two and a half years, Manger, along with a host of classic French recipes in a brand-new cookbook, A Kitchen in France. She leads her life with enviable style, from mothering seven children and wrangling the family's 14 dogs to elegantly serving up a cognac-infused coq au vin."
—InStyle

"You'll want to live in Mimi Thorisson's A Kitchen In France. The beautifully shot book includes decadent dishes such as butternut squash gratin and crepes with salted-butter caramel."
—Self
 
"In this warm and inviting collection, Thorisson…brings readers into her farmhouse in Médoc… [W]hile the appeal of this collection rests firmly on its recipes, the incredible photographs capture life in the French countryside. Sidebars on everything from dried grapevines and wine to garlic and visits to the butcher add little details that transport the reader to this bucolic, idyllic world where Thorisson is the perfect host."
—Publishers Weekly, starred review
 
"No slave to received wisdom, Thorisson has tinkered with [Médoc's] outstanding seasonal meats, vegetables, and fruits to generate a very personal sort of cuisine, which she now shares with her devotees."
—Booklist

"Mimi Thorisson's gorgeous new book, A Kitchen in France, is a charming window into an idyllic life in Médoc. While we can't all live in a beautiful farmhouse surrounded by lush woods, handsome children, and inquisitive terriers, at least we can now re-create at home our own slice of heaven with Mimi's delectable cherry clafoutis."
—April Bloomfield, author of A Girl and Her Pig
 
"Mimi's book is an enchanting look at French-style country cooking, and it will make you run to the stove to re-create the delicious traditions it celebrates."
—Clotilde Dusoulier, author of The French Market Cookbook
Clarkson Potter, 9780804185592, 304pp.
Publication Date: October 28, 2014
About the Author
MIMI THORISSON is the author of French Country Cooking and Manger, a blog devoted to French cooking and her life in the French countryside. She is the host of the French cooking shows La Table de Mimi and Les Desserts de Mimi. She lives with her husband, their children, and their smooth fox terriers in an old château in St Yzans, in the Médoc region of France.