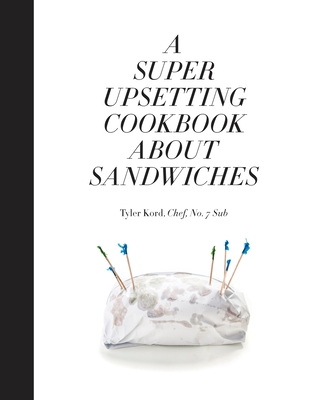 A Super Upsetting Cookbook about Sandwiches (Hardcover)
Clarkson Potter Publishers, 9780804186414, 192pp.
Publication Date: June 14, 2016
Description
Tyler Kord is chef-owner of the lauded No. 7 restaurant and No. 7 Sub shops in New York. He is also a fabulously neurotic man who directs his energy into careless ruminations on sandwich philosophy, love, self-loathing, pay phones, getting drunk in the shower, Tom Cruise, food ethics, and what it's like having the names of two different women tattooed on your body. Most of these ruminations also happen to be truly excellent recipes, like roast beef with crispy shallots and smoky French dressing, or a mind-blowing mayonnaise that tastes exactly like pho. Tyler, you never did finish writing that fried squid recipe though. You know that, right? -Ed.] This is his first book. If you buy it, you can help make sure it won't be his last.
About the Author
TYLER KORD is chef-owner of the No. 7 restaurant group. He graduated from Oberlin College with a BA in English before attending the French Culinary Institute, where he stayed on to be sous chef to Alain Sailhac for four years. He then worked as sous chef at Jean Georges Vongerichten's restaurant Perry St. before opening No. 7, which was named one of the top 10 new restaurants in the country by Bon Appetit.
Praise For A Super Upsetting Cookbook about Sandwiches…
"Only Tyler could put together a sandwich with the seemingly insane combination of roasted broccoli, lychee, and ricotta salata, and have it be so delicious! This very talented cook will take you on a intergalactic voyage." —Jean-Georges Vongerichten

"Tyler and his approach to sandwiches are equal parts clever, hilarious, and deeply dirty (in all the right ways). I'm obsessed with the never-ending possibility of what a sandwich can be, and so I'm a supreme fan girl of everything that Tyler and his crazy mind inserts between these pages and two pieces of bread." —Christina Tosi

"I've always said that if you want white people to understand your culture, you should put it on bread. In the tradition of pairing the "other" with simple carbohydrates, Tyler Kord has written a book about sandwiches so that finally white people may understand the culture of self-hating, neurotic, New York chefs." —Eddie Huang

"It's the best sandwich cookbook I've ever come across… The super-upsetting part finds Tyler drinking in showers, crying in bathrooms, and going ballistic on overrated lobster rolls. But it's all in good fun. What's not upsetting are the recipes. They're the exact opposite, in fact… There are hilarious essays and photo gallery–quality artwork. And then there's just Tyler himself. Writing in his own unique voice, making his own unique sandwiches, being the kind of chef that I've always liked." —Keith Pandolfi, Serious Eats

"Sometimes, not often, a cookbook shows up that you grab immediately, no questions asked, and start to read. The new book by Tyler Kord is one of those...an essay-ish cookbook that reads like a very funny blog — back when blogs were neurotic, first-person diatribes about stuff the author actually knew something about — crossed with a YA book that both you and your teenager enjoyed reading. You will be entertained. You will learn how to make Canadian bacon from scratch. The author got an BA in English from Oberlin before he worked for Jean-Georges Vongerichten, which in this case turns out to be as good a combo as that broccoli, ricotta salata and lychee sandwich." --Amy Scattergood, Los Angeles Times

"In a world saturated by cookbooks that are often so similar or forced, this one was authentically itself. The overall message is perhaps familiar: eat more plants, pay attention to where your food comes from, put some effort into the things you do, everything in moderation. But rather than coming from an author who projects wellness and righteousness, as seems so often the case, this message is coming in the form of delicious, drippy sandwiches from someone who is hilariously self-deprecating."--Food52
Advertisement