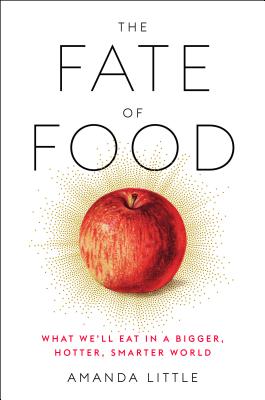 The Fate of Food
What We'll Eat in a Bigger, Hotter, Smarter World
Hardcover

* Individual store prices may vary.
Other Editions of This Title:
Digital Audiobook (6/3/2019)
Paperback (1/12/2021)
Description

WINNER OF THE 2019 NAUTILUS BOOK AWARD 

In the fascinating story of the sustainable food revolution, an environmental journalist and professor asks the question: Is the future of food looking bleak—or better than ever?
 
"In The Fate of Food, Amanda Little takes us on a tour of the future. The journey is scary, exciting, and, ultimately, encouraging."—Elizabeth Kolbert, Pulitzer Prize–winning author of The Sixth Extinction

Climate models show that global crop production will decline every decade for the rest of this century due to drought, heat, and flooding. Water supplies are in jeopardy. Meanwhile, the world's population is expected to grow another 30 percent by midcentury. So how, really, will we feed nine billion people sustainably in the coming decades?

Amanda Little, a professor at Vanderbilt University and an award-winning journalist, spent three years traveling through a dozen countries and as many U.S. states in search of answers to this question. Her journey took her from an apple orchard in Wisconsin to a remote control organic farm in Shanghai, from Norwegian fish farms to famine-stricken regions of Ethiopia.
 
The race to reinvent the global food system is on, and the challenge is twofold: We must solve the existing problems of industrial agriculture while also preparing for the pressures ahead. Through her interviews and adventures with farmers, scientists, activists, and engineers, Little tells the fascinating story of human innovation and explores new and old approaches to food production while charting the growth of a movement that could redefine sustainable food on a grand scale. She meets small permaculture farmers and "Big Food" executives, botanists studying ancient superfoods and Kenyan farmers growing the country's first GMO corn. She travels to places that might seem irrelevant to the future of food yet surprisingly play a critical role—a California sewage plant, a U.S. Army research lab, even the inside of a monsoon cloud above Mumbai. Little asks tough questions: Can GMOs actually be good for the environment—and for us? Are we facing the end of animal meat? What will it take to eliminate harmful chemicals from farming? How can a clean, climate-resilient food supply become accessible to all?

Throughout her journey, Little finds and shares a deeper understanding of the threats of climate change and encounters a sense of awe and optimism about the lessons of our past and the scope of human ingenuity.
Praise For The Fate of Food: What We'll Eat in a Bigger, Hotter, Smarter World…
"What we grow and how we eat are going to change radically over the next few decades. In The Fate of Food, Amanda Little takes us on a tour of the future. The journey is scary, exciting, and, ultimately, encouraging."—Elizabeth Kolbert, Pulitzer Prize-winning author of The Sixth Extinction

"The challenge we face is not just to feed a more populous world, but to do this sustainably and equitably. Amanda Little brings urgency, intrigue and crack reporting to the story of our food future. Devour this book — it's a narrative feast!"—Chef José Andrés, Nobel Peace Prize nominee

"How will we feed humanity in the era of climate change? Amanda Little tackles an immense topic with grit and optimism in this fast, fascinating read. A beautifully written triumph."—Former Secretary of State John Kerry

"The Fate of Food is a much-needed tonic at a time of division and doom saying. A riveting adventure story about a dire topic, but yet it somehow brims with optimism. Little travels around the world in hot pursuit of solutions, hell-bent on hope."—Julia Louis-Dreyfus, Emmy-award winning actress and environmentalist

 "Probably the most basic question humans ever ask is, 'what's for dinner?'  Amanda Little---a superb reporter---helps us imagine what the answer will be as this tough century wears on. The stories she tells with such brio are food for thought and action."—Bill McKibben, author of Deep Economy
 
"This is a big, important book about feeding the world--but that's not why you'll read it. You'll read The Fate of Food because it's compulsively readable. Amanda Little takes you around the world and shows you things you never thought you'd be interested in, but now you can't get enough. Desalination! Who knew? You'll taste fish feed with her. You'll get airsick with her. You'll meet the strange, fascinating people who are solving some of the planet's most pressing problems. And, in the end, her optimism will become your optimism. We can do this."—Tamar Haspel, Washington Post columnist
 
"Necessity is the mother of invention, observed Plato. Amanda Little investigates how environmental and population pressures are spurring innovation on a grand scale -- with perhaps higher stakes and longer odds than history has ever seen. This is a big, sweeping story told with heart and rigor, as ambitious as it is accessible."—Jon Meacham, Pulitzer Prize-winning author of American Lion
 
"Perhaps the greatest challenge of our century will be providing nutritious diets to 10 billion people without destroying what is left of the biosphere. Can we do it? Yes. But Amanda Little shows us that success will look nothing like today's food system. The Fate of Food is spectacular. The stories are beautifully woven together and filled with curiosity, openness to new ideas, and compelling insights. This book is funny, smart, dogma-free, incredibly educational, and I think will end up being an enormously valuable contribution to the world."—Samuel Myers, professor and principal researcher, Harvard University Center for the Environment
Harmony, 9780804189033, 352pp.
Publication Date: June 4, 2019
About the Author
Amanda Little is a professor of journalism and Writer-in-Residence at Vanderbilt University. Her reporting on energy, technology, and the environment has taken her to ultra-deep oil rigs, down manholes, and inside monsoon clouds. Little's work has appeared in publications ranging from The New York Times and The Washington Post to Wired, Rolling Stone, and Bloomberg Businessweek. She writes, bikes, and is learning to cook and tango in Nashville, Tennessee, where she lives with her husband and kids.
1. The Fate of Food's take-home message is that the answer to the impending food scarcity crisis might be in a new approach that draws on the wisdom of traditional agriculture and the exciting, emerging technologies of the present. Amanda Little explores startling innovations around the world: farmscrapers, cloned cattle, meatless animal meat, edible insects, super-bananas, and weeding robots. The questions below invite a closer look at Amanda's finding and hopefully inspire you to think about what our future could hold.
Which of these seem most promising to you, and what are some other ways food and agriculture can adapt to climate change and become more resilient, productive, and sustainable?
2. What did you already know about this book's subject before you read this book? How did it change your understanding of, or expectations for, sustainable and equitable food production going forward? What new things did you learn?
3. Do you think that GMOs crops designed for drought resilience and heat tolerance are a reasonable way to counteract the increasing pressures of climate change on global food production? What are some alternatives?
4. How can we change public opinion on GMOs, especially since a lot of the opposition seems driven by a vision of nature as being pure and vulnerable?
5. In Chapter 4, the robotics expert Jorge Heraud is quoted as saying that "robots don't have to remove us from nature—they can help us restore it." Do you agree? Why or why not?
6. Do you believe the actions Little discusses will be enough to forestall the direct impacts of climate change? Or do you think it's too little too late?
7. Discuss specific passages that struck you as significant, illuminating, disturbing, etc. What was especially memorable for you?
8. How does this book compare to other books or articles on sustainable food systems or climate change that you've read?
9. What topics does the book make you want to explore further?
10. What do you think and hope will be on your family's Thanksgiving table in the year 2050?
Coverage from NPR
or
Not Currently Available for Direct Purchase