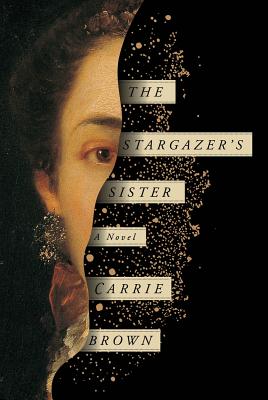 The Stargazer's Sister (Hardcover)
A Novel
Pantheon, 9780804197939, 352pp.
Publication Date: January 19, 2016
Other Editions of This Title:
Paperback (12/13/2016)
MP3 CD (3/1/2016)
* Individual store prices may vary.
Description
From the acclaimed author of The Last First Day, here is a beautiful new period novel: a nineteenth-century story of female empowerment before its time, based on the life of Caroline Herschel, sister of the great composer and astronomer William Herschel and an astronomer in her own right.
 
This exquisitely imagined novel opens as William rescues Caroline from a life of drudgery in Germany and brings her to England and a world of music making and stargazing. Lina, as Caroline is known, serves as William's assistant and the captain of his exhilaratingly busy household. William is generous, wise, and charismatic, an obsessive genius whom Lina adores and serves with the fervency of a beloved wife. When William suddenly announces that he will be married, Lina watches her world collapse. With her characteristically elegant prose, Carrie Brown creates from history a compelling story that interweaves familial collaboration and conflict with a haunting exploration of the sublime beauty of astronomy and our small but essential place within a vast and astonishing cosmos. Through Lina's trials and successes we witness the dawning of an early feminist consciousness—a woman struggling to find her own place among the stars.
About the Author
CARRIE BROWN is the author of seven novels and a collection of short stories. She has received many honors for her work, including a National Endowment for the Arts fellowship, the Barnes & Noble Discover Great New Writers Award, the Janet Heidinger Kafka Prize, the Great Lakes Book Award, and the Annual Library of Virginia Literary Award (twice). Her short fiction and essays have appeared in many literary journals. She and her husband, the novelist John Gregory Brown, live in Massachusetts, where they teach at Deerfield Academy.
Praise For The Stargazer's Sister: A Novel…
"Carrie Brown takes up the real life saga of the Herschels and breathes fresh life into it in her lyrical and riveting new novel. . . . Brown's writing is as luminous as the skies her characters contemplate."
—Caroline Leavitt, Boston Globe

"A gorgeous period novel that champions female empowerment. The story follows Caroline Herschel, the sister of famous composer and astronomer William Herschel, as she navigates the boy's club that is the study of astronomy. As she imagines Caroline's life with depth and strength, Brown reveals a passionate woman's place in history."
—Frannie Jackson, Paste Magazine

"The Stargazer's Sister is a lovely addition to Carrie Brown's works of historical fiction. Brown brings the true story of the Herschel siblings to life in exquisite detail and deftly explores what it meant for Caroline to be an intelligent woman far ahead of her time."
—Bookpage
 
"If you want to get a sense of how [Caroline Herschel's] life might have felt, then turn to [The Stargazer's Sister], Carrie Brown's intriguing seventh novel. Wisely, sometimes brilliantly, Brown skips over much of the familiar material, instead training her gaze on the blanks in the record and emphasizing experiences a biographer might scant. . . . In precise and vivid prose, Brown conveys the texture of daily life for a woman with both domestic responsibilities (until William's marriage, Lina managed every aspect of his household) and complex intellectual tasks. . . . In her impressionistic portrait, Brown smooths what might have been an unwieldy mass of material into a strong arc . . . a satisfying romance."
—Andrea Barrett, The Washington Post
 
"[Carrie Brown] depicts an increasingly independent woman who also struggles with the loneliness and the physical and emotional toll of [her] work. With a flourish of literary kindness, Brown gives Lina a satisfying (fictional) love relationship. . . . Quoting the Royal Astronomical Society's motto, Lina tells [one] youngster, "Let whatever shines be noted." With her novel, Brown does just that."
—Minneapolis Star Tribune
 
"If the aphorism that 'behind every great man is a great woman' has proven to be an abundant source of material for historical novelists, Carrie Brown does the trope one better with her seventh novel, The Stargazer's Sister. . . . With a calm, polished style that suits its protagonist, the novel brings to life both sister and stargazer, with their individual and collective contributions to our understanding of the universe, shining like a pair of binary stars in orbit together."
—Christine Pivovar, The Kansas City Star

"A haunting evocation—actual and imagined—of the life of Caroline 'Lina' Herschel, the younger sister of the eighteenth-century astronomer William Herschel. The tale is deeply satisfying, a testament to Carrie Brown's seductive voice and her ability to translate Lina's deep emotional life in all its complexity, both joyful and heartbreaking. I love this book, a wonderful adventure and a resonating example of the difficulties faced by so many women for so very long."
—Robb Forman Dew, National Book Award–winning author of Dale Loves Sophie to Death
or
Not Currently Available for Direct Purchase