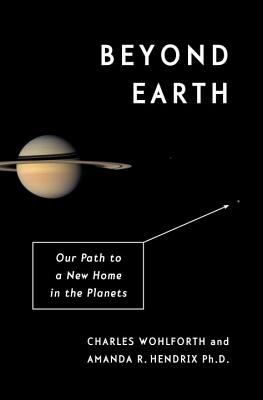 Beyond Earth (Hardcover)
Our Path to a New Home in the Planets
Pantheon, 9780804197977, 320pp.
Publication Date: November 15, 2016
Other Editions of This Title:
Digital Audiobook (11/14/2016)
Paperback (10/17/2017)
* Individual store prices may vary.
Description
From a leading planetary scientist and an award-winning science writer, a propulsive account of the developments and initiatives that have transformed the dream of space colonization into something that may well be achievable.
 
We are at the cusp of a golden age in space science, as increasingly more entrepreneurs—Elon Musk, Richard Branson, Jeff Bezos—are seduced by the commercial potential of human access to space. But Beyond Earth does not offer another wide-eyed technology fantasy: instead, it is grounded not only in the human capacity for invention and the appeal of adventure but also in the bureaucratic, political, and scientific realities that present obstacles to space travel—realities that have hampered NASA's efforts ever since the Challenger disaster.
 
In Beyond Earth, Charles Wohlforth and Amanda R.Hendrix offer groundbreaking research and argue persuasively that not Mars, but Titan—a moon of Saturn with a nitrogen atmosphere, a weather cycle, and an inexhaustible supply of cheap energy, where we will even be able to fly like birds in the minimal gravitational field—offers the most realistic and thrill­ing prospect of life without support from Earth.

(With 8 pages of color illustrations) 
About the Author
CHARLES WOHLFORTH is the author of more than ten previous books. He writes a column for Alaska Dispatch News, hosts a weekly interview program for public radio stations in Alaska (where he lives), and has won the Los Angeles Times Book Prize for Sci­ence and Technology, among many other awards.
 
AMANDA R. HENDRIX, Ph.D., a planetary scientist, worked for twelve years at NASA's Jet Propulsion Laboratory. She has been a scientific investigator on the Galileo and Lunar Reconnaissance missions, a principal investigator on NASA research and Hubble Space Telescope observing programs, and is the author of many scientific papers. As an investigator on the Cas­sini mission to Saturn, she has focused her research on the moons of Saturn.
Praise For Beyond Earth: Our Path to a New Home in the Planets…
"Refreshing….delightfully different from any other book I've ever read by human-spaceflight cheerleaders. The authors have put their thinking caps on and broken out of the usual orthodoxy by presenting cogent ideas on why humans should go into space, including their lovely idea of going to and living on obscure (to most folks) Titan….Mr. Wohlforth and Ms. Hendrix gracefully outline not just the mechanics but the philosophy and morality of human spaceflight in their well-structured book….It is decidedly a book that should be read by anyone intrigued by the possibility and feasibility of a future 'out there.'" —Homer Hickam, The Wall Street Journal

"Long ago I'd come to doubt that humans might ever leave this planet to homestead another. But this impeccably researched, imaginative, and gracefully written book seized me right from its introduction and kept me rapt to the end, rooting for our future. Beyond Earth is epic science writing, the rare kind that I can't get out of my mind – or my dreams." —Alan Weisman, author of Countdown and The World Without Us

"An engaging mind game. It's hard not to get swept up in the authors' wide-ranging enthusiasm for space exploration and settlement. They find optimism in some surprising places—even in the gloomy prospects for our current planetary home." —Tom Kizzia, author of Pilgrim's Wilderness

"This wonderful book imagines the future and, most of all, made me think—a rewarding journey even when I disagreed. As enjoyable as any science fiction, it isn't fiction, but a fascinating extrapolation of facts leading to a possible future. Everyone should read it."
—Julian Nott, space scientist, pilot, inventor, and holder of seventy-nine world aviation records in balloons

"Beyond Earth is an important contribution.  It's a thought-provoking introduction to our unlimited future in the outer solar system and beyond." —S. Pete Worden, Executive Director, Breakthrough StarShot, and Former NASA Ames Center Director

"Beyond Earth goes beyond anything yet written on the subject of space colonization, making clear how what once seemed an adventure is now an urgent necessity. A future human settlement on Titan will keep this book in its library the way early American citizens preserved copies of Common Sense." —Thomas Mallon, author of Finale

"The authors successfully combine a visionary approach to space colonization with the practicalities facing the program now. Their conclusion that NASA should focus on 'stretch technology,' leaving the rest to the private sector, is controversial but worthy of serious consideration. A welcome contribution to the ongoing discussion of the future of America's space program." —Kirkus Reviews
 
"Promising not to offer another 'wide-eyed technology fantasy,' Hendrix and Wohlforth dive into the gritty bureaucratic, political, and scientific hoops humans will have to jump through to make life on other planets a reality. The book also delivers its own form of a mic drop with the argument that it is Titan, not Mars, that will eventually serve as Earth's next frontier." —Inverse, Science Books to Read this Fall

"Well researched, the volume takes the compelling approach of discussing current and planned explorations of the solar system, then projects this work into a future scenario narrative that plays out over segments in each chapter….Written in lay language with clear explanations of planetary research, this offering will appeal to readers of environmental or space topics." —Library Journal
 
"Planetary scientist Hendrix and writer Wohlforth weave scientific research with fascinating speculation to paint a picture of how and why humankind might spread to other planets….On the whole, the fictional chapters are entertaining, chilling, and put the science in a more human context. The two halves work together to create a striking, reality-based possible future that's seen through the lens of current knowledge." —Publishers Weekly

"Highly approachable and enlightening." —Signature Reads

"Beyond Earth balances possible futures with a raft of facts on advances in spacecraft technology, robotics and space medicine. Crucially, [Wohlforth and Hendrix] parse the push and pull between cautious governments and gung-ho entrepreneurs, concluding that the two may ultimately add up to a propulsive combination." —Nature
 
"Beyond Earth does not offer another wide-eyed technology fantasy: instead, it is grounded not only in the human capacity for invention and the appeal of adventure but also in the bureaucratic, political and scientific realities that present obstacles to space travel — realities that have hampered NASA's efforts ever since the Challenger disaster. In Beyond Earth, Charles Wohlforth and Amanda R.Hendrix offer groundbreaking research and argue persuasively that not Mars, but Titan — a moon of Saturn with a nitrogen atmosphere, a weather cycle and an inexhaustible supply of cheap energy, where we will even be able to fly like birds in the minimal gravitational field —offers the most realistic and thrilling prospect of life without support from Earth." —The Gleaner
 
"A warning siren for global climate change. While telling a compelling tale about how a small cadre of brave and/or rich souls could colonize space, the real message here is that our best chance to preserve humanity requires facing up to the challenges here on Earth….Certainly worth a read." —Cranereaction.com
 
"This back-and-forth between science and science fiction is nicely done…engaging." —Hippopress.com

or
Not Currently Available for Direct Purchase