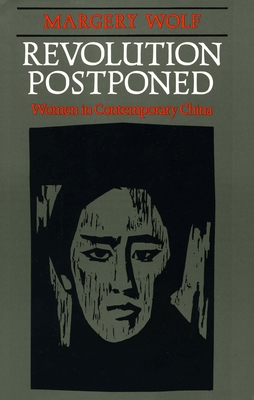 Revolution Postponed
Women in Contemporary China
Paperback

* Individual store prices may vary.
Other Editions of This Title:
Hardcover (6/1/1985)
Description
The Communist revolution promised Chinese women an end to thousands of years of subjugation, an equality with men in all matters legal, political, social, and economic. This book examines the extent to which this promise has been kept. Based on nearly a year of field research and interviews with over 300 women in six widely separated rural and urban areas, it gives us a vivid picture of Chinese women today - their day-to-day lives, their views of the present, and their hopes for the future. To date nothing approximating equality has been achieved: in working conditions, in pay, in educational opportunity. In the cities, and to a lesser extent in the countryside, women are better off than in pre-revolutionary China. But nowhere except in the rhetoric of the regime are they equal to men. Nor does the immediate future look much brighter, given the continuing social constraints, the government's controversial family limitation program, and the nature of the new economic policies introduced in 1980. So far as possible, the women interviewed are allowed to speak for themselves. Some take refuge behind government slogans, some are shy or wary, but a surprising number are quick to give their own opinions despite an ever-present government cadre. These opinions, combined with the author's astute observations on their local and national context, add up to a wholly new perspective on an all too familiar problem.
Stanford University Press, 9780804713481, 300pp.
Publication Date: June 1, 1985