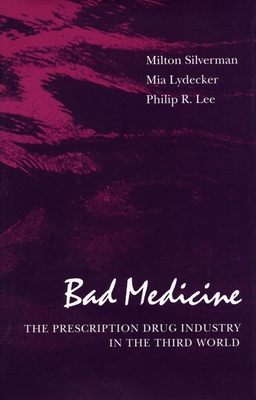 Bad Medicine: The Prescription Drug Industry in the Third World (Hardcover)
The Prescription Drug Industry in the Third World
Stanford University Press, 9780804716697, 380pp.
Publication Date: May 1, 1992
Description
The pharmaceutical industry has long and vehemently insisted that it has the willingness, the dedication, and the ability to police itself to insure that the public will not be unnecessarily harmed or defrauded. As the record shows with painful clarity, however, virtually no industry or professional group has ever adequately policed itself, and the pharmaceutical industry is no exception. Where the most flagrant abuses have been exposed and corrected, major credit must probably be divided among the media that publicized the situation, consumer groups that applied pressure, government officials who took actions that were often unpopular, and individual members of the pharmaceutical industry who had the courage to face up to their social responsibilities. In this book, the authors turn their attention to what happened in Third World countries when, because of worldwide pressures, the multinational drug companies largely corrected their notorious abuses. On the basis of painstaking research, much of it conducted in a great many Third World countries, the authors conclude that a plethora of small local firms have filled the dishonest sales channels vacated by the multinationals. The authors show in great detail how local drug firms in the Third World have taken advantage of loose regulatory practices and unscrupulous behavior on the part of regional and national health care professionals to promote the sale of dangerous or worthless drugs as remedies for diseases for which they were never intended. Warnings of bad side effects are omitted from promotional literature, drugs are sold that have not had proper trials, and drug firms have often bribed government officials, doctors, and hospital administrators in order to gain favorable treatment in the importation and sale of their products. Among the many topics treated in this book are the controversy over inexpensive generic drugs (including disclosures of fraud and bribery in the U.S. Food and Drug Administration), the actions of consumer groups, and the key role of government in preventing abuses by drug firms. The authors describe a remarkable attempt in Bangladesh, one of the poorest of all the developing countries, to develop a high-quality local drug industry. They also present as case histories reports on three extremely important drug products or groups--the dipyrones (for control of pain and fever), high-dosage estrogen-progesterone hormone products (for use in pregnancy tests), and clioquinol or Enterovioform (for treatment of diarrhea)--all of which were or still are centers of worldwide, heated controversy.
Advertisement