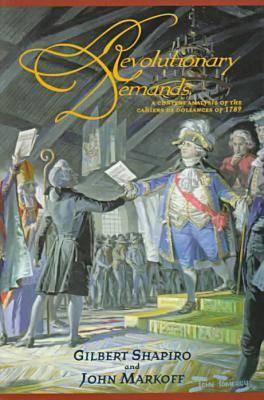 Revolutionary Demands
A Content Analysis of the Acahiers de Dolaancesa of 1789
Hardcover

* Individual store prices may vary.
Description
This pathbreaking work reports on the methods, and some of the results, of a content analysis of the cahiers de doleances, the well-known lists of grievances in which, in 1789, the French people expressed their dissatisfactions with the state of their society and their hopes for a better future. The analysis is an outgrowth of a larger research project, "Quantitative Studies of the French Revolution," conducted by the authors and others over a thirty-year period. The central data of the research for this book are a coding of a national sample of documents representing the views of rural parishes, the Nobility, and the Third Estate. These codes, together with data on the economic, social, and political conditions of the regions of France under the Old Regime and data on political behavior during the revolutionary period, form a computerized data archive to be made available to researchers. The book is in four parts. Part I describes content analysis as a method and its varieties, controversies, and problems. Part II discusses the cahiers and their authenticity and usefulness as a historical source. Part III considers the coding procedures, information about the sample, and studies bearing on the evaluation of the coding process. Part IV, the largest part of the book, presents some of the authors' findings to date, including a summary of the concerns expressed by the nation in 1789, a study of the attitudes toward the monarchy, an analysis of consensus and conflict among the Estates, and the influence of social mobility upon political radicalism. Appendixes provide details of the coding, the national frequencies of many grievance categories, lists of sources of coded cahiers, and maps indicating the data's coverage of France.
Stanford University Press, 9780804726696, 720pp.
Publication Date: August 1, 1998
or
Not Currently Available for Direct Purchase